Have you ever wondered what the trail you want to ride actually looks like on the ground? Of course we have tools like the trail ranking. S0? Probably easy. S3? Uff... that might be tough riding (or pushing). Combined with gradients on our route and maybe checking komoot highlights we can already say a lot. But then you never know what you will actually find.
What if you could access the hive mind? If you would have access to every single picture uploaded on tours on komoot to decide rather this will be a nice place to ride or if you want to find a nice detour to get around a rough path? Komoot said hold our beers and went to work! Trail View does exactly that and as an ambassador I already had a few weeks of beta testing to play around with it.
It is a very valuable tool that can really improve the quality of your ride and makes route planning especially off-road way easier. Essentially I feel this tool closes the gap to using the integrated Google streetview feature.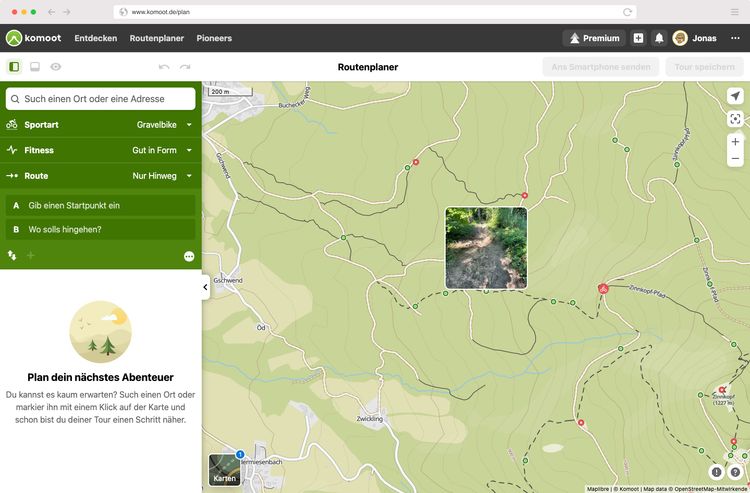 So how does it work?
First off: If you are on the mobile app and wonder "What the... are they talking about?", then I have to tell you that this feature (for the moment) is only available on the web. I am sure that komoot will implement this feature soon for the mobile app. It is quite handy if you reach a dead-end to be able to replan and assess what will be the best option to go further.
So while planning your route on a web browser on the bottom left of the map you will find a little icon which lets you choose different maps.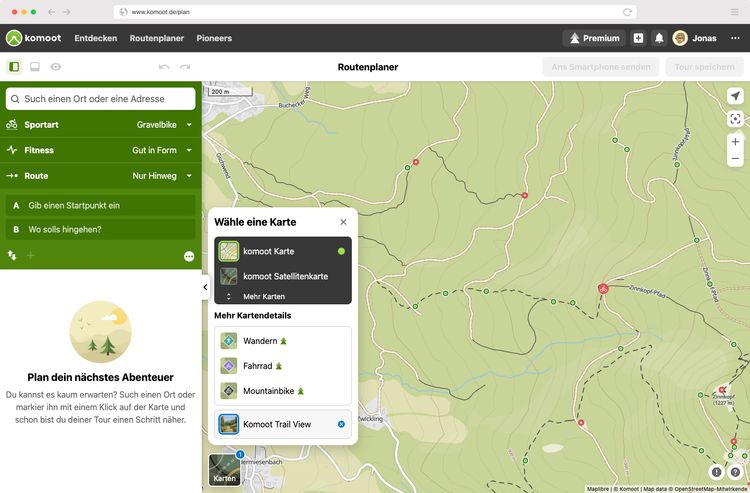 In here you can activate and deactivate Trail View. After activating the feature you will recognize a lot of green dots on the map. By clicking on them you will see the picture behind and get a good view of the surface you would be riding on here. Sometimes the dots can become quite crowded and you will get a lot of info, in some areas you might need to do a bit of guessing work.
Now you will have the option to click anywhere in the map to close the picture or just include this path on your route. It's as simple as that!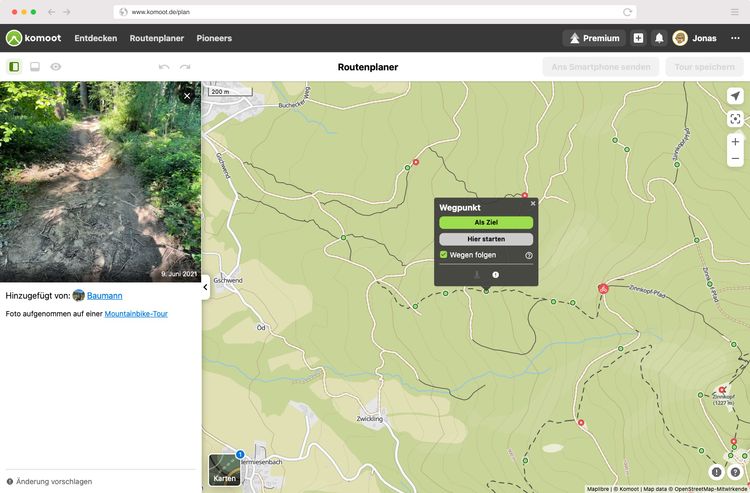 The video below will shed a bit more light on the topic.
What's the magic behind?
Now you might get worried and not upload fotos anymore during your rides as you don't want your face, bike or other parts to be shown on the map. But don't worry! komoot are using a machine learning algorithm to filter pictures with faces or other items out and only show pictures of landscapes with paths and roads in them instead. It's quite a smart feature really and probably only one of the first in a long line of machine learning features that will make route planning much easier for us in the future!
What's the verdict? Is it any good?
So I can clearly say after using it a few weeks, that this changes the way I plan my routes in many ways! Having access to that kind of information will make for less surprises on your next outdoor adventure. (Is that a good or a bad thing? 🤔) During this years TCR I was cursing at times over some none existing roads and wished I could have checked the quality of the paths before. That being sad, the more adventurous your next ride becomes, the less helpful this feature might become, as less users might have uploaded a picture on komoot for that area. But fortunately it's only a matter of time until we will find more pictures even in remote areas, as we all are working together on feeding the robots. 😉
With Trail View, I can easily see if a trail is something for me or not. I can see if it's rideable or if there are photos of obstacles that somebody took recently. It also means I can scout a whole area that I am not familiar with and get a feeling for the trails and roads I'm going to be riding.
Lael Wilcox, ultra-endurance cyclist and komoot ambassador
Did we miss anything? Did you already try it and have some additional thoughts? Send us a message we are curious what you think!