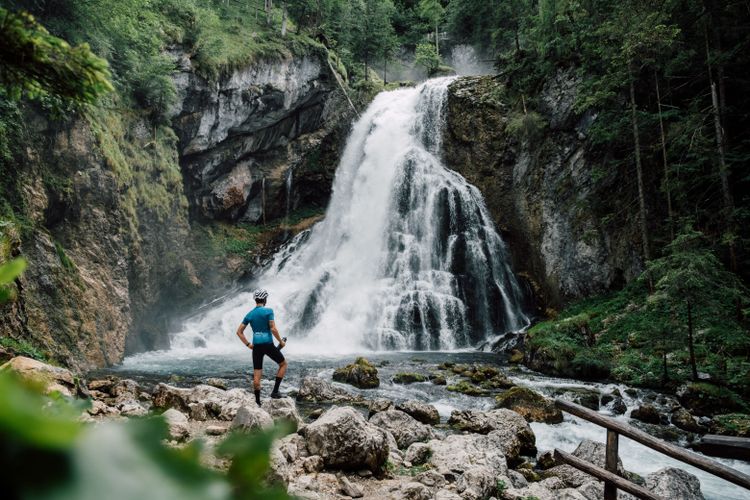 Tennengau - Alte Postalmstrasse
DayTrip
This tour leads up to one of THE classic road passes of the Alps the "Postalm". While there are tours that have far more gravel and unpaved sections in them, we are sure you will love this tour. It combines everything Gravelbikes are good at. Multi surface ride, escaping traffic at it's best!
Descrizione del percorso
The Tennengau area is close to the city of Salzburg and offers one of the widest varieties of terrains in all of SalzburgerLand. Not only this, also a lot of the most famous sightseeing spots are located here. In fact you can reach a lot of them within just a day!
But now let's dive right into this tour to one of the classics in the area! This tour is probably something you want to do if you want to see as much of the area as possible in one day! We start at the train station of Golling. Trains from Salzburg go frequently, so you can leave the car at home. 😊 Beautiful shops and houses look inviting, but let's keep that for later. 😉
First we do the tourist bit: We ride to the breathtaking Bluntausee lake and from there to the Gollinger Wasserfall. Those are two must sees in the area around Golling, don't miss out. 😉 While you will be amazed by the idyllic and quiet lake, the roaring water of the falls is equally impressive and you will sure not forget your short visit to this famous sight. To sweeten things we put in some small gravel paths that are really fun to ride. Take care of hikers and remember to always be friendly and say high. Together we all have more fun. 😊
Now we return to Golling for the real deal! We turn onto small roads pretty quick, away from traffic and soon you will find yourself on a steep climb that eventually turns to a short patch of rough track with some bigger rocks in it. You will be over soon and get back on tarmac for a bit. As soon as you reach the top, the road turns to gravel again and we fly down a short descent into one of the most beautiful valleys around! We follow the nice and windy tarmac road until a little fountain appears on the left. Fill up your bottles with fresh, cold mountain water and then turn left on the gravel road that leads us up to "Alte Postalmstrasse". This used to be the road up to Postalm and now is still available as a cycling path. How awesome is that? Thanks SalzburgerLand. 🙌 Sometimes you will ride on rough, destroyed tarmac, while mostly the road is gravel. Don't be too intimidated, the road has mostly a nice and rideable gradient and is never too rough. Take some pictures at the beautiful gorges you pass. It is amazing how water can cut through the rocks!
At the top you have plenty of restaurants to get some delicious local food and drinks! We recommend to get some Kasspatzn. Gorgeous Austrian Pasta with loads of cheese. But make sure you can still lift yourself up after the meal. 😜
After you got some good rest prepare for a short uphill before we go all the way down on the road. Wait, what? On the road?!? Yep, it is one of the most beautiful alpine passes and you will have a lot of fun even on your gravelbikes to descend this masterpiece of a road! 😍Postalmstrasse is famous way beyond the borders of Austria but only a few get to climb it off-road and the enjoy the beautiful serpentines all the way down to the Salzach valley. Have fun "flying" down here!
Once you made it down to the valley there is a short stretch of a more frequented road - there is no way around. Please be careful! Soon you will be able to get on a gravel cycling path which leads us straight back to Golling! Now you have definitely earned some more good food and drinks. You made it! What a loop!