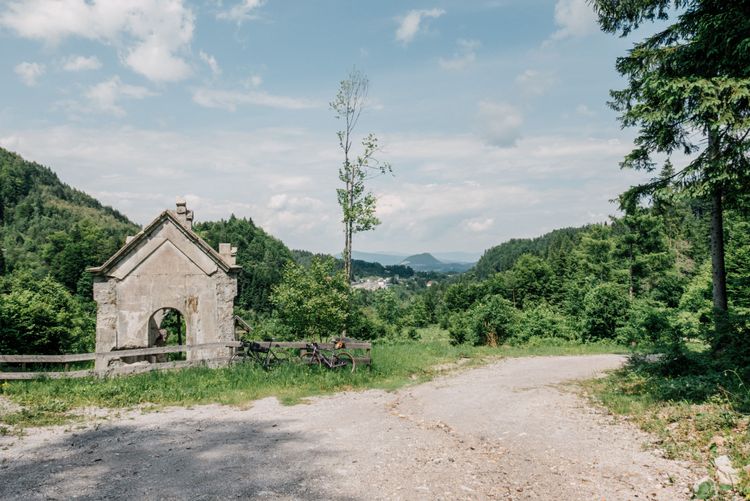 Gravel Speedway Rosental
DayTrip
Fast and furious? Here you go! A fast rolling smooth mix of light gravel and tarmac paths without traffic will make for great fun, no matter if you are shying huge climbs and want smooth terrain or you try and push PBs in average speed.
Descrizione del percorso
This relatively easy tour leads us - like some other tours in the south - past the castle and zoo Rosegg and the Celtic world Frög. Afterwards we follow the Drau river with lots of gravel and without any notable climbs into the Rosental valley. After Feistritz im Rosental, it's worth making a detour to Rosenbach to the shot-up "Chapel of Forgotten Souls", which commemorates fatalities during the construction of the Karawanken railway tunnel and served as a rifle post in the Carinthian defensive system.
At Längdorf you can either branch off to Rosenbach (according to the marked route - approx. 200m of climbing and 10km) to the Chapel of Forgotten Souls, or you can choose the flat and shorter variant and follow the Drau cycle path.
Before Unterferlach you have to change the Drau riverbank again. At Maria Rain, two lost places await you: the "Eternal Rain" as a natural spectacle and the hermit's cave.
Now you will pass the southern outskirts of Klagenfurt and go through Viktring into the 4-lake valley Keutschach, named after the lakes: Rauschelesee, Bassgeigensee, Keutschachersee and Hafnersee. By the way, a jump in water is always worthwhile here. Today, Lake Keutschach and Lake Hafner are considered popular bathing lakes (especially in the naturist camp scene). However, the Keutschacher See was already populated in prehistoric times, as evidenced by the fragments of pile dwellings under the water.
Still in the mood for a side trip?
At Plescherken you can still find remains of the mining and gold prospecting epoch in the 18th century. If you take a flashlight with you, it is worth to have a look into the old (short) tunnels. Please do not enter!
Almost back at the starting point we recommend to all hobby historians another detour of about 2km to the south side of the Kathreinkogel. Here, too, objects were found that point to a prehistoric settlement.