So here I sit, a few months after this wonderful event. But how did I get the idea to come along in the first place?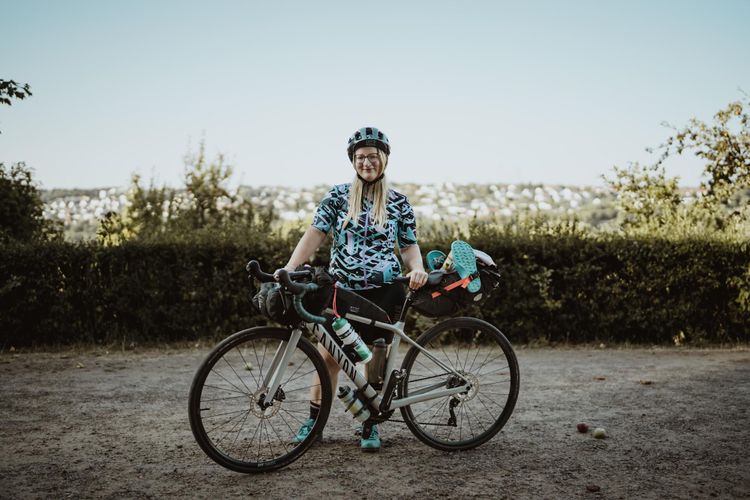 Inspired by someone in my circle who takes part in ultra endurance cycling events, I have been following numerous events and their participants on Instagram. I've actually been following the TWAR collective (The Women all Ride) for a while. And I had also been in contact with Jesko, the organiser of Taunusbikepacking, beforehand. And so it happened that I became aware of the event through various channels. I decided to register for the event. In fact, the registration went through, which I hadn't expected. And as I found out later, the event was fully booked within 1 minute. During the Eurobike I met Jesko (Taunusbikepacking) and Eva (TWAR) in person and was encouraged to participate. Doubts remained, because
the event was or is advertised as a gravel course. But I "only" have a carbon road bike with 30mm tyres. What should I do? Just try it? Take my chances? I didn't have any real experience with the bike on gravel courses either. I was conflicted. In the end, it wasn't the mind that won, otherwise I wouldn't be able to write these and all the following lines.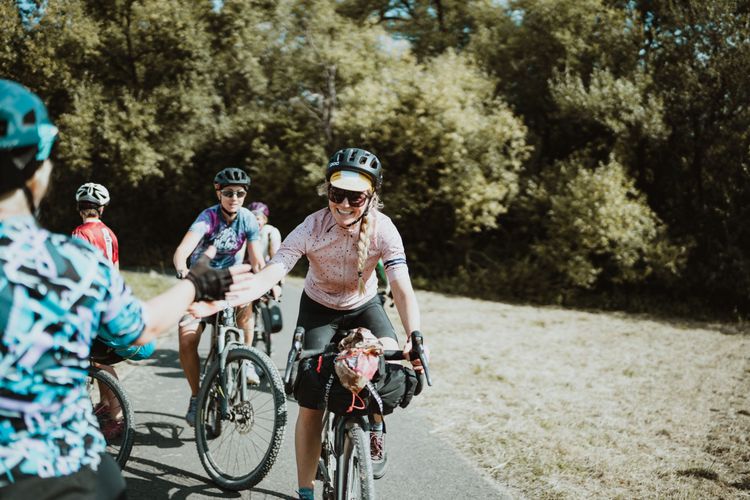 And finally: The last weekend in August was here! Although it already started on Wednesday! So I left my husband alone with our bike shop and 2 children, packed my things and got on the train to the Taunus. After "only" 7 hours by train from Aachen, I finally arrived at The Eppstein Project campsite, where the Taunusbikepacking event starts.
Most of the women were already in their tents, asleep, so I had missed out on getting to know them because of the train disaster. A pity really!
After the exhausting train ride, I was too tired to hang up my hammock. So I just spread it out on the floor and slept quite well and was finally able to get to know the other women while having breakfast together and taking photos.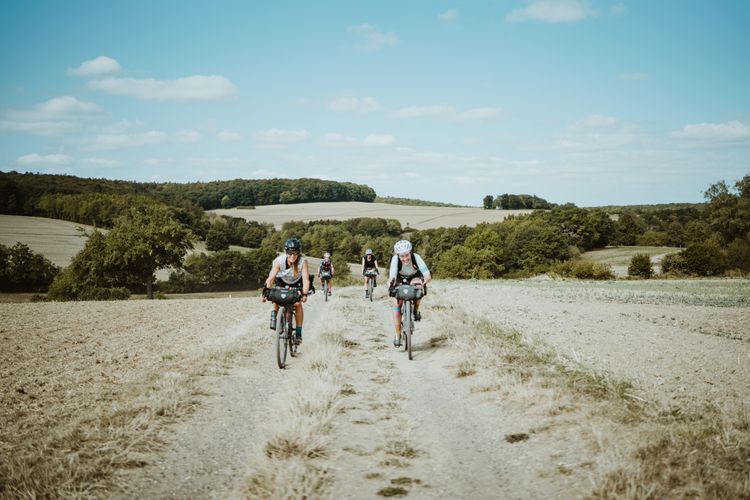 And then things got serious. We were off. And there were those doubts again, would I manage the distance with my equipment?
I knew from Jesko that the first 30 km would be tough because of the many metres in altitude. And that was how it actually turned out to be. I don't know how many times I asked myself why I had signed up. However, it was easier to overcome the climbs and the route in the group. And the messages sprayed on the asphalt by Jesko also motivated me to keep going.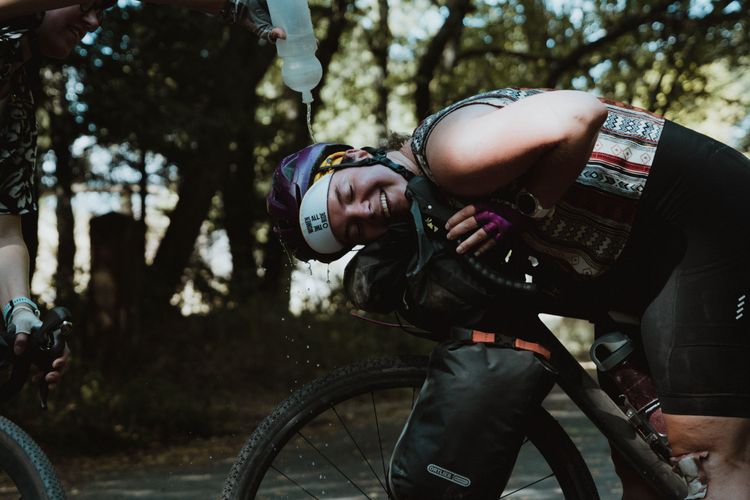 The worst kilometres were the ones up to the Jagdschloss Platte climb. I realised too late that I should have eaten more, so I got hungry and became even slower. Because of the road bike gear ratio, I was already very slow on the climbs. And so it seemed like an eternity until we finally reached the beer garden. There we were able to fill our energy stores and I found my perfect passenger in Anja. Together we rode the rest of the way to the campsite in Wispertal, where I had booked a barrel hut in advance. Since Anja hadn't booked (and alternatives were scarce), I took her along without further ado.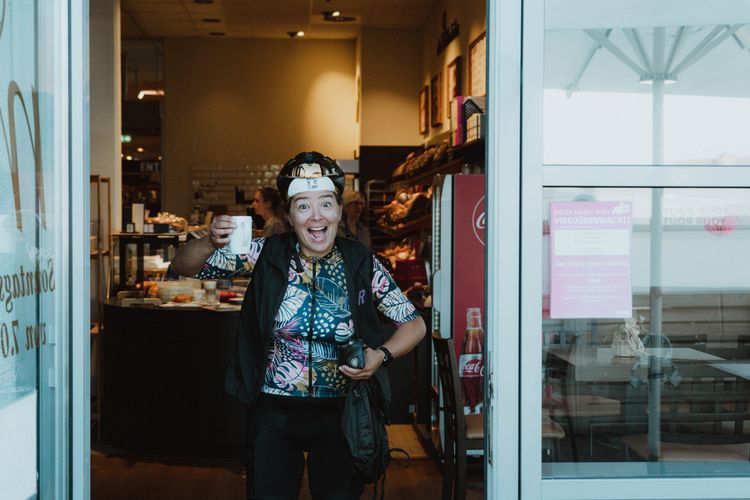 After a restful night, we started the second day together with another group. It was especially hard for me that I couldn't drink any real coffee in the morning. REAL Coffee was only available after about 20-30 km at the supermarket bakery. This was the first stop for many women, so we saw a lot of them there again. On the way to the supermarket, I had problems with my saddle bag (in technical german jargon: Arschrakete or "Ass Rocket"). It rubbed on the back wheel every time I hit a pothole. I had packed too much. What now? At the supermarket bakery, we luckily met the Komoot van (the photographer was also on board), so I decided to drop some clothes and take them back on Sunday.
After I got rid of the clothes, things went better and I was able to attach the ass rocket properly without it grinding on the rear wheel. The other group was unfortunately too fast for Anja and me, so that we again conquered every hill as a pair. When we couldn't ride any more, we had to push. It was really hard for me to get off the bike, but with a gradient of 20% in some places, there was no other way.
Day 2 also ended at the campsite where we met a larger group again. Anja met her family there, so that I was able to replenish my energy reserves with a mega good pizza in the evening with 3 other girls. It was strange for me to rent a camping site without a tent. I only had a hammock with me to sleep in. Unfortunately, there was no place to hang the hammock on the campsite. So I lay down again on the ground next to the 3 other girls who had bivvies with them. At some point I finally fell asleep.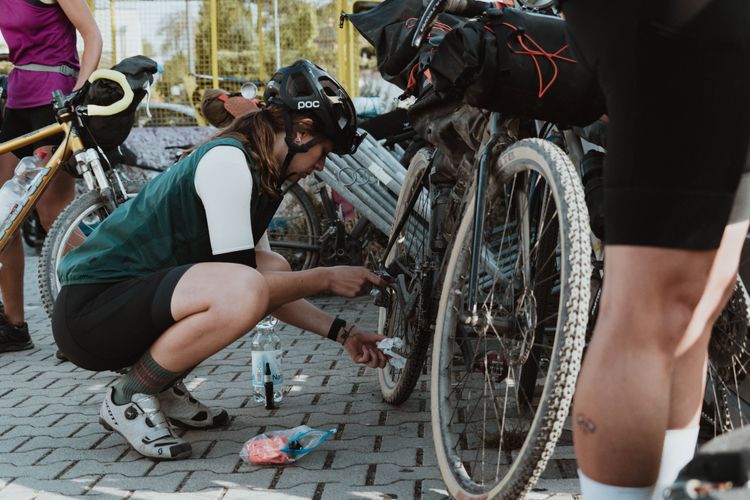 I started day 3 together with Anja, after a short breakfast. The coffee had to be replaced by supermarket coffee from the refrigerated section, which I had bought the night before. The first kilometres were finally flat (along the river Lahn), so we could start to "roll in" relaxed. But it was not to remain relaxed. Actually, it was the day with the fewest metres in altitude. But I planned to extend the stage to be on time for the finisher BBQ on Sunday. In the end, it was over 100km and 1670 metres of altitude. This time, however, Anja and I went our separate ways. She spent the night at a campsite and I continued on my own for quite a while. I didn't mind, but after 20-30km I wondered where the other women were. I met them in a restaurant in the next town. The plan was set: we would spend the night in the forest. There were very few shelters and some were locked or already occupied. I had only spent the night in a forest once before. Together with my husband we had done a small overnighter. So I was a bit nervous. But in the community I felt fine and lost my nervousness.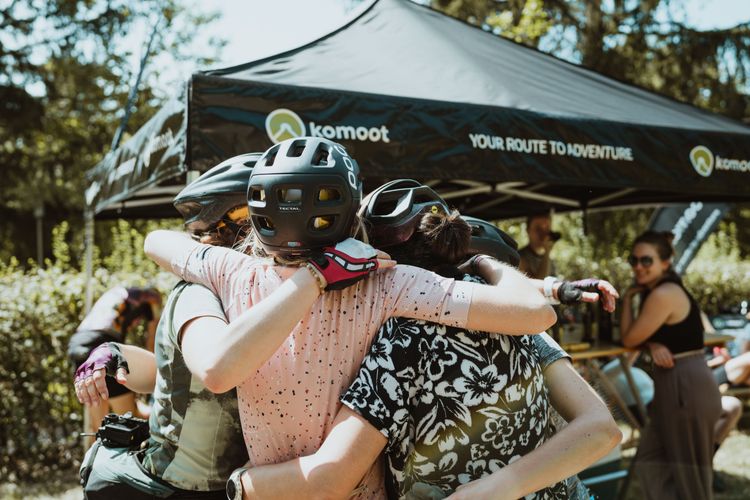 Seven of us set up camp at the foot of a high perch. And I was glad that I could finally hang up the hammock. But suddenly I heard a grunt as I lay in my hammock. I immediately thought to myself that it was a wild boar...and it stalked right around my hammock. I froze and my heart skipped a beat. I lay still and listened to the darkness. At some point I heard the wild boar loudly complaining and running away. And now? Sleeping was no longer an option. I had to conquer my fear. But how? First I had to find a safe place. There was only the high seat. For 2 hours I sat up there and googled what to do when I encountered wild boars. I also kept listening in the darkness, I kept hearing a rustling in the undergrowth. It was probably deer or foxes. At some point, however, I felt safe again and climbed back into my hammock. Everyone else (except one) didn't hear any of this and I didn't want to wake anyone.
I was very happy when it finally got dawn again.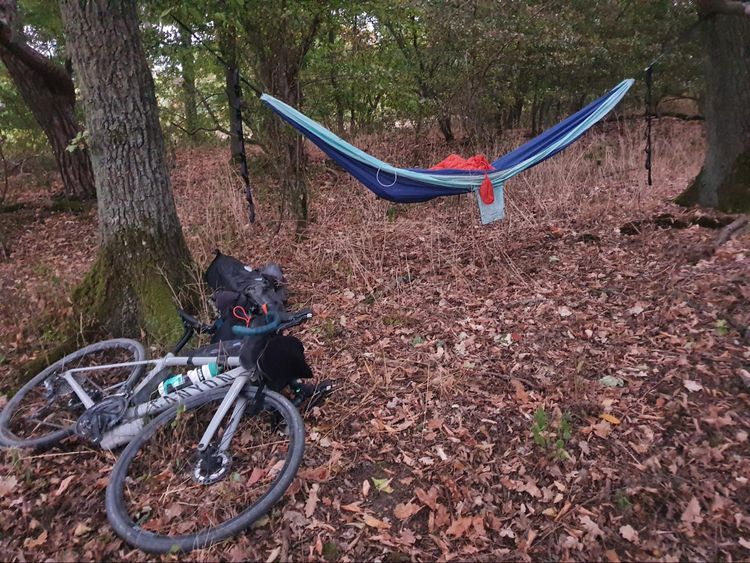 Strengthened with a small breakfast in the forest, we continued until the next breakfast at the bakery with coffee. What we didn't know was that a few metres further on was the Komoot van with snacks and drinks! What we also didn't know: Pia, our photographer, saw us from far away and wanted to take photos of us. But then we turned around and drove to the bakery. Sorry, Pia, we really didn't see you. At the checkpoint, we met many other women again and, apart from the group photo, there was a lively exchange about the night and other experiences.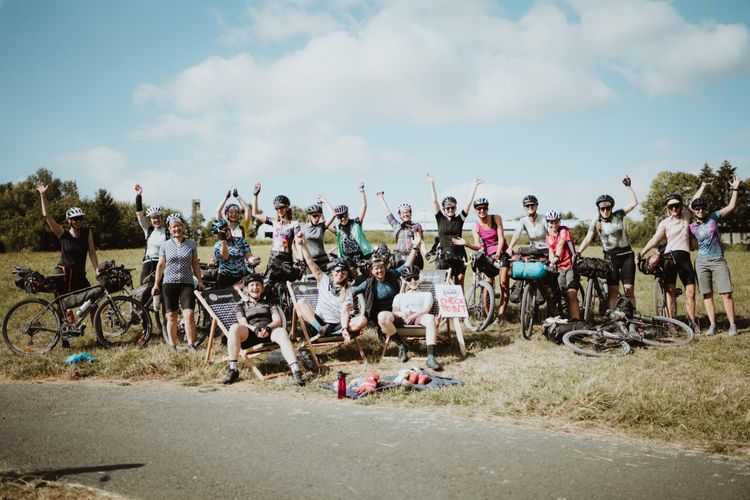 After the checkpoint, it was only 30km to the finish. I found a good companion in Sina for the last few kilometres. Together we mastered the last climbs and treated ourselves to a view of the big Feldberg, which most of the women had skipped in order to be on time for the BBQ. 3 km before the finish I had a flat tyre and lost some sealant. We had to pump it up again and again to reach the finish! I was still so distracted with the tyre that I wanted to take care of it first. With tips and help from Laura, I was able to fix the tyre. I hadn't had much experience with tubeless before. That's what I found so amazing about the group, everyone was so helpful, I hadn't experienced anything like that before. But then I realised: FINISH! I had made it! More than 300 km and over 5000 m in 4 stages!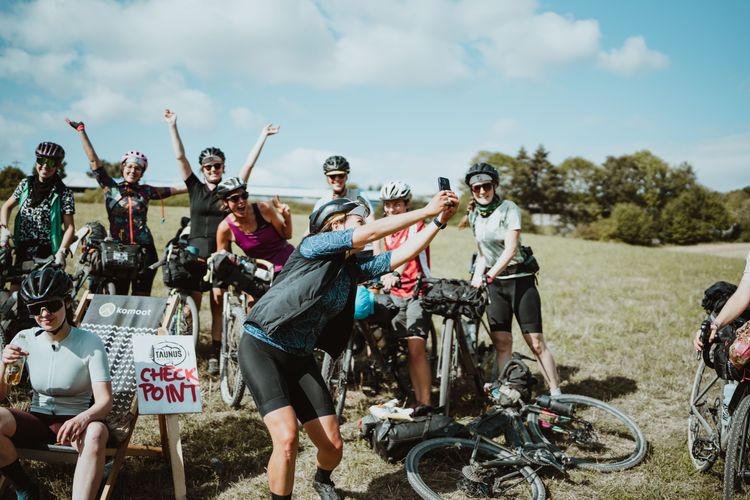 And then we finally had a BBQ! Everyone sat together and talked about the past days. We hadn't seen some of the groups since the first day. The food from The Eppstein Project was delicious :)
And all too soon it was time to say goodbye! I spontaneously decided not to return until Monday, so I ended the evening together with Jesko and others who had also ridden the Taunus Teaser or had just completed a part of it.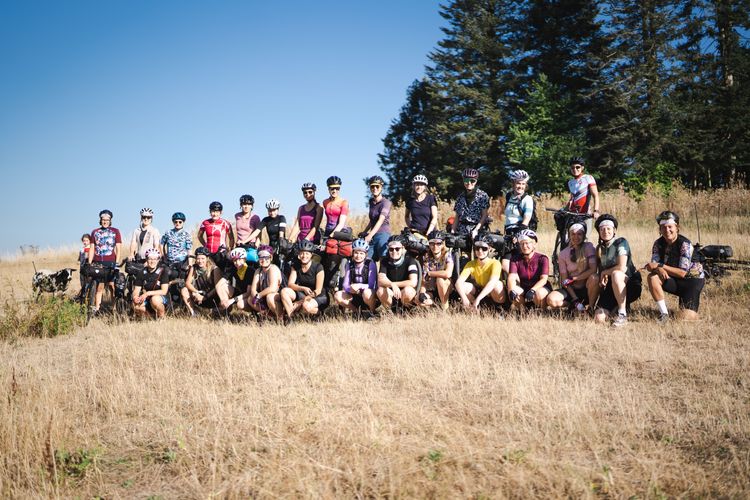 All in all, a mega nice weekend! I would like to thank TWAR, komoot and Taunusbikepacking for organising it. And a very special thanks to my husband who encouraged me to ride and looked after the kids and our bike shop in the meantime!
After only 8 hours by train I was back in Aachen and totally flashed by this week! I would love to do it again!