A few weeks ago our friends at komoot approached me: "Have you heard about that guy Jonas? No not the triathlon around the world guy, the one from Norway. Nordic Trailblazer. He did the northern most Everesting near Svalbard at around -20°C." Ok I thought: There is actually someone who is more nuts than me! I needed to talk to him and find out how on earth you can survive (Yes, I guess that is the right term here.) an everesting in Arctic temperatures. Jonas was awesomely quick to reply and we had a very nice chat. I guess it's fair to say I rarely heard someone talking that casually about his other worldly 19 hour everesting on snow and ice. Why did he do it? To race money for Ukrainian refugees. Wow. Triggered? Me too. As komoot teaches us: "Adventure is a mindset." Here you read everything about it. As a short intro watch his video about the challenge here.
Ok, before we get to the hot topic of the day, who are you Jonas? What is the nordic trailblazer?
I am a pro gravel rider and adventurer who loves to share my passion with others. Together with a team, we created my pseudonym The Nordic Trailblazer, which is representing our values of being a forerunner, not afraid to seek new ground. The Viking logo is symbolising our Nordic spirit of being an adventurer who works hard and is not afraid of challenges. Our values are inclusiveness, as well as mental and physical health through cycling.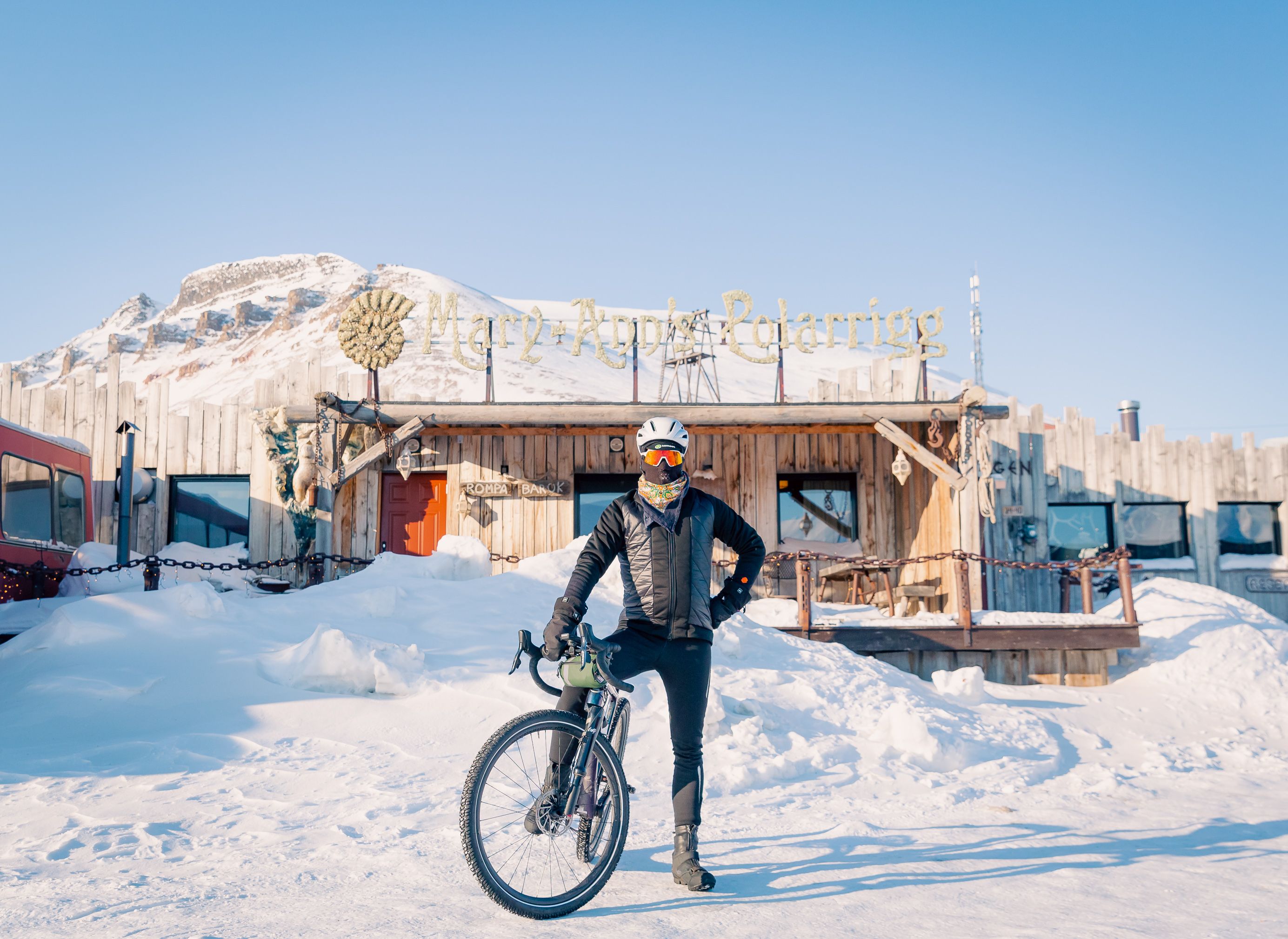 These days everyone is becoming a "gravel pro". What does that mean in your case?
Well, modern day "professionals" have to do way more than just be good athletes. It is a fine balance between racing and being present in, as well as producing media. I also try to be present at a lot of other cycling events and provide knowledge at schools. The next generation is developed today! Check out Green Cycling Norway for example.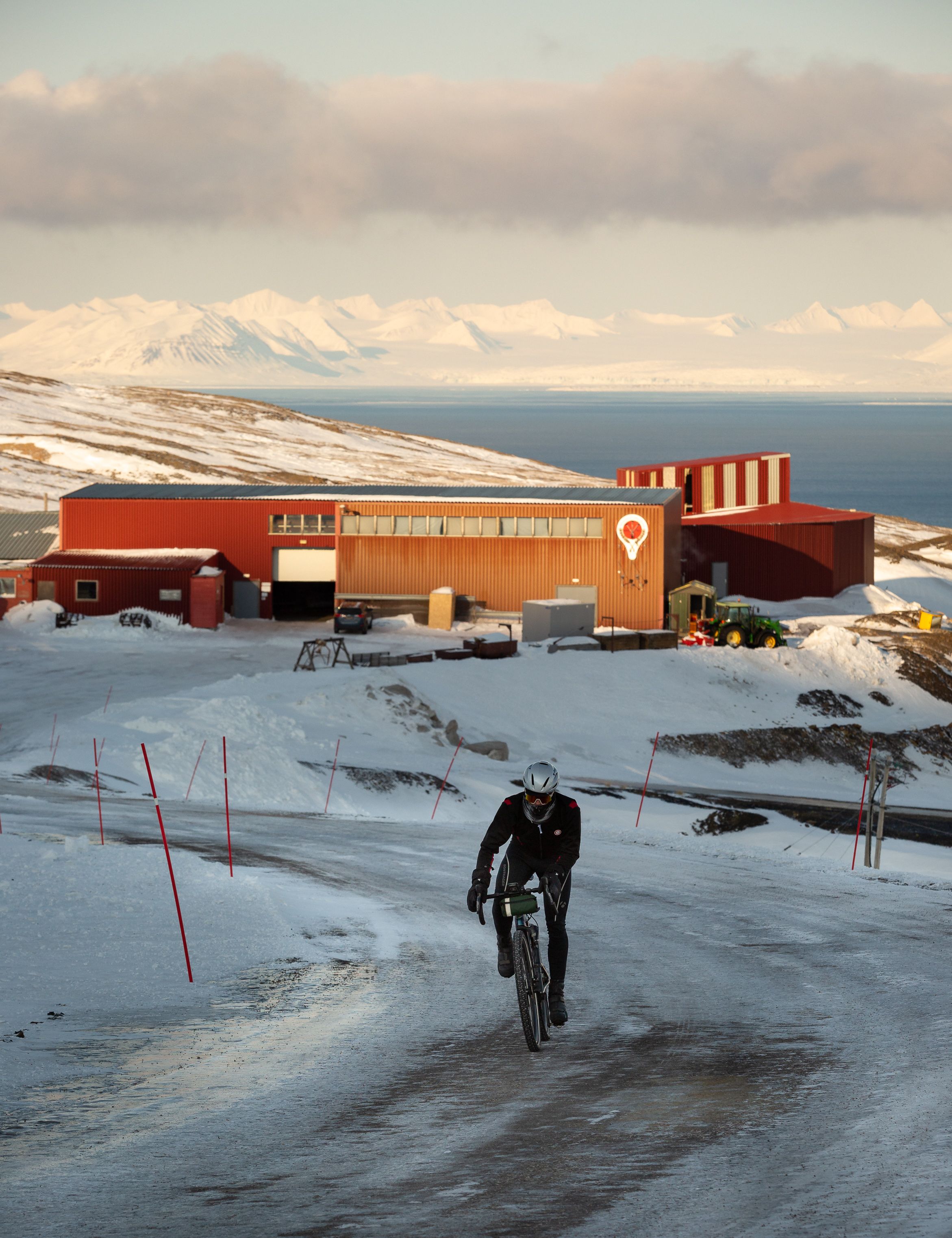 You had a special reason for doing your Everesting challenge. Chapeau for raising attention to this very sad cause and supporting Ukrainian refugees! However: Why in the Arctic? I did one in the Austrian winter and I still wonder why on earth I did that. Isn't Everesting itself already extreme enough?
Haha, yeah, Everesting is the ultimate one-day challenge, and I wanted to really go outside my comfort zone for the cause. The Arctic is wild, untouched and beautiful. The adventurous surroundings gave me lots of inspiration. The cold was harsh, but good planning made it doable. The cause is worth fighting for as it's terrible that many refugees, have lost their homes, jobs and even family members. They should not be targeted by traffickers, but rather be safe.
Therefore please support Ukrainian refugees wherever you can.
That's great! Here is the link to the donation cause.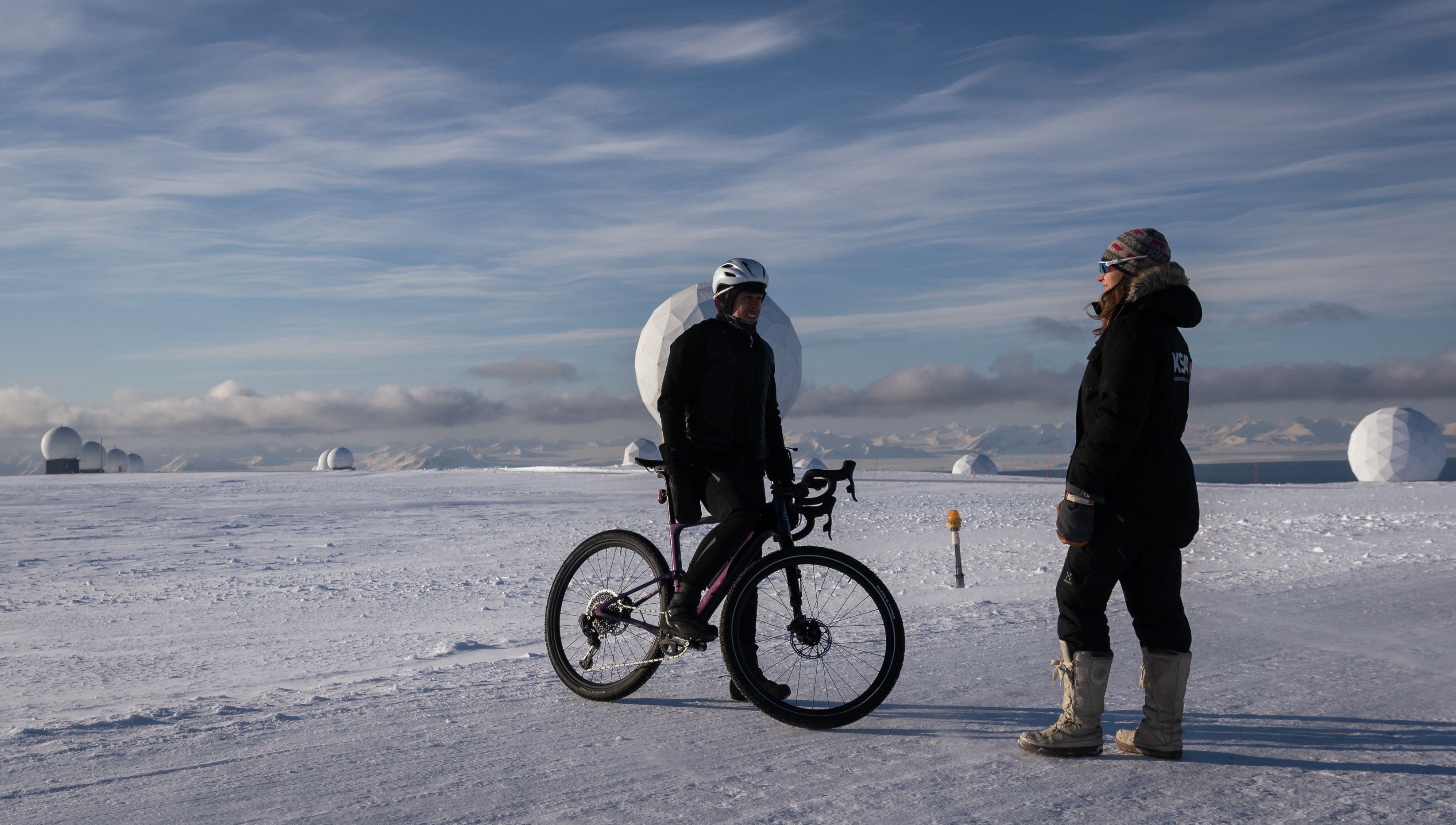 How did you choose your segment and why did you choose the climb you did for this challenge?
Finding the right hill was not easy on Svalbard. There are only a few roads and it's actually hard to find info about those. I had some contacts who helped me with all the information on the climb. At first we wanted to go all the way to Ksat at the top, but unfortunately there was a great avalanche risk on that part of the road, so we used a shorter part of the climb of 2.6 km 230 meters of elevation.
So I checked it out on komoot and then asked locals. Knowing people in the area was vital, as information was scarce. I'm glad we found a very steady and beautiful scenery climb.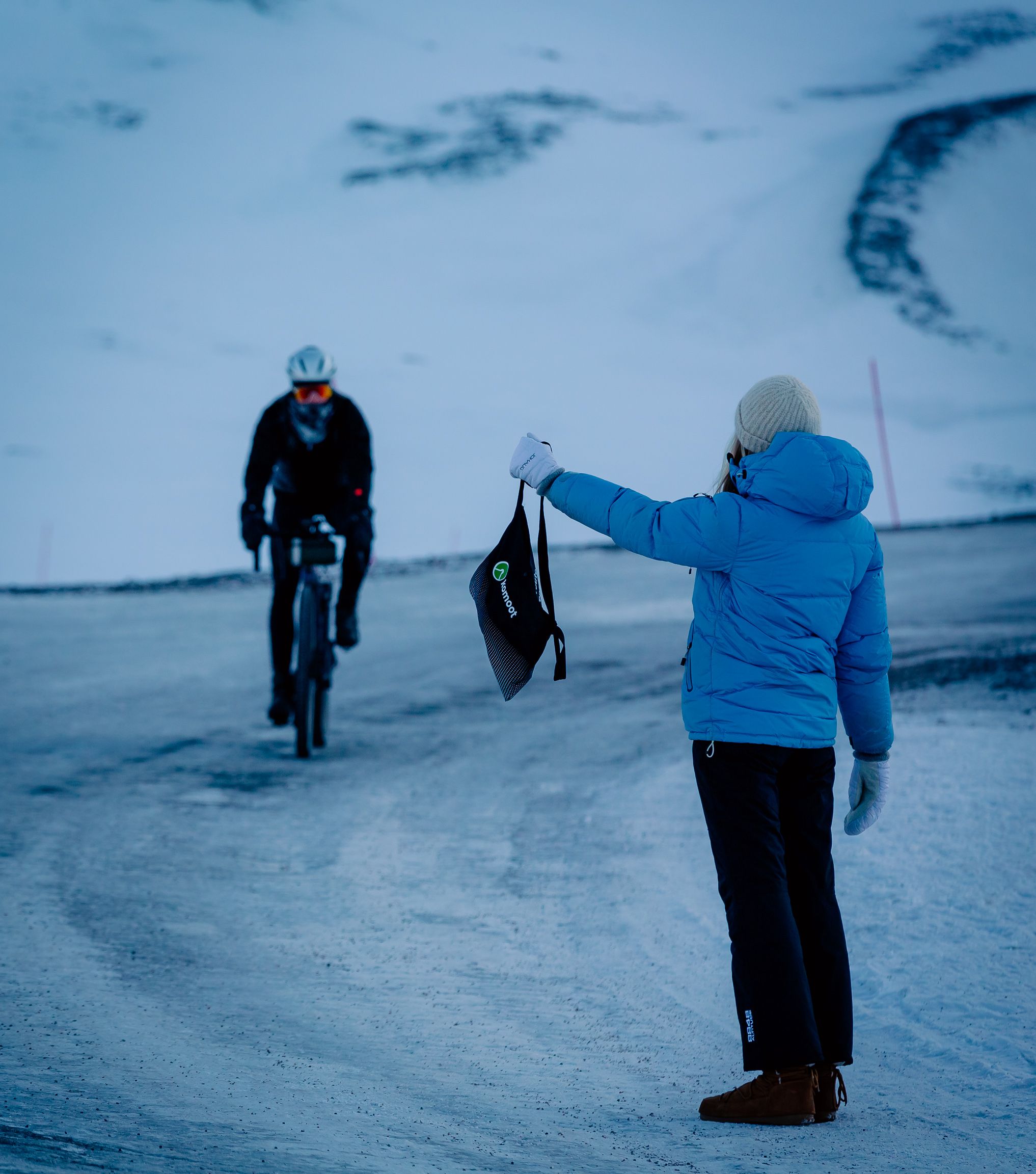 Of course it was cold. But how cold was it and what was the difference between night and day? Was the cold your biggest challenge?
Yes, freezing. -17°C - -20°C. The temperature was stable. Even when the sun was up, it didn't get much warmer actually! In the Arctic the sun is too far away. The biggest challenge was the cold in the downhill. -20°C quickly becomes -35°C when doing 45 km/h downhill. Exposed skin quickly gets frostbites so it was all about covering up! My water bottle froze just after a few minutes and my banana that i stowed in my burrito bar bag got hard as a stone! I stopped to pee and the water (urine) froze immediately when hitting the ground. So eating and drinking while riding was a problem and I had to stop to get a sip or a bite.
The road was covered by snow and Ice as well which made the descend a little tricky.
I used studded tires by Schwalbe. Ice Spikers are my choice. Still the corners were quite slippery.
-20°C quickly becomes -35°C when doing 45 km/h downhill.
Give us your cold weather secrets! How on earth did you keep warm for 19 hours in those temperatures. I guess the good old puffy jacket wasn't enough this time. And what other challenges came with the cold?
I had gotten warm clothing from the event partner CCN, who created a whole new winter jacket for those cold conditions. I was wearing a thick dawn jacked for cycling with heating elements. A proper hightech jacket. Electric heating with external batteries was new to me as well! I also had mittens and insoles with heating elements. Underneath I used 2 Wool base-layers.
Oh and I used a snowmobile mask to avoid frostbite in my face.
I would say the most important thing is to change clothes a lot of times during the ride.
Normally winter in Oslo is single digit temperatures to -10°C max. I'm used to a lot already and have the experience on how my body reacts.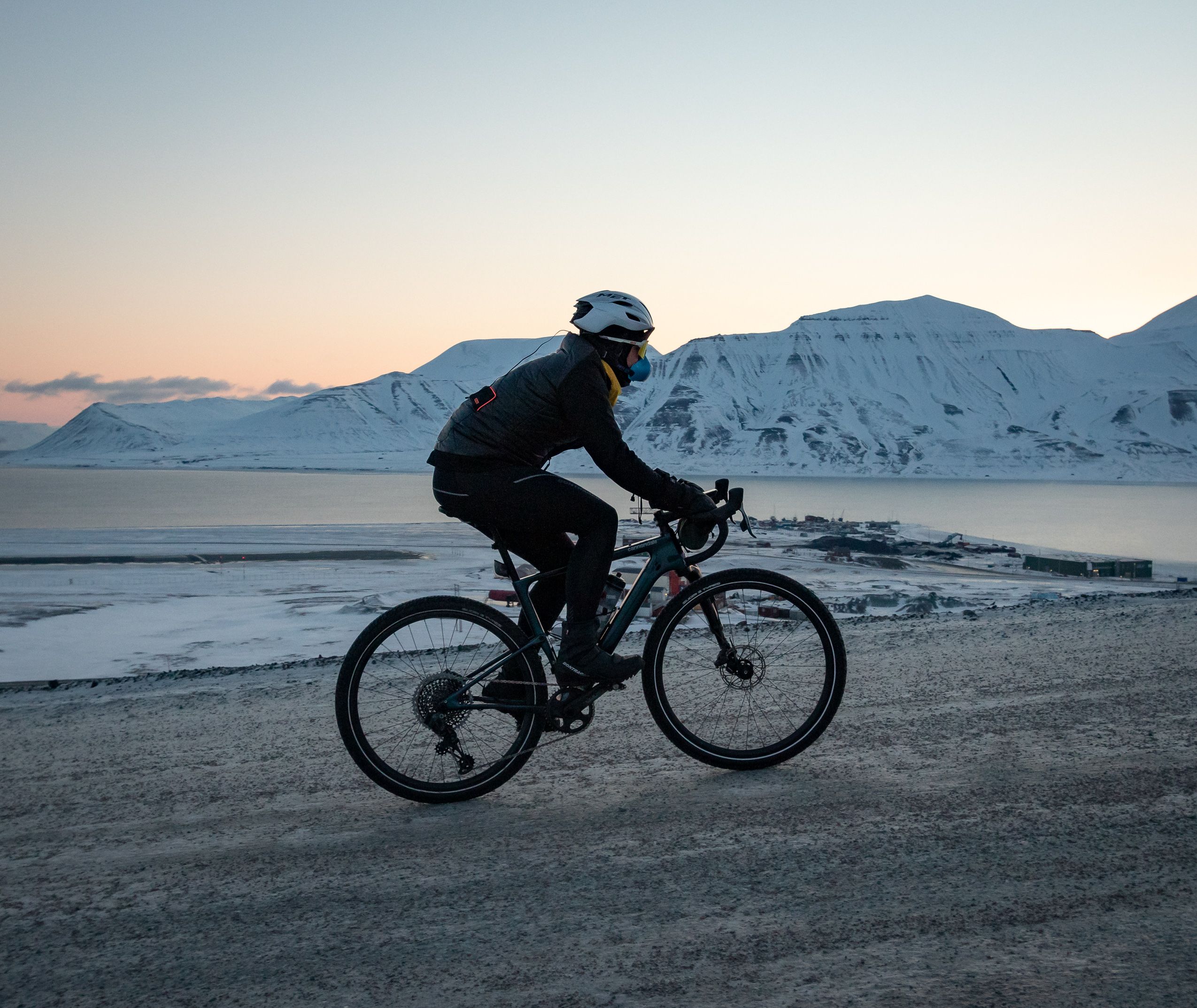 Obviously you couldn't just drink from a normal water bottle or keep an emergency banana dangling in your food pouch. How did you refuel and what is good arctic food?
Haha yep, that Banana froze immediately and my water bottle as well. Fortunately the polar bear guards had a car so I could have a sip every time I passed them.
Unfortunately not a lot of opportunities to refuel. I had to stop at basecamp to eat and drink inside every time.
Generally I ate quite normally. Bananas, bars, candy, basically all the usual stuff I like but also oat bread and salt tablets. The special treat was a pizza with 3h to go. That was probably the best Pizza I ever had.
Still I bonked the last 2 laps and I have no idea how I made it all the way. Fortunately we were 4 people plus 2 polar bear guards. I guess the support from them made a really nice atmosphere that motivated me to push through.
A specialty for us? Check out markset brød. It's quite unique to us and i love it.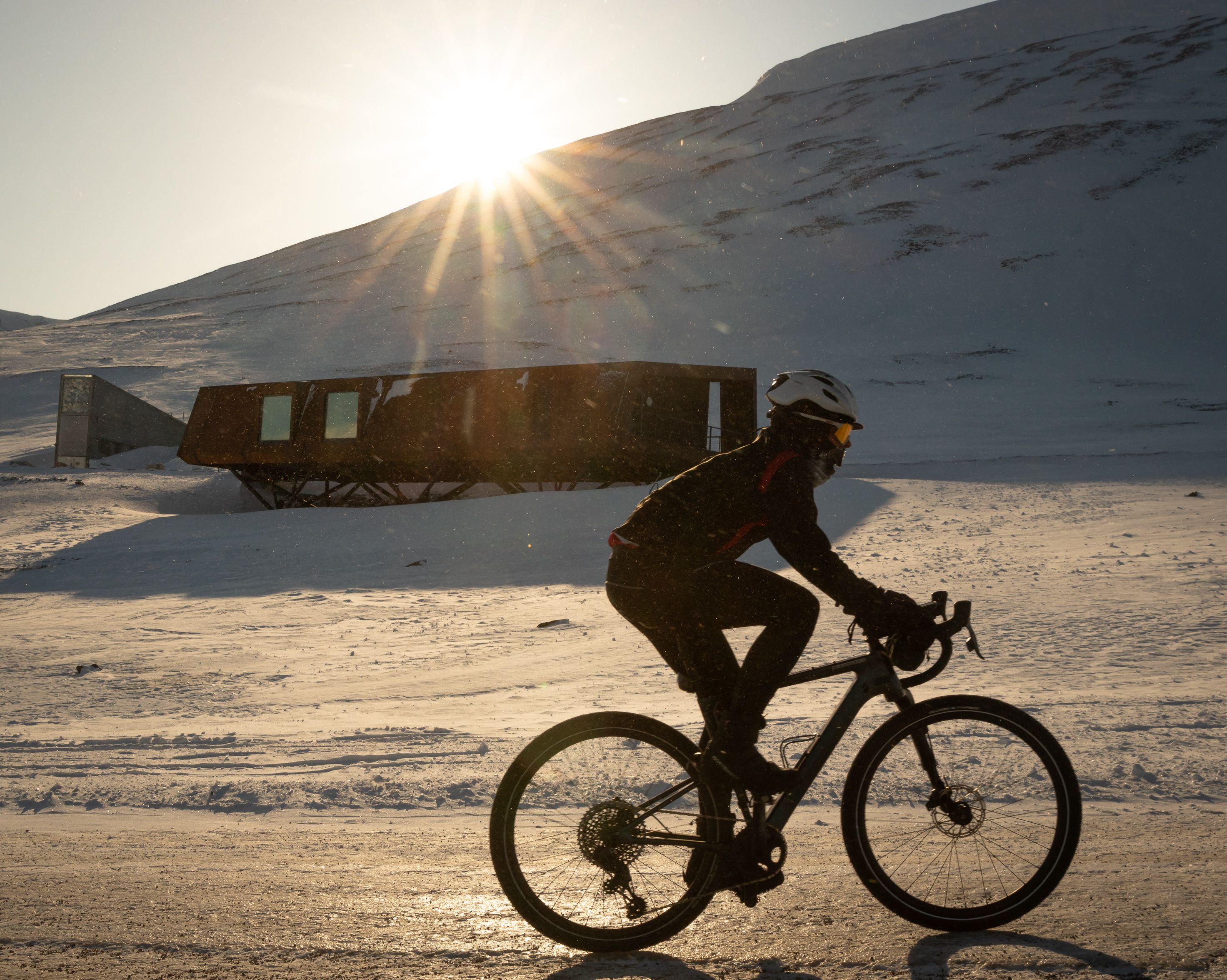 Wait, what? You had armed guards against polar bears with you all the time. Why? Polar bears are cute and why would we shoot them?
They can be very dangerous. They are very curious animals and come very close. So they might attack in some cases. Some 3000 polar bears (more bears then people) are living in the area around Svalbard. There was a sighting the day before and therefore a high probability to see one, as there are seals nearby as well.
Of course it's the last option to shoot them, but a rifle unfortunately is mandatory there. You scare them usually and don't hurt them. The guards were 2 German students. They watched me for the whole 19 hours. I am amazed by their determination actually!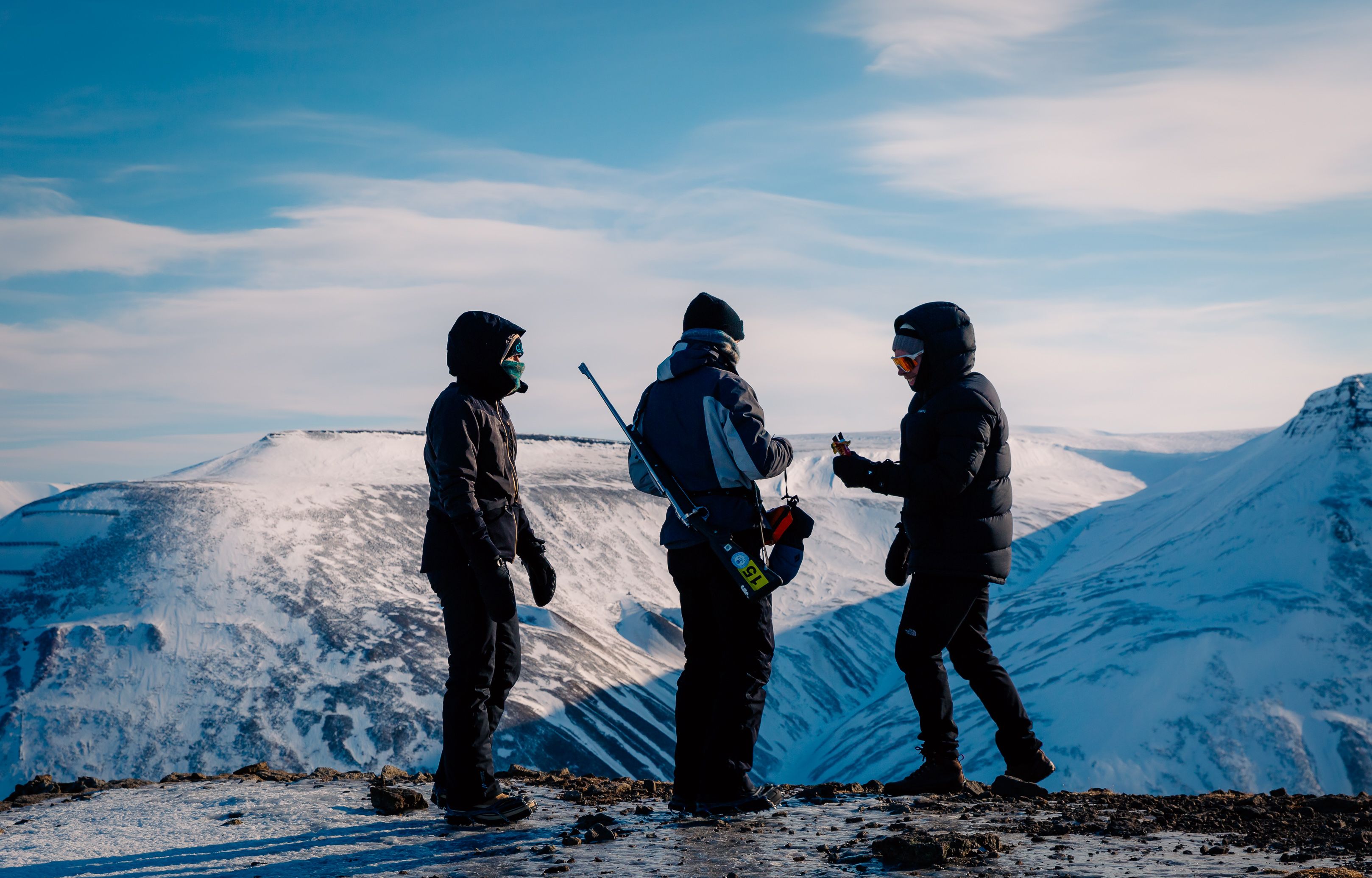 Ok, now you scared me a bit. I thought You also had a polar bear for dinner. The shots (I mean the pictures) your crew took look amazing! Should we plan our next adventure in the arctic? What are your favourite areas to ride a bike?
Of course! We are living in an amazing place! However, I suggest you come here in summer time. Just be aware that we have a bit of a limited access to the mountains and fjords in the arctic. You can't go off-road that much but it's super scenic and spectacular. However, it's tricky as you need to be aware of a lot more things like polar bears etc. I mean let alone you need to carry weapons and other safety equipment.
In general the mountain ranges of Norway are some of the best things to see on our planet. So just look at roads like Trolls path. In summer this is a stunning road to cycle on. Lofoten must be one of my favorites in Norway. We also have some gravel events you should check out.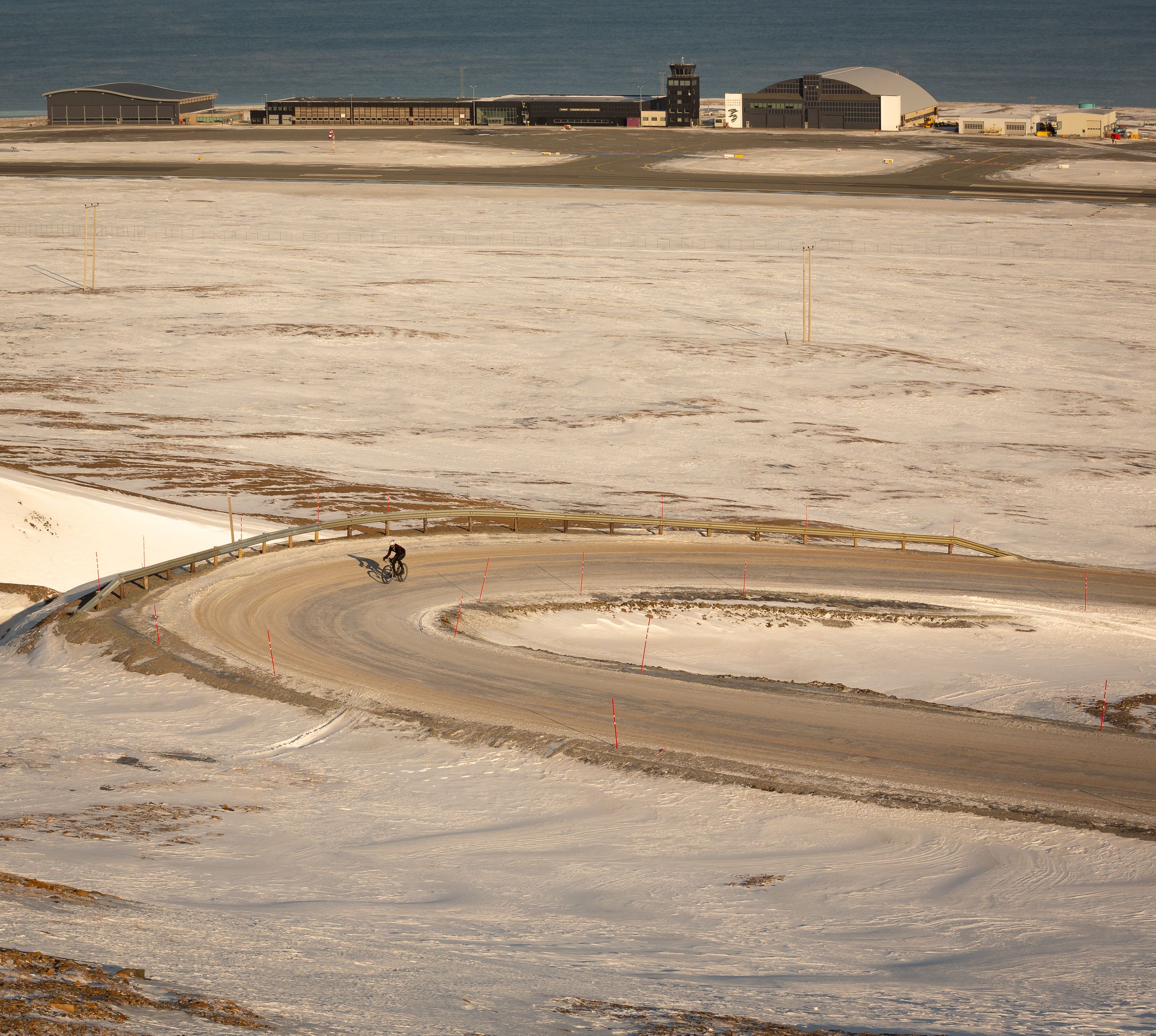 Hmm… Ok let's see when I can make time to come over. You triggered me! But, what's next for Jonas? Double Arctic Everesting? 😉
Well, I will travel to the United States to do some racing on the finest american gravel. Like Unbound Gravel and Belgian Waffle ride. I will also do some other events and some charity events. But I'm not done with everesting for sure and I might give it another shot!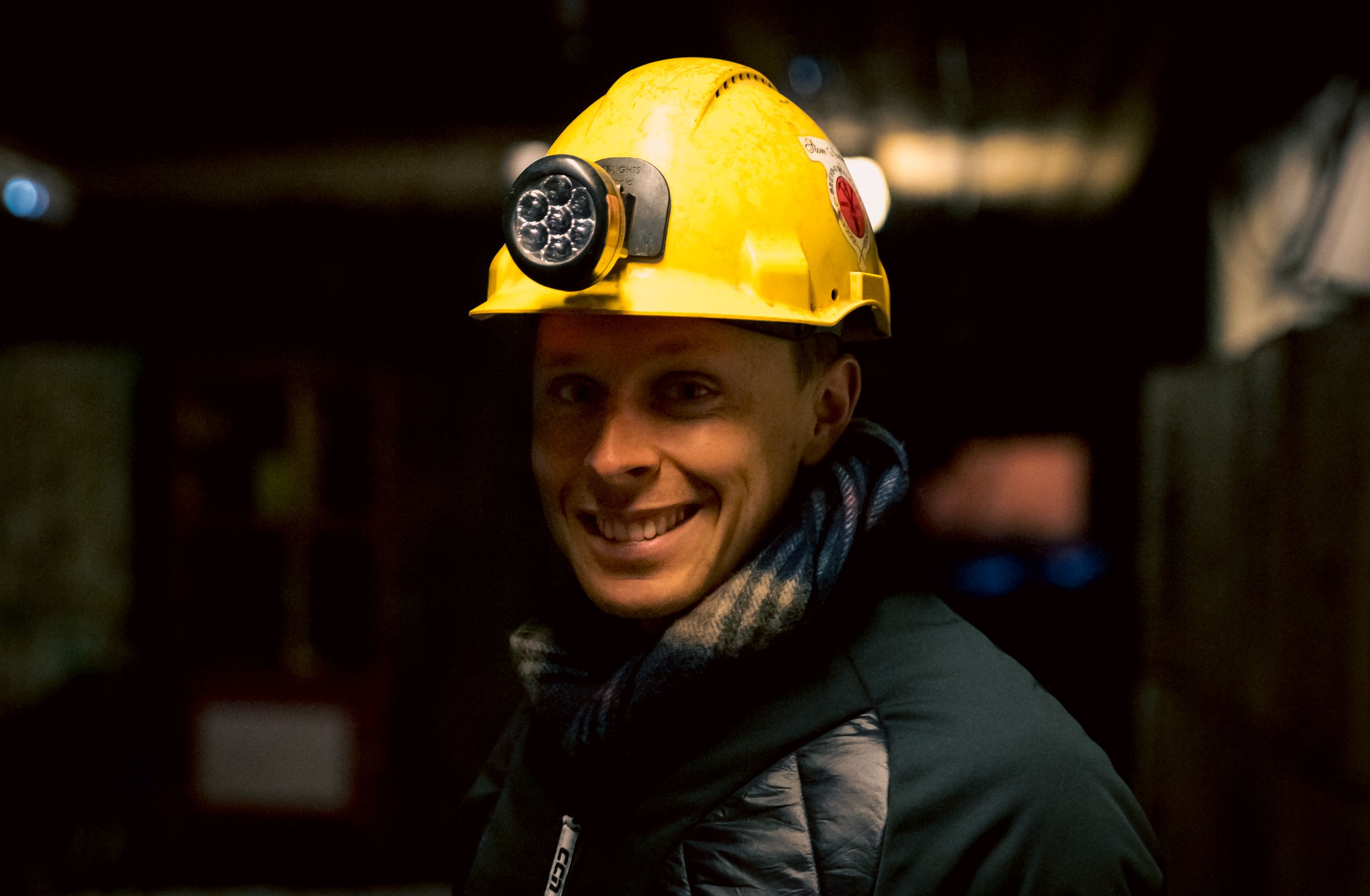 Thank you so much for the talk Jonas! I am quite sure that we will meet again soon in the small bubble of off-road adventure cyclists! I have the urgent feeling to discover more about cycling in Scandinavia. How do you readers feel about that? Pretty sure you're on the way to googling some tasty passes through Norwegian Fjords as well.
Photo Credits:
Kent Erik Harridsleff
Joakim Birkeland
Jonas Dube