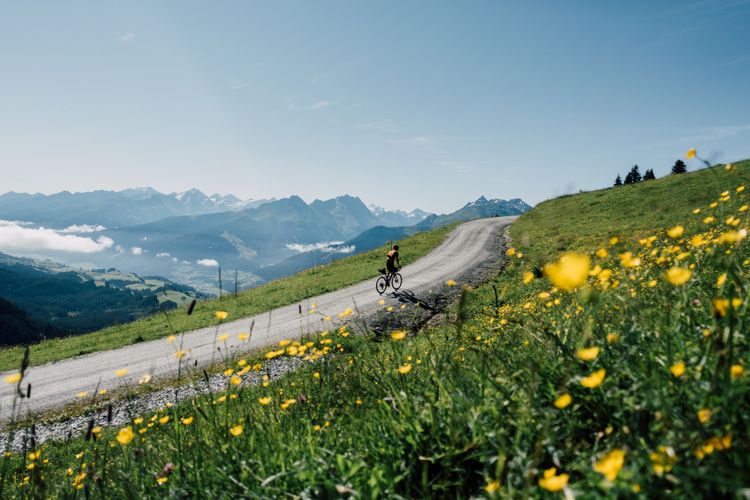 Resterhöhe Mittersill
DayTrip
With this tour starting from Mittersill you will have a great mix of tarmac and gravel and if you want, a tiny bit of single trail, as well as two streams to cross!
Route Description
Mittersill is part of the beautiful area of SalzburgerLand. Hidden deep in the Mountains of the "Hohe Tauern" Mountain range exceptional views are guaranteed. You will surely not regret riding your Gravelbike in Mittersill with lots of cycling paths, official routes, alpine huts and beautiful climbs. But let's guide you through this route. With 1610m of climbing it is not a beginner route, but if you take your time you will remember this cycling adventure forever and have an amazing time out on the Graveltrails.
Yep, the beginning is a bit steep and might be a hike for you, but by going this way we're escaping the traffic and in 5 minutes you will find yourself on a tiny road with literally no traffic. Soon the tarmac ends and the landscape opens up. Welcome to Mittersill's wonderful gravel paths.
WOW! Don't miss out and take some pictures. The "Hohe Tauern" Mountains are greeting you in the south. But this is only our first glance at them. Wait until we go higher up and you will see some of the highest mountains in Austria, close up. This panorama would fit perfectly above your couch at home right?
On hot days we can cool down on the next section through a forest. There are 2 tiny streams to cross. Just splash through full speed on your bike! This is where the fun begins. You can already call this an avid bike adventure. 😉
Soon you will leave the forest and make your way up to the lake on Resterhöhe. This is the most beautiful scenery you can think of! Enjoy a minute of silence and the view on the high peaks of the Hohe Tauern National Park as we are rising up to see them more close up. They are just a bit shy, but we are getting there.
In no time we will reach the top of Resterhöhe. There are only a few places we can think of that offer a 360 panorama view like this. But not only this the small lake on top calls for a refreshment and maybe you got hungry during the way up? Time to refuel with a cold drink and some local Austrian food. You have plenty of Alpine Huts to choose for a break! Just make sure you can still make it down to Mittersill again after this feast.
If you wish, you can extend your loop and go up the 2036m high "Zweitausender" peak If not you can go down straight to the valley. If you want to prove your skills as an expert cyclist you can try and ride all the way up the short single trail to the cross on the summit. But please take care of the hikers. Remember: We are all here to enjoy and relax together. Now how is that for a tour? Summit cross above 2000m with your gravelbike. You are a hero! Whether you chose to go on to the peak or decided to go down directly from the lake, awaiting you are about 1600m of champagne gravel with dreamy switchbacks in the downhill! Enjoy 😊. The tour loops directly back to the train station for easy travel further.
You got thirsty for more? Check out the official routes of Mittersill Plus! There is lots more to discover here.