I want to disclose first up, that I am sponsored by Cervélo, Ortlieb, Wahoo and K-Lite. However this is my objective opinion and it is the equipment I chose because I think it was the best available.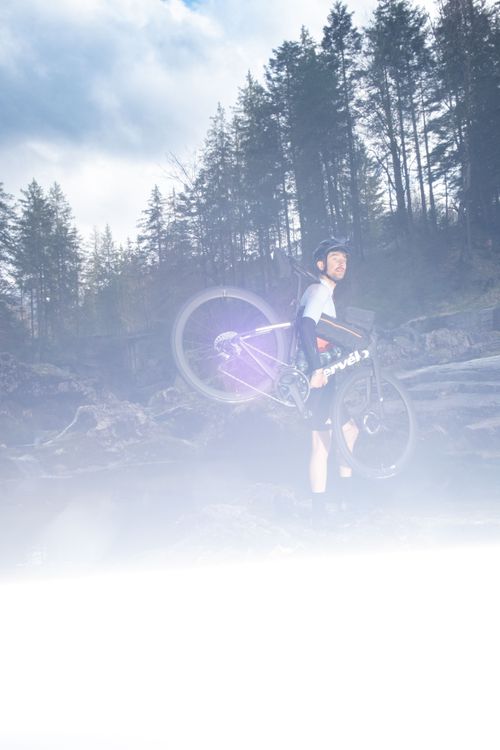 Cervélo say it themselves: The Caledonia is your bike for BIG STUPID RIDES. Last year I chose it for my Transcontinental Race from Geraardsbergen in Belgium all the way to Burgas in Bulgaria. Yep, it was long. Around 4200km with over 40000m of climbing.
Not all roads along the way are smooth tarmac and even some Gravel and Trail bits were to be found on the CP4 Parcours in Romania. While preparing I knew I needed a very versatile bike.
Stiff, fast, but with wide tire clearance and a smooth ride feel. Talking to Cervélo there was only one bike: The Caledonia-5.
Taking up to 35mm tires, still fairly aero and light the Caledonia was my bike of choice. I did multiple stupid rides before the race and never felt uncomfortable even on long days.
For the first time in a while I used a 2x Shimano Ultegra Di2 Groupset. 53-38 in the front and 11-32 in the back. I would say the gearing was ok most of the time, but when your legs get tired sometimes one more gear would have been great.
I changed the wheelset for my K-LITE Revolution Innegra dynamo wheels. Those are carbon reinforced with Innegra which prevents fatal failure. The SP Dynamo Hub worked perfect and is the lightest option out there.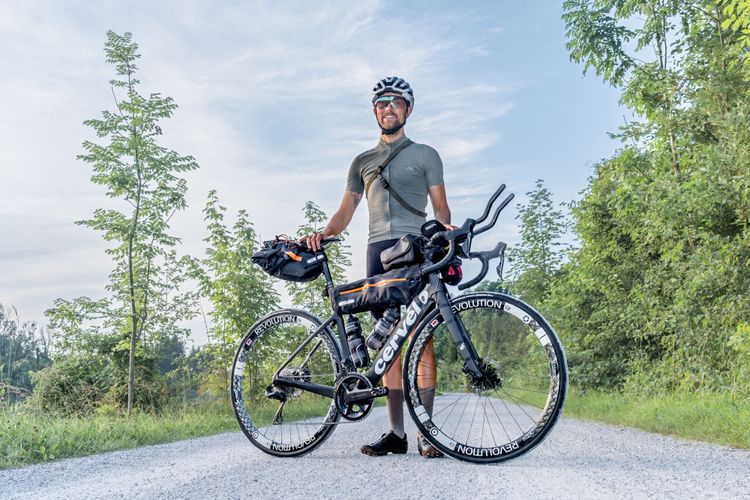 For pedals I went for Shimano SPD XTR Pedals. Simply because walking in full carbon shoes would have not been fun for 10 days. My cockpit was made up of a Cervélo specific Wahoo Mount on the stem to power my Wahoo ELMNT Bolt V2. With the additional GoPro mount on the Cervélo GPS faceplate mount I attached my K-LITE Bikepacker Ultra Low Drag lamp, connected to the dynamo hub. I mounted Profile Design aero bars to rest my hands and get aero to save energy wherever i can. With 40cm bars I also had enough space to still rest my hand on the upper bars.
For the saddle I went with a Prologo Dimension NDR. Nice and light and really not a bad fit for me, however, I would probably not take this saddle on such a long ride anymore. (Hello Posedla, my review will follow soon. 😜)
On the Seat post I attached a K-Lite Safety Qube which was wired to my Ortlieb Fuel Bag top tube bag via a K-Lite USB charger. (Yes I went with the full K-Lite setup here.) The top tube bag contains all my electronics.
I also took a full Ortlieb Frame Bag 4L for my clothing and fitted some snacks in between.
Last but not least I used an Ortlieb Seatbag in size small for my sleeping bag and bivvy.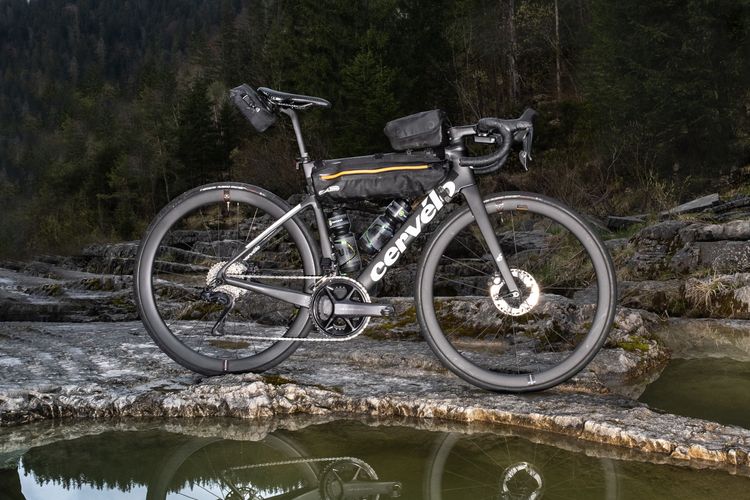 Now of course, I took equipment I got from sponsors but I will tell you a few facts that will actually make you believe this was the right bike and the right choice of equipment for the Transcontinental Race No.8:
I covered a bit over 400km on average per day. My biggest amount of climbing was 5160m in one day and I never went under 2500m of climbing per day.
I rode the fastest Time on the CP4 off-road parcours in Romania over Transalpina by over 40 minutes. No puncture, no crash, no mechanical. Pure fun on 32mm wide Continental GP5000 SII tires.
The day after my finish I went on a recovery ride with some other finishers for ice cream at the black sea.
3 weeks after the TCR No.8 I went to the Pyrenees for FURTHR Perseverance and finished in 5th position.
ZERO mechanicals, ZERO regrets over equipment and bike choice over the whole race.
I went with a nearly identical setup to Deadends e Dolci in Ticino, Switzerland just last week!
Yes, that is also due to my experience and physical fitness, but I can clearly tell you: The bike you choose can make or break your ride!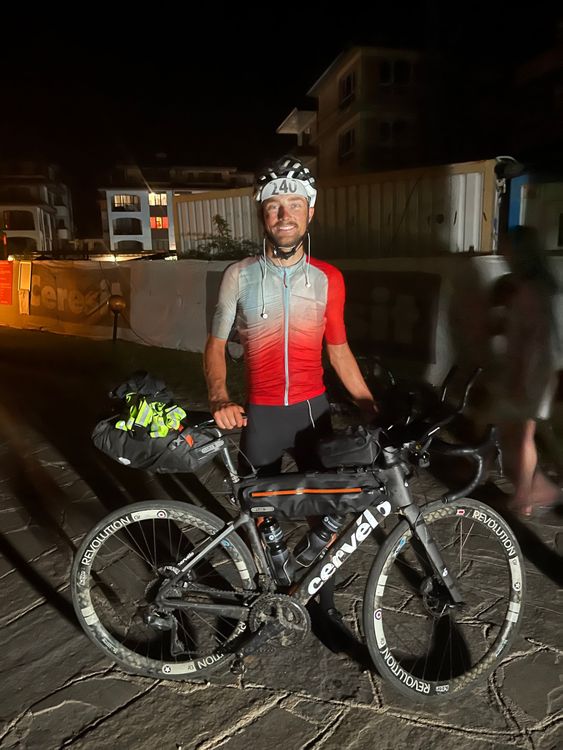 Funny enough the Caledonia is the bike I get asked about the most. Not the ZHT-5 Hardtail Mountainbike, not the Áspero gravelbike. Why?
People want to know if it is fast, if it is not too heavy. You can have a Caledonia way under 8kg and the bike has exactly the right compliance and abilities for really long and stupid rides. It is aero enough and strikes all the boxes for us endurance riders:
Wide tire clearance
The "normal" Caledonia (not the Caledonia-5) even has top tube mounts for a bag!
Fender Mounts
BBRight Sleeve threaded Pressfit Bottom Bracket
Smart cable routing
Fast and still comfortable
I honestly feel it is one of the best balanced Roadbikes I ever rode and it has been a LONG time since I have last been so excited to go on a road ride. (Yes, I am fully absorbed into the off-road game. 😉)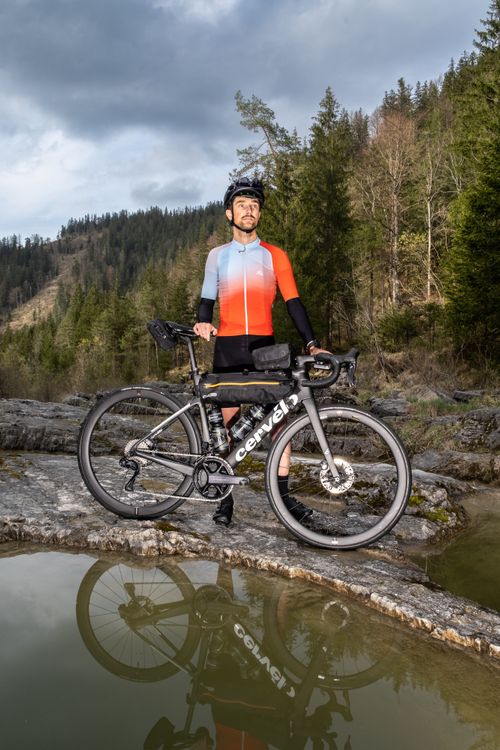 What do you feel about the Caledonia Endurance Road bike? Am I missing something, or do you think you have an even better weapon for ultra distance BIG STUPID RIDES?
Let us know and we might feature your bike, too!