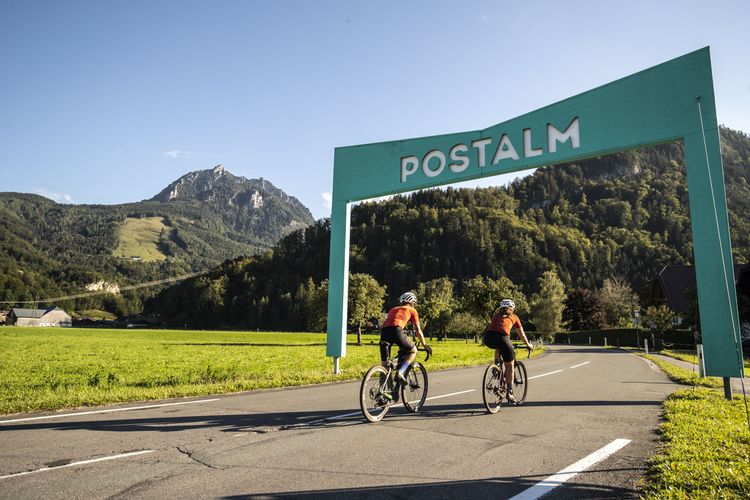 Postalm Gravel Bikepacking Trip
BikepackingTrip
A monster tour on asphalt and gravel, on which you'll be riding high up, or a 2-day bikepacking trip? You decide. So to speak a best-of Salzkammergut and a real challenge with great panoramas!
Route Description
This route has it all! There is a lot of altitude and kilometres to overcome. Postalm and Hornspitz are two alpine climbs that will challenge you but also reward you with magnificent panoramas. The terrain could be described as "all-road". From asphalt to asphalted, bumpy paths to gravel, everything is there. Perfect for your gravel bikes!
Whether you want to do this as a beginner-friendly bikepacking tour or need a real challenge and do the whole thing in a long day tour is up to you. Either way, it's going to be a real adventure!
Read on to find out what to expect.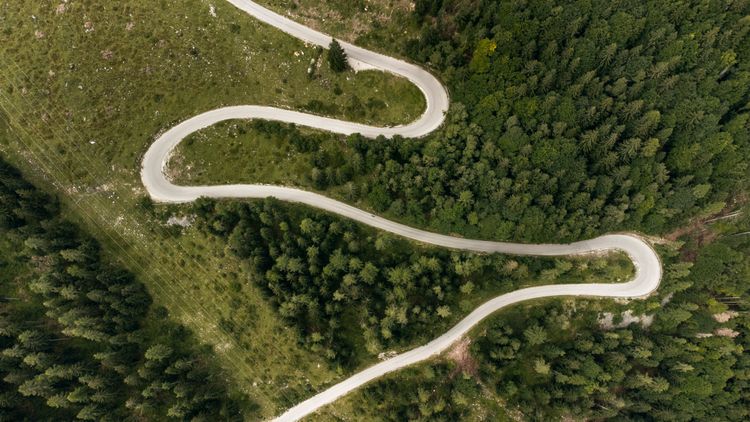 Getting there
Of course you can start anywhere on the loop, but we recommend the beautiful town of Bad Goisern. As a cyclist, you have to see it once: The home of the legendary Salzkammergut Trophy and a town that lives and breathes cycling. You can get there comfortably by train. You'll also find plenty of parking and accommodation if you're coming by car.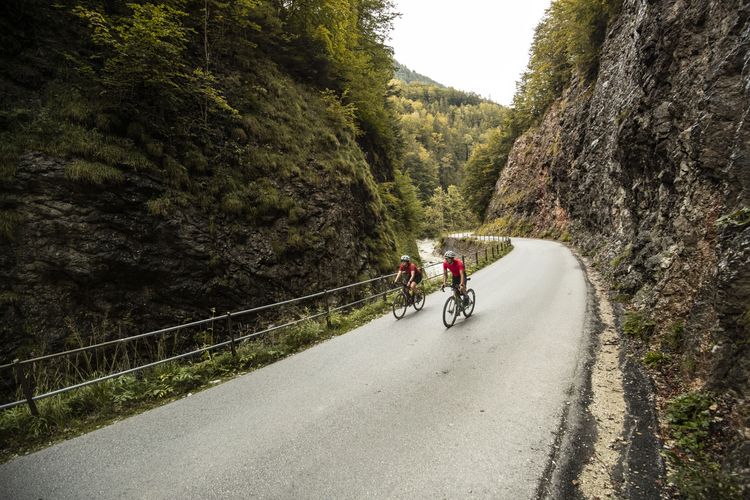 From Bad Goisern to the Postalm
We leave Bad Goisern heading north and follow the cycle path along the Traun. Soon we leave it and cycle around the busy Bad Ischl on a nice gravel road.
Shortly before Strobl we turn south and are already on the Postalm road. A long climb awaits us here. At the beginning with a gentle gradient, past rock walls and along the rushing Weißenbach stream, which flows over steps towards the valley.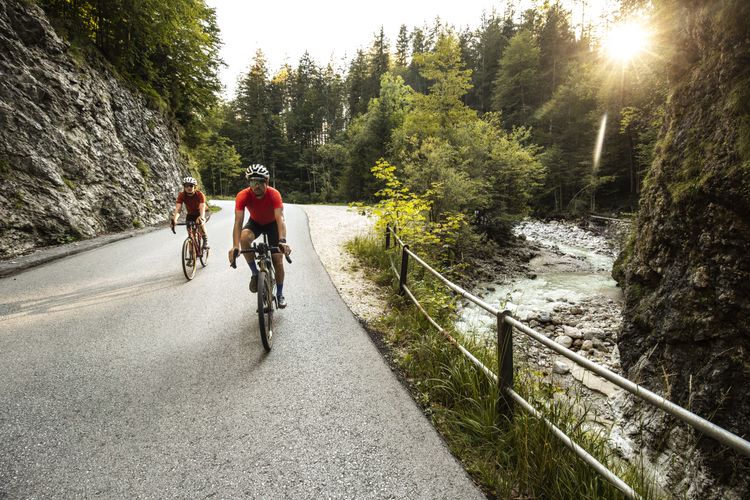 Soon after the toll station (which we, as cyclists, are allowed to pass without paying!), it gets steeper and we ride higher and higher up with some serpentines.
Once at the top, we are greeted by an epic view. The rocky mountains, the endless alpine meadows and the small, in summer quiet, skiing area let us know we are now really in the Alps! At the top, we leave the asphalt and head back downhill on gravel.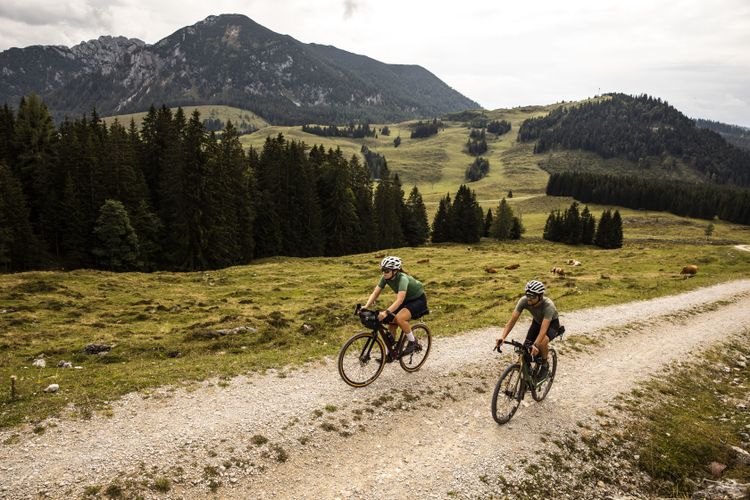 To the left and right there are some good opportunities to stop off at one of the alpine huts. Local delicacies abound here and the region is especially famous for its snacks with regional cheese and meat products. Cakes, Kaiserschmarrn and other sweet temptations are also available here!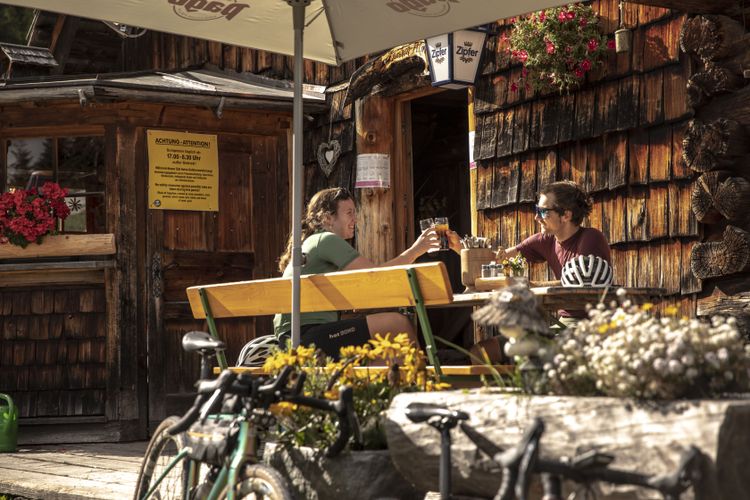 Via the Alte Postalmstraße to Abtenau
Of course, we could also ride downhill on asphalt here, but with our gravel bikes we can include a special highlight of the region: The Alte Postalmstraße.
In the past, all traffic went along this single-lane road. And you can still see remnants of the asphalt, but it is degenerating more and more into a bumpy path with lots of gravel. Perfect for us!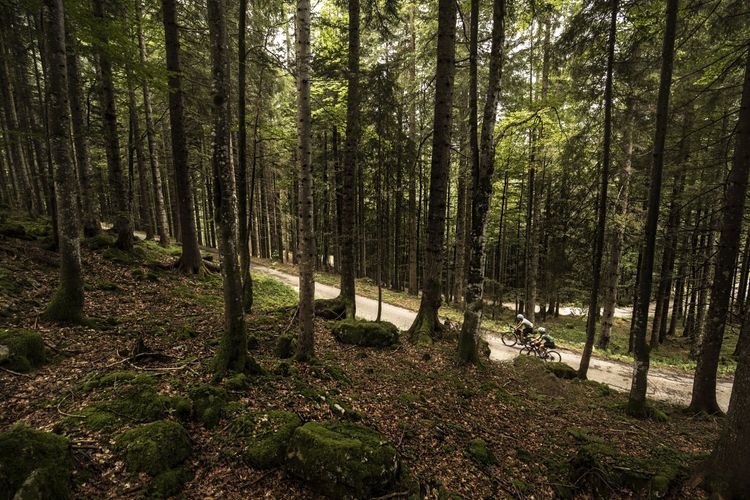 We ride swiftly along the Aubach, which cuts deep into the rock, past waterfalls and deep gorges into the Lammertal. Once we reach the bottom, a small climb to the village of Abtenau awaits us. This is about halfway along the route and offers good places to stop for refreshments and also some accommodation before you plunge onto the Hornspitz.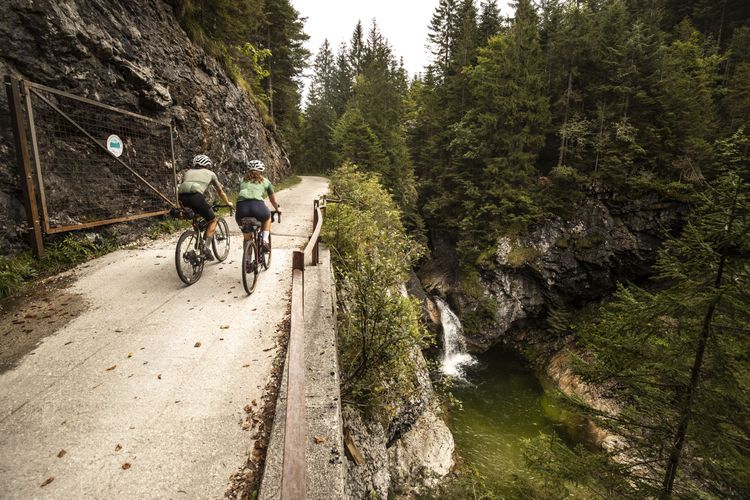 Spectacular panorama towards the Gosaukamm ridge
From Abtenau, we skilfully avoid the major traffic routes and soon head up towards the Gosaukamm on quiet asphalt paths. We are now on a section that belongs to the legendary Dachsteinrunde. A 3-day mountain bike tour.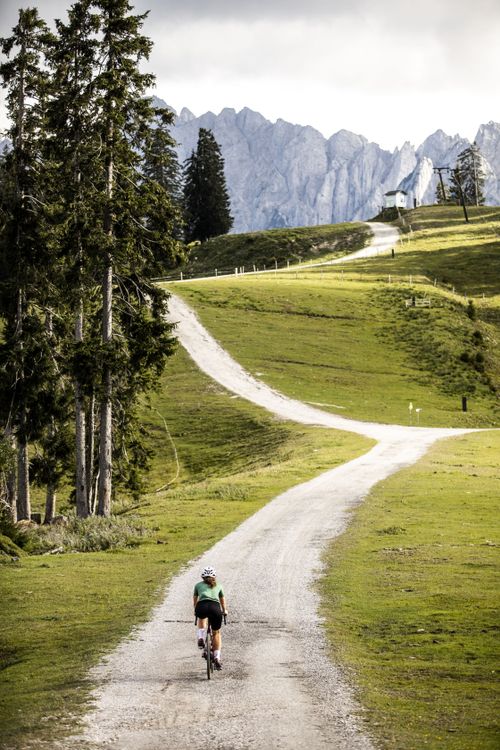 Passing some farms, we soon leave the asphalt and find ourselves on a beautiful gravel road. Heading south, we can marvel at the imposing Gosaukamm ridge with its rugged, rocky peaks. Shortly before the Hornspitz we turn right. Keep a good lookout up here, there are often grazing horses right next to the path! A short way steeply downhill, we already come to the Zeishofalm, a wonderful place to stop for a bite to eat. From here we ride downhill on good gravel paths to Gosau, where we also find many inns, supermarkets and accommodation.
But we are not quite finished yet!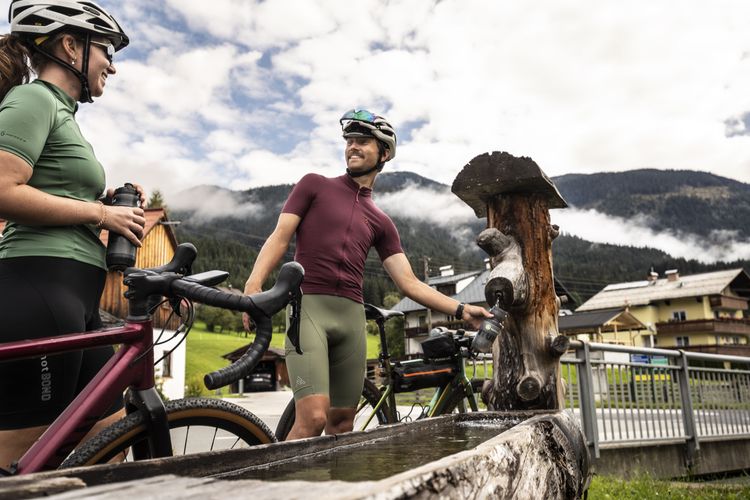 Via Lake Hallstättersee to Bad Goisern
Finally, we ride downhill to Lake Hallstättersee. It is known to many for the famous town of Hallstatt and the church tower in front of a large mountain panorama. This is exactly where we now head and after cycle around Lake Hallstatt on the east side. What's special here is that you can't even get there by car! We cycle along small paths, on gravel and partly on bridges directly above the water and return to Bad Goisern with a wonderful finish.