Born out of enthusiasm for getting way out there, this Salsa Spearfish was built up here at Parallel World Headquarters to pull double duty. One half buckled-down, well studied backcountry expert, ready to get in and get out, all in one piece and the other half a wild 'n out trail fiend foaming at the mouth for more shred, more send, and most importantly: more kilometers. This build was inspired by the clients growing wanderlust and as like many other gravel cyclists, the near frustration of "running out of bike" when out bikepacking; turn the corner and that perfectly rough gravel road turns into and craggy goat path, that sort of stuff. Of course, wrong tool right job is a lot of fun, a lot of the time, but when you've been whacking screws in with a hammer for years, at a certain it's just nice to grab a screwdriver. Plus, mountain bikes are just so much fun, objectively speaking of course.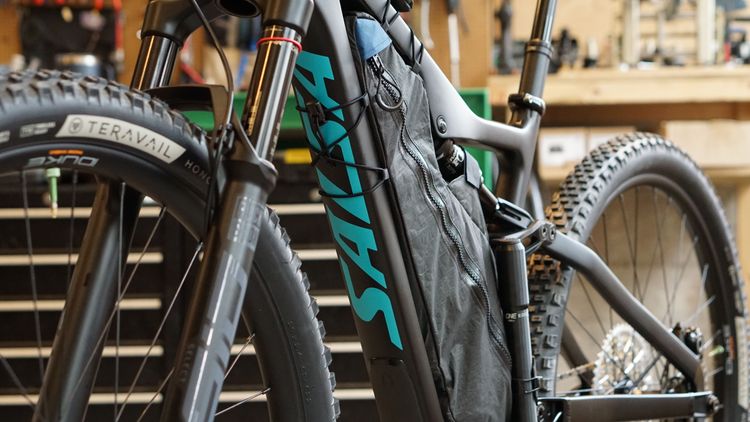 Salsa bills their Spearfish as a "progressive XC bike", and that's probably dead on, but the beauty of modern "progressive" bikes with modern geometries and cockpits is that you can kind of pull them one direction or another depending on your goals or maybe the terrain where you live. Obviously there are limits that the designers have thankfully more or less decided for you, after all they did design the bike. For example taking your 120mm/100mm fully with a 68° headtube angle to your local enduro stage may not fall under the category "good decisions". Will it survive? Yeah, probably. Will it be fun? Well, yeah, probably. Well shit, maybe you should bring your XC fully to an enduro stage! Y'all did we just make a whole new category of MTBs?
Sarcasm and rhetorical questions aside, this bike is solid rig that is keen to buckle down when asked to, but also put up with your poor route planning and send it down some scree field in the Jura or something when that's on the docket... so this bike is spec'd as such. Leaning into the trail DNA woven into this carbon frame, a wide and flexy bar from OneUp leads the charge and that 50mm stem keeps the steering sharp, countering the slower steering of a wider bar, making your steering characteristics sharp and precies... also next time you don't square off some big compression correctly, you'll have enough leverage to counteract your front-end wanting to fold in half. Not that I would know about that...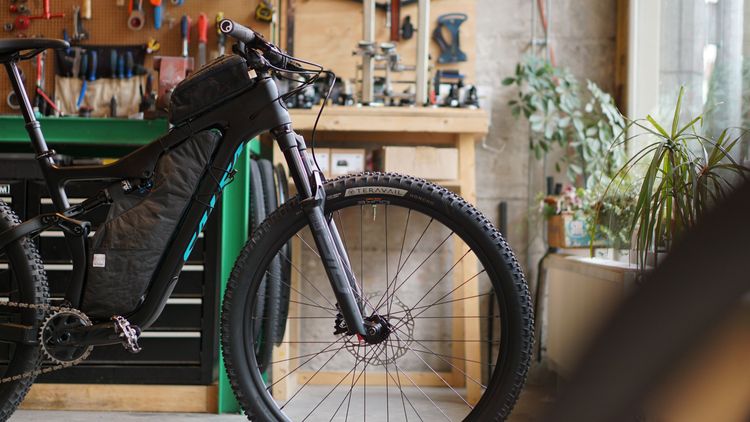 Dropper? Yes, please. But what about a saddle bag? Yeah, you're not wrong, but also kind of wrong. Wolftooth has been making a solution for this for years, and now Apidura even figured out their own solution. My personal solution? It's a MTB bikepacking trip, pack (extra) light, shred the gnar. Obviously not everyone is into that, or maybe just don't have the room at the front of their bike for enough gear, but don't worry, whack a Valais on the dropper and raise the pressure in your post with a shock pump and it'll be sweet! Just triple check your rear wheel clearance because if your rear wheel grabs your bag at full compression, your bike is going to stop real quick, and probably without you on it. You'll notice this bike has a near-full-length dropper on it, and that's because this bike will be pulling trail duty often enough, and the Wolftooth Valais drops your travel by a little bit, so if you start with a short travel dropper, it's going to be reduced down to very little. Also, bonus points, if your dropper ever bites the dust on the trail, the Valais can also act as an emergency clamp to hold the post up.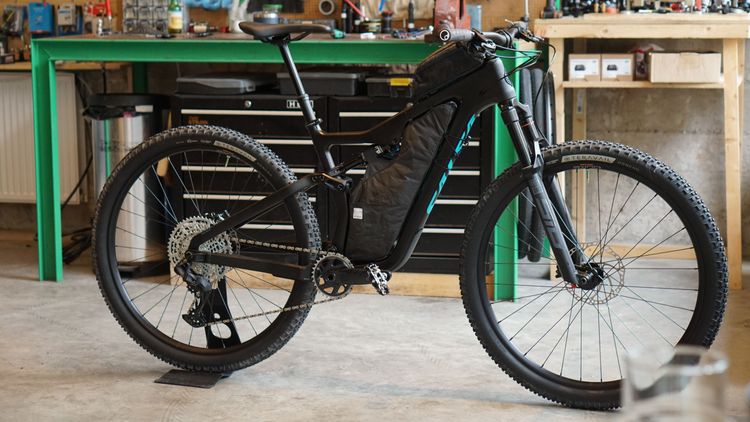 Okay, what else do we need to highlight... Wheels! They're round, consist of French, Belgian, and English parts, and are certainly one of the main things pulling this XC-ish bike just little west of the border with trail bikes. By opting for a little bit more durable and wid(er) rims, paired with a beefier casing tire, these wheels give you just little bit more when the going gets chunky. You can't see it, but Cushcore is inside of the tires doing it's job stabilising those meaty Teravail tires and protecting the rims. Bikepacking rigs are generally lacking in upward mobility (or other words are heavy as sin and it's really hard to constantly bunny hop rim-eating-rocks on the trail0, so some rim protection to be able to roll roots and rocks with confidence is pretty paramount if you're asking this wheelbuilder who'd rather not replace your rims every few months.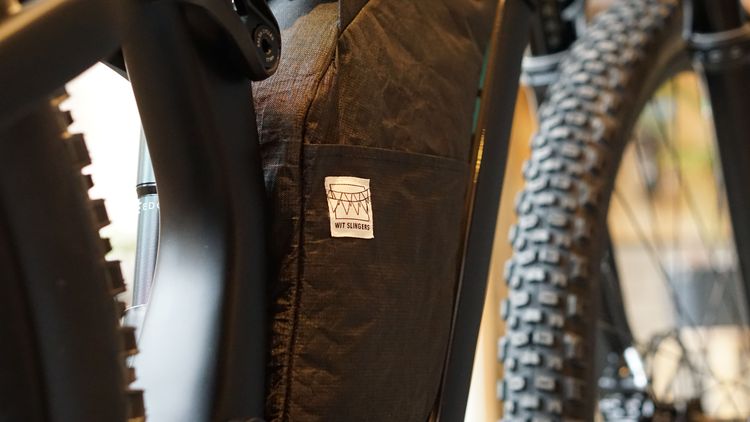 Oh. My. Garsh. I forgot to mention the custom bags! A number of people have been into the shop while this bike was chilling here waiting on parts (2021, amirite?) and mentioned how well the bag fits the frame... well, that's not by accident. After not too much back and forth, Tijmen from Witslingers was able to whip up this frame bag in all its complex-shaped glory, on time, to the clients spec, and in probably one of the coolest fabrics I've seen in the bike-bag world at this moment. As a bike shop owner, I cannot put into words how amazing it is when a custom-equipment process goes as smoothly as that, with the finished result as perfect as it is, it's a hard process and somehow Tijmen made heads and tails out of my sketches. This bag is handmade in Leipzig, to order, from ECOPAK™ Ultra EPL200. Honestly, fabric-tech is still way outside my wheelhouse aside from A) Does it come in pink Realtree print, and B) GSM and durability C) Is it owned by the Koch brothers, and although EPL does not currently come in pink Realtree print, it checks all the other boxes, and looks good doing it.
Okay, that's it! If you made it this far, then I commend you. I'm stoked to write about bikes every now again for Gravgrav.cc, and if you want more of this sort of stuff, hop on my newsletter as well! It's at least mostly about bikes.