We fell in love with this project at first sight by scrolling through the photos on their Instagram profile. We started following them and taking an example from them. But this was not enough for us: we wanted to make an interview and spread their magnificent initiative! We introduce them to you, they are Plastic Free Ride, two guys who love to ride and who deeply hate roadside waste. These are the ten answers they gave to Gravgrav just before leaving to the south of Italy. Enjoy!
B. Hello folks and welcome to Gravgrav! Introduce yourself to the community telling us something more about you and your project.
R&S. Hi everyone! We are Raffaele and Sara, we like to pedal and get lost in nature. We are 32 and 29 years old, we are originally from Rovereto (Raffaele) and Lucca (Sara) but we both live in Arco, a town on the northern tip of Lake Garda.
We work together with Graffiti, a communication agency, as a Web designer, Raffaele, as a digital marketing specialist, Sara.
We both grew up practicing outdoor sports, preferring open air to indoor. Feeling good for fatigue and adrenaline over a comfortable sedentary lifestyle. We love sport in its entirety by practicing a little bit of everything: snowboarding, biathlon, downhill, mtb, bmx, rock climbing, hiking.
A common aspiration? To fully enjoy this world, leaving as little trace as possible of our passage.

B. An incredible couple! And how did the idea of ​​Plastic Free Ride start?
R&S. As you can imagine, the passion for the bike combined with the love for the environment were the two engines that gave life to the project.
In 2019, Raffaele, struck by the increasingly discussed topic of the huge plastic islands in our oceans, became definitively aware of the fact that we can no longer stand by and watch. He was leaving for a bike trip during his summer vacation from work, and so he decided that this trip should be useful not only for himself, but also for the environment.
He set up his bike with a trolley, and armed with pliers he set off for the first collection trip of Plastic Free Ride, to the rhythm of "Life no plastic is fantastic".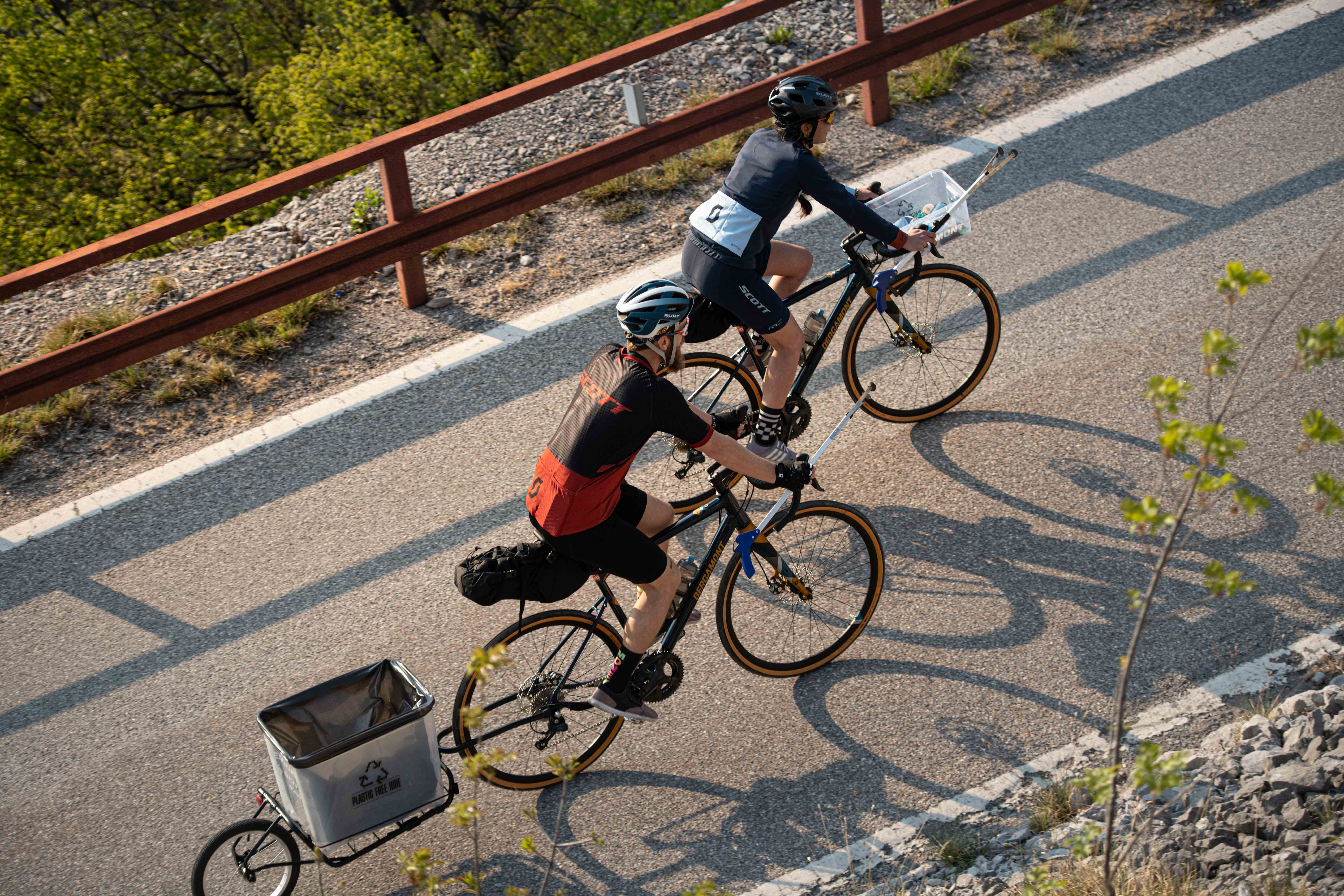 B. What are the "gathering" areas that you beat the most? Which ones would you like to clean up in the near future?
R&S. Living in the Upper Garda, we very often clean up those areas, which are the ones where we spend our days on the bike. The goal this year, however, is to cross all of Italy, from north to south, starting from the Alps and arriving in Santa Maria di Leuca. From June 13th we will be traveling, and in about two weeks we should arrive at the destination. At least that's the plan, because it all depends on how much waste we find! For the future then who knows, surely we would also like to leave the Italian borders, and maybe make a collection trip to another continent.

B. What do you use to contain waste during collections? Tell us more about your harvesting technique.
R&S. During the longer rides, in which we go out with the intention of cleaning up, Raffaele hooks an appendix behind the bike, the one made for the first trip. A transparent container is anchored above that holds about 50 plastic bottles. Sara, on the other hand, has a smaller container, attached to the handlebar. We pedal with pliers always in hand, very useful for collecting the waste that we almost always collect without getting off the bike, sometimes (goal achieved after hours of training :)) even on the fly without stopping pedaling.
When the container is full we stop in the ecological islands to differentiate. We have often found ourselves in municipalities where waste collection is carried out door to door, but we have always found very kind people who have made their bins available.
On short trips, however, when we go out to train or just for the sake of cycling, we always carry a glove and a bag in which to put the waste. We collect much less of course, but we like to do it precisely because if we all did it, even by collecting a dozen waste each, we could make a difference and send a strong message.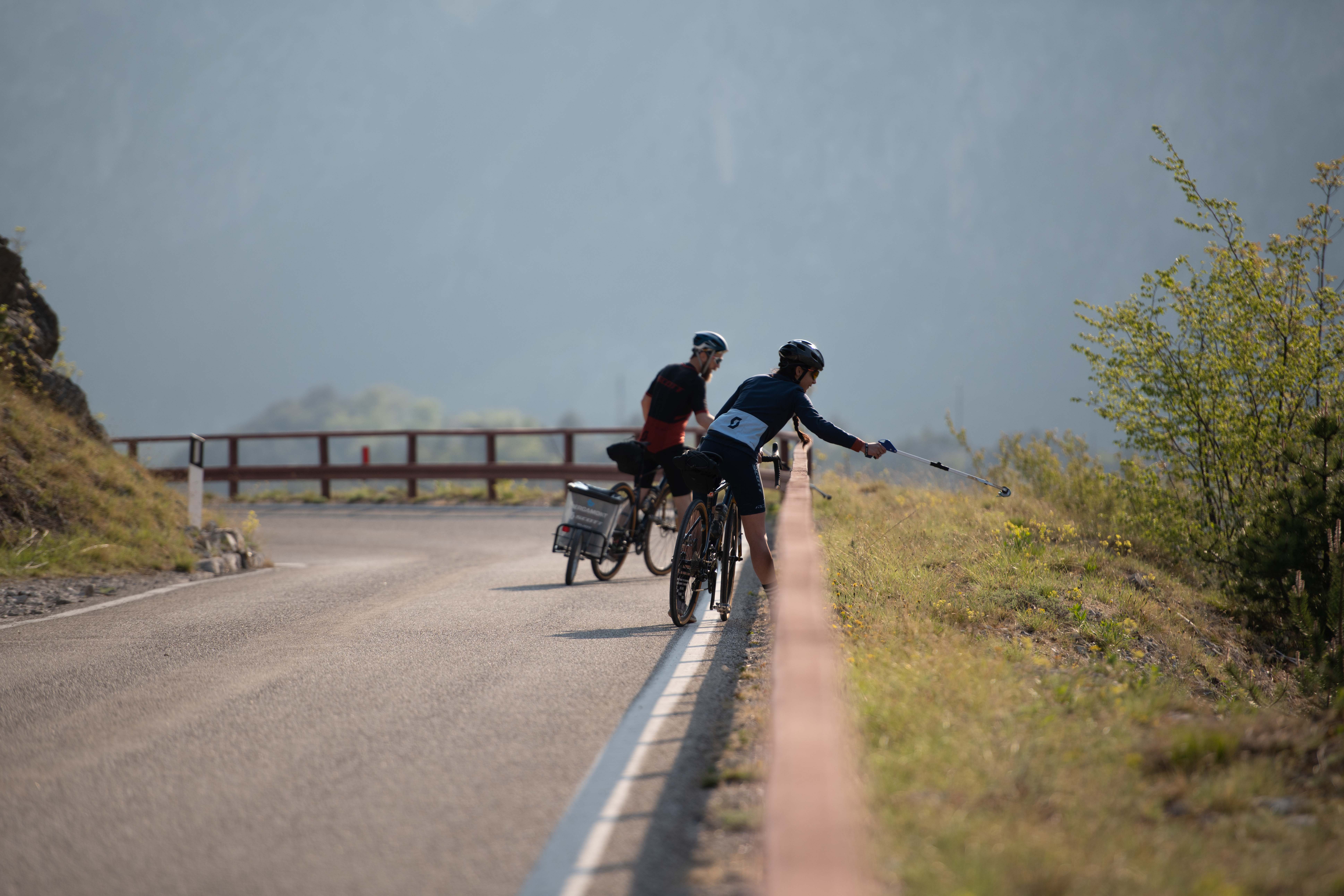 B. Well said! But tell us, what was born first: the passion for the bicycle or the awareness for the environment?
R&S. For Raffaele these are two important themes that have always gone hand in hand, it took a few years to be able to combine them together. He remembers that as a kid he did not have a moped like many peers, and he was very proud to travel by bike precisely because he knew he was not contributing to pollution.
For Sara, the sensitivity for the environment was born first, in particular a sensitivity towards mountain environments, synonymous with natural integrity, unfortunately increasingly fragile.

B. Indeed, finding waste in the mountains is just disgusting.
Can we say that sport and outdoor activities in general lead those who use them daily to have an eye on the environment?
R&S. Yes, we are sure that those who often carry out outdoor activities have an eye more than others, especially since appreciating the environment in which you find yourself cannot make you insensitive or totally indifferent.
Unfortunately, it does not apply to everyone: we often find ourselves collecting energy gels abandoned on the side of the road, or cans of liquid nitrogen. These are used by non-occasional cyclists, outdoor sportsmen who should therefore be more sensitive, yet they do not understand that their gesture is at the expense of the environment they are enjoying in carrying out their physical activity.

B. Indeed! About this topic: as you said, very often part of the waste that can be seen on the roadside, especially in the mountains, are wraps of energy bars or gels aimed at sport. Could biodegradable wrapping be part of the solution to this problem?
R&S. This would certainly be a solution that would help to stem the problem.
The problem in general is not plastic, but its disposable use, which sees a material destined for a very short life that would have a much greater potential and which, unfortunately, if abandoned, takes years to decompose, as we know, with immeasurable damage to the environment.
However, to solve the problem and not just stem it, the mentality of users of gels and bars (and any other product with non-biodegradable packs) should change; the mentality of the frequenters (regular or occasional) of the natural environments: respect for nature should always be placed above anything else, before comfort, and personal convenience.
Carrying the waste that is produced with it, and preferring products that have the least possible impact on the environment. This would be the biggest change.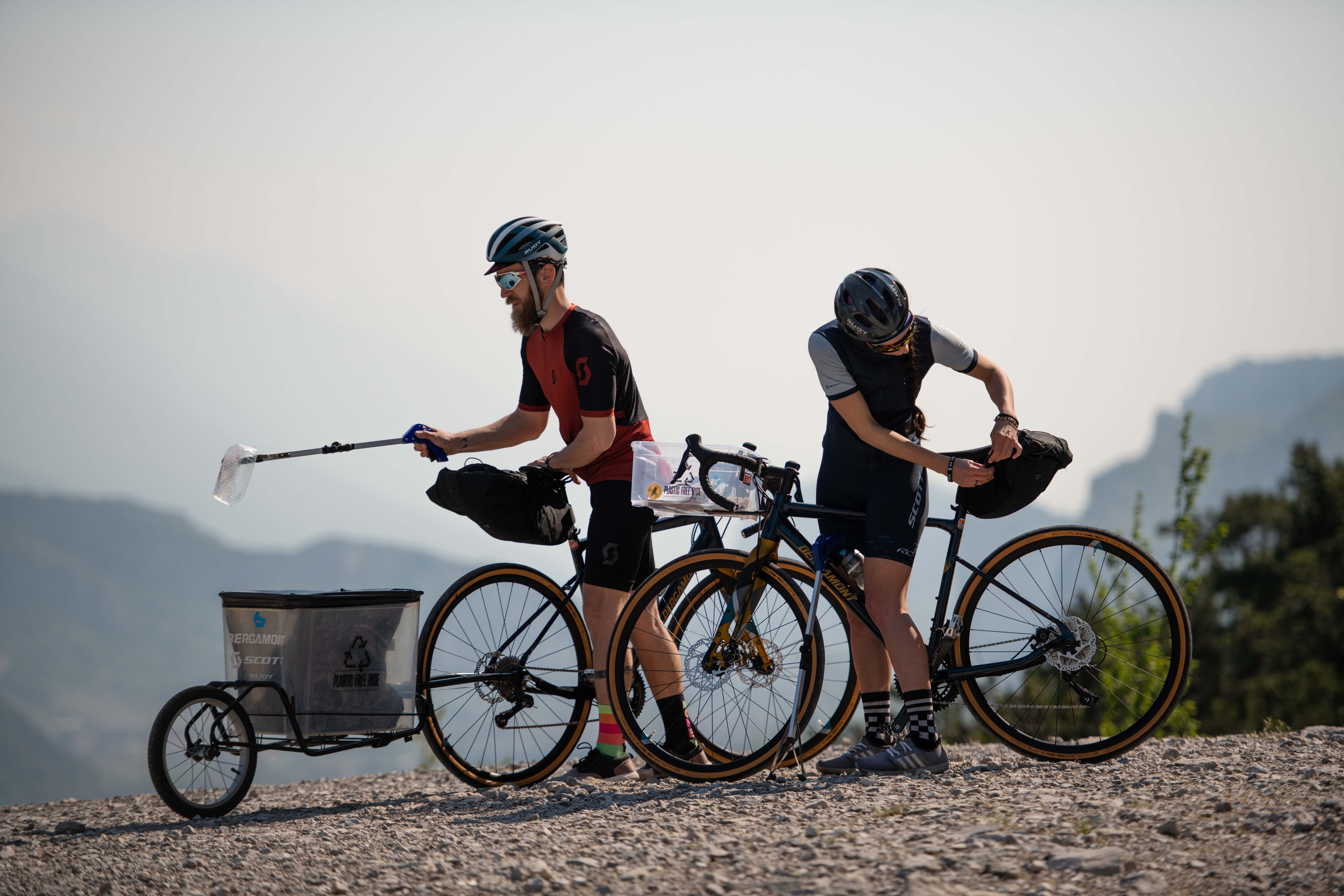 B. Yours is a wonderful initiative that encourages even the most avid cyclists to stop to collect abandoned waste. Have you ever experienced any particular episode during a collection?
R&S. We often receive support from other cyclists, who stop and show their indignation at the state of pollution of the roads and paths we travel.
It motivates us to stop and talk to them, in the end we all have a similar way of experiencing the beauty of this world, and it is wonderful to share in part the indignation and partly the optimism towards change.
We also find support in ordinary people, of course, like an old lady we met last summer on our journey to Lucca. We were on a waterfront road, and seeing us intent on cleaning up a really dirty area, she joined us by pointing out spots that still needed to be cleaned and urging us to be more precise, mistaking us for municipal officials. When we told her about our trip, she was delighted and at all costs wanted us to go back to stop at her house for a coffee.
The affection of the people gives us a boost in continuing and a little optimism in believing that something can change.

B. Tell us about something that gave you deep satisfaction during a collection.
R&S. In addition to people's affection, what gives us the most satisfaction is arriving on a very dirty stretch of road, which causes us indignation and annoyance, and then we turn back to look at it when we leave, totally cleansed. Before and after, it gives us deep satisfaction every time.

B. Thanks for entertaining us with your stories! Leave us with a phrase or idea that could inspire the Gravgrav community.
R&S. Try to put the performance aside, take a few more stops during your rides, to do good for your outdoor gym, the one that always gives you a lot of breath and inspiration during your rides. It will make you go home feeling satisfaction in having done something, even small, for those places that make you feel so good.
If you then do it to the rhythm of the jingle "Life no plastic is fantastic" (to the notes of the famous "Barbie Girl" by Aqua), you can be sure that it will never come out of your head and you will never be able to stop. Try it for yourself ;)
Plastic Free Ride is a project supported by:
Scott Italia
Bergamot
Rudy Project
The Lab