In fall 2020 we went to the famous Bohemian Border Bash (BBB) Camp which is also the start of the BBB race which was postponed to September 2021. Our goal was to scout the route for the Bohemian Border Bash Race. Taking pictures, doing little corrections to the route where necessary. All packed into a nice bikepacking trip with friends.
There were many challenges and problems and we ultimately had to abort and head home. The Czech Republic declared a state of emergency because of the COVID pandemic. Well guess what: we returned this year to finish the route as the race was postponed. And what an experience this was! Both times we had gruesome weather with wind, cold and rain. But maybe this "special" weather and the circumstances made this trip stand out so much! Follow our journey to conquer this monster of a route. Every single day!
Day 1 - Leaving the camp
25th of September 2020
It was go time! We met at the river elbe, travelling by train. The German/Czech boarder was just the perfect meeting point with everyone coming from a different direction. In the pouring rain Dan, Ondrej and I took off towards the ridge of the Erzgebirge mountains. But that couldn't stop us! As it was raining buckets on us we decided to take a lunch break at "Mückentürmchen". With full bellies we went off towards the west. It wasn't raining anymore for the moment but soon, of course we had the pleasure of being rained on again. We made good progress none the less and decided to go for a cheap hotel where could dry our clothes and warm up, for the next big day tomorrow!
Day 2 - It can't get worse right?
26th of September 2020
Horrible weather greeted us from the start. It was a very tough day that brought us to our limit. So tough indeed I didn't take any pictures with the camera. As the rain poured down on us without any break or mercy and the temperatures dropping to lower single digits we were fighting for our lives here. The moment we put plastic bags in our shoes and plastic gloves on our hands trying to keep them from freezing, shivering in a gas station, it took some encouraging words from Ondrej to make me carry on! Eventually we carried on quite a bit and it got better, but boy was I happy to reach a warm hotel again. This was not how we planned this trip and if the Bohemian Border Bash race takes place in these conditions it will be a hard one!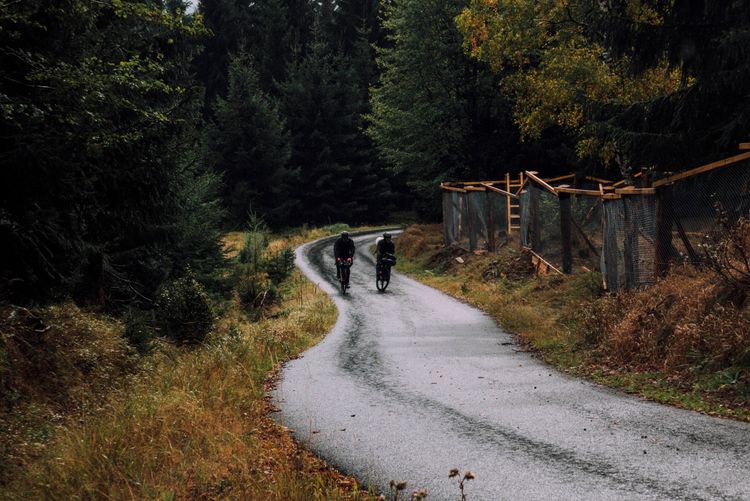 Day 3 - An emotional Journey
27th of September 2020
In good spirits we left our hotel: "It can't get worse then yesterday!" Well we weren't spared from getting wet today either, but the mist and wet weather in a surreal landscape made for a stunning scenery! It was especially emotional for me as my family has it's origin in the eastern part of Germany and my uncle having tried to flee the GDR towards western Germany 3 times, without success. Seeing the military structures and measurements made to keep people forced into one side of Europe nearly made me cry.
Apart from that the landscapes, trails and gravel roads we saw that day were nothing short of amazing. At some point even the sun greeted us and we were finally able to enjoy a bit of warmth returning to our bodies. Shortly after a series of mechanicals struck and slowed us down. Well it was never going to be easy right? We finally decided to call it a day, got lost rode back quite some time and finally found a warm place to sleep.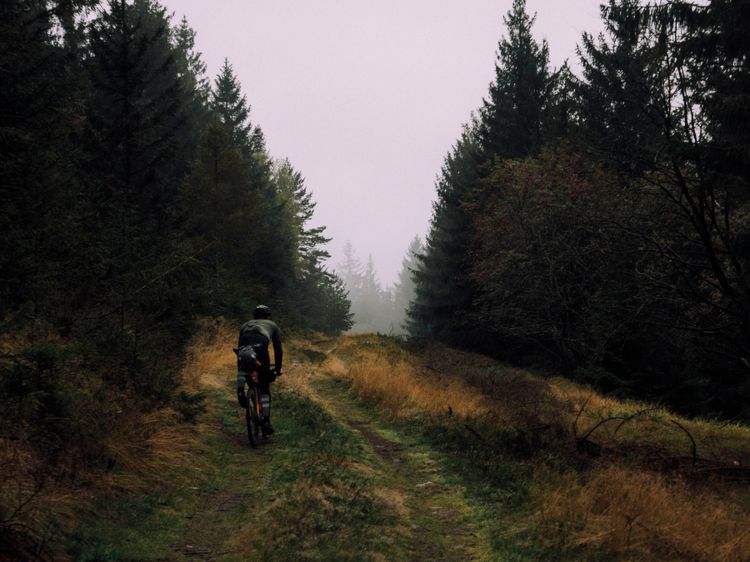 Day 4 - The endless Bohemian Forest
28th of September 2020
A cold and wet morning once again. The fog slowly lifted and we could slowly see more of our surrounding. But it never really left us for clear views all day. We battled through rough terrain and wet trails. Sometimes following a line on our Wahoos as we couldn't make up any trail by the pure eye. Don't get me wrong: It was incredibly beautiful! Finally we reached the German border and one of the bigger cities with Furth im Wald. We raided a bakery. The lady was fairly confused with 3 starving cyclists ordering again and again emptying her shelves. After a quick supermarket restock we rolled off into the never ending rain. It was tough but we made it to the small town of Modrava where a beautiful Brewery served as our hotel and offered good food and beer for our recovery!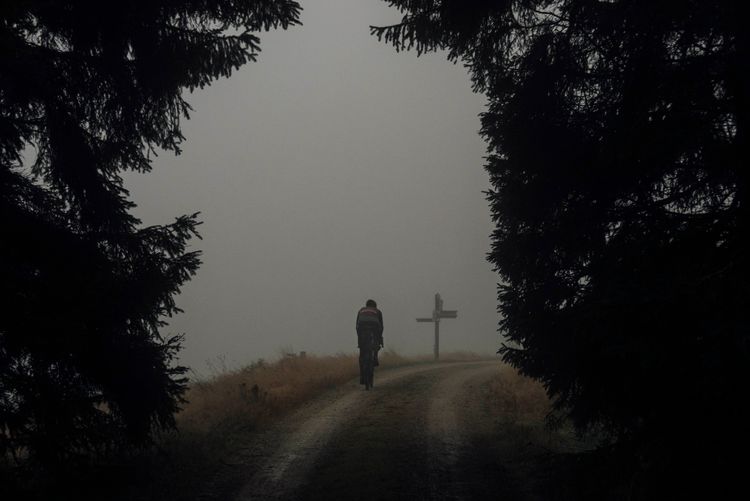 Day 5 - "Czech Fairytale Town"
29th of September 2020
We woke up in a beautiful hotel and it time to say goodbye to Dan. The weather and tough terrain took their toll on him and the COVID situation in Europe got worse. He decided to head home. Ondrej and I continued, finally leaving the Bohemian Forest passing some of the highest points of the race route. And we found snow! crazy but now I knew why I felt sooo cold the day before.
We finally rolled through czesky krumlov, or how Ondrej calls it "Czech fairytale town". What an ambience! What a travel in time going through there! And we finally picked up pace. We felt great and even pushed on.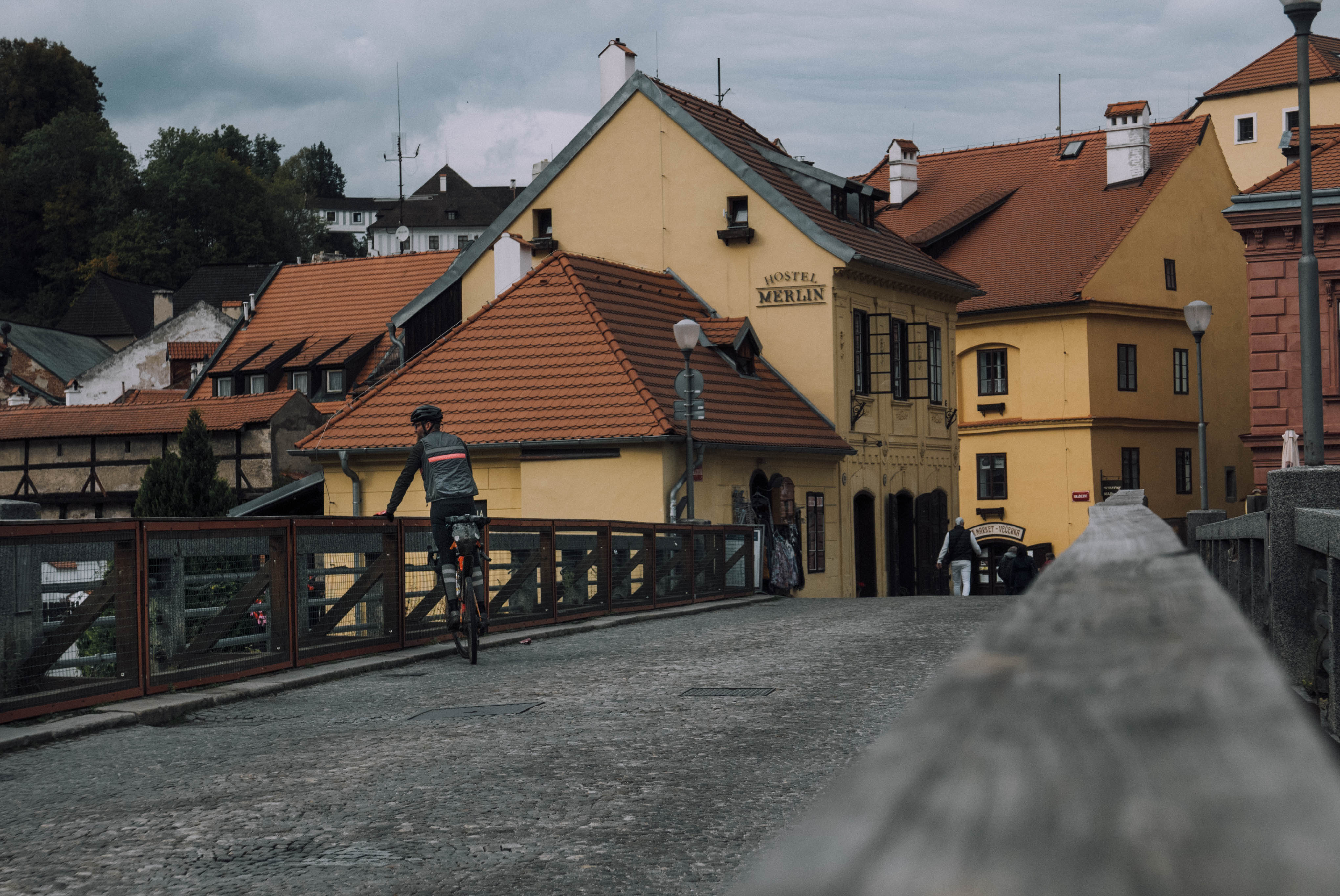 Day 6 - Literally in the middle of nowhere
30th of September 2020
The weather turned better and we were even greeted by some sun rays from time to time! In good spirits we took off to make the transition along the border between Moravia and Bohemia. This is technically the "flat" part of the route but don't be fooled! It is still never really flat! Some parts of the route were quite tricky to ride either because of technical trails and hike a bikes or just because of soaked and muddy trails. But all in all it was just a nice day to ride your bike! However we had a bad feeling regarding the news outside of our nice little bikepacking bubble and we were about to find out the next day...
Day 7 - Sometimes you need to pull the plug
1st of Octobre 2020
No pictures anymore! We got up in the morning to the news that the Czech Republic declared a state of emergency. You don't f**k around with a global pandemic, so we set course for the nearest train station to leave the country! The weather wasn't on our side either but it didn't matter. It was time to get home. From Chocen we took the train to the German border from where I continued to my parents while Ondrej went home. What a ride, what a strange day.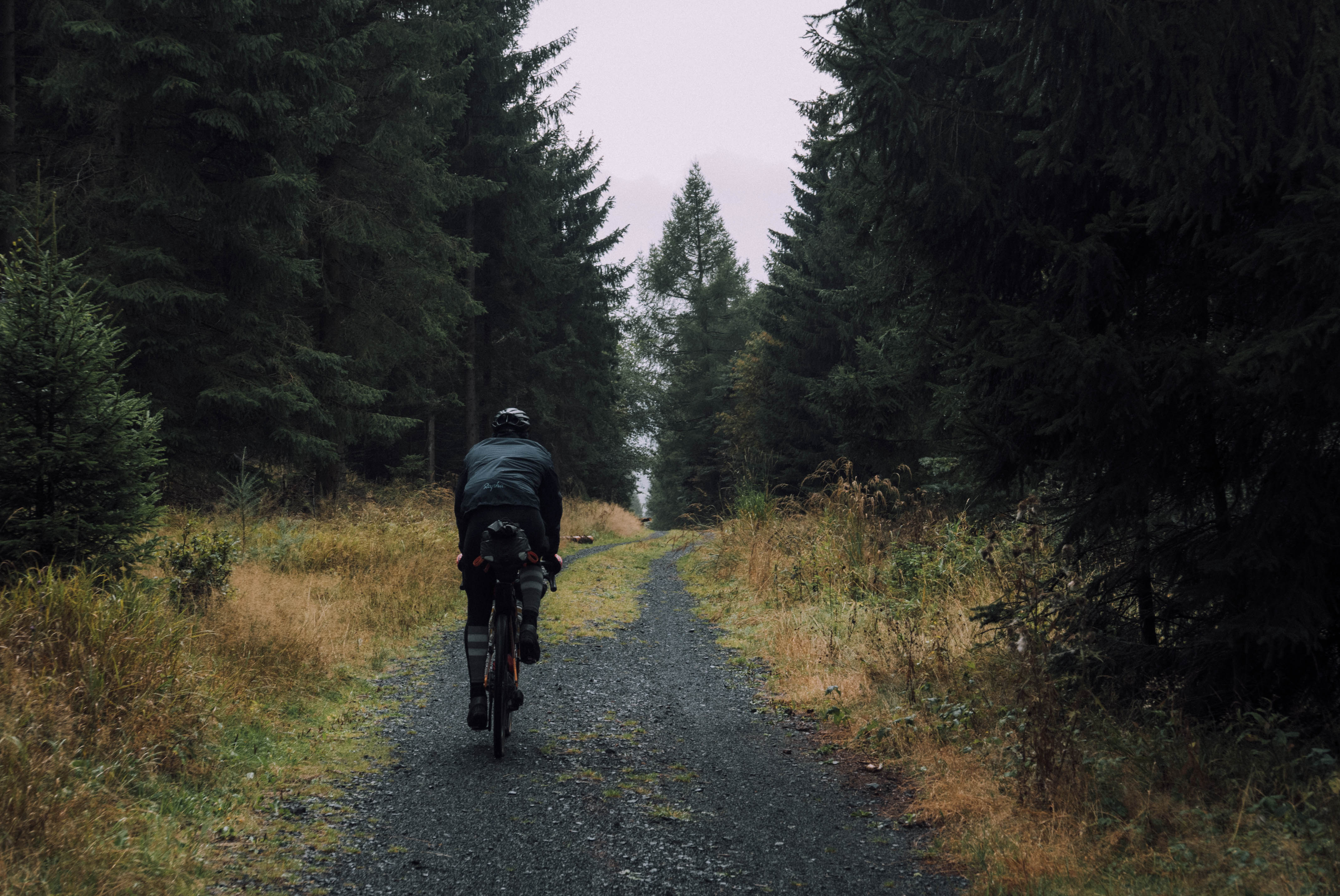 We are back - Back at it!
28th of May 2021
Back at it! Finally it was possible for us to continue scouting the route. This time I went with Ondrej and his friend Cory. We got up early and had breakfast at a lovely bakery! The lady was surprised of the loads of food we took and wished us a good trip! Well: It can never be dry on this track can it? We didn't think too much about the rain and enjoyed beautiful roads, gravel and trails. Wow this stretch is beautiful! It rained until late at night, luckily we found shelter at a hunting hut. The stuff adventures are made of!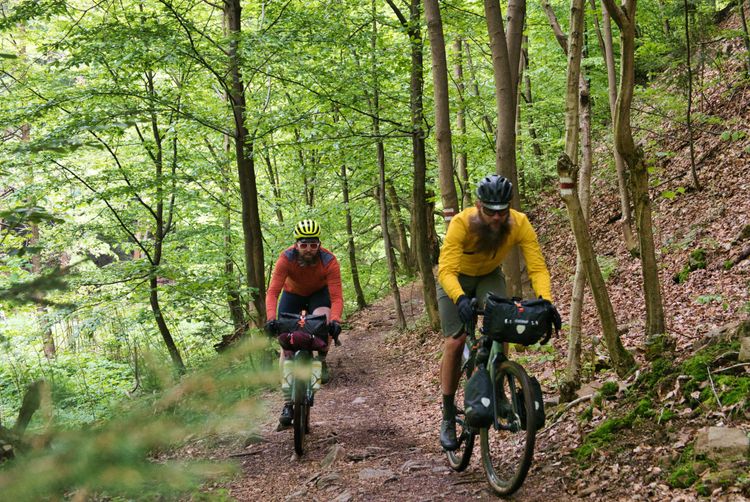 Getting closer to home
29th of May 2021
Waking up to beautiful sunshine sure was very much welcome. Still cold but the first rays to warm our skin were nice. We headed off and found beautiful landscapes and rough rock formations. Even inviting to come back for some climbing!
It was a rough day as the rain turned easy trails into muddy nightmares and the route still sure wasn't easy! At the highest point we still rode through some crazy high snow walls. What a day what an experience. Towards Spindleruv Mlyn we got caught in a crazy storm and it went cold and wet again quite soon. Originally we planned to bivvy bit further, but the thought of warming and drying up in a hotel was too comforting, so we did that!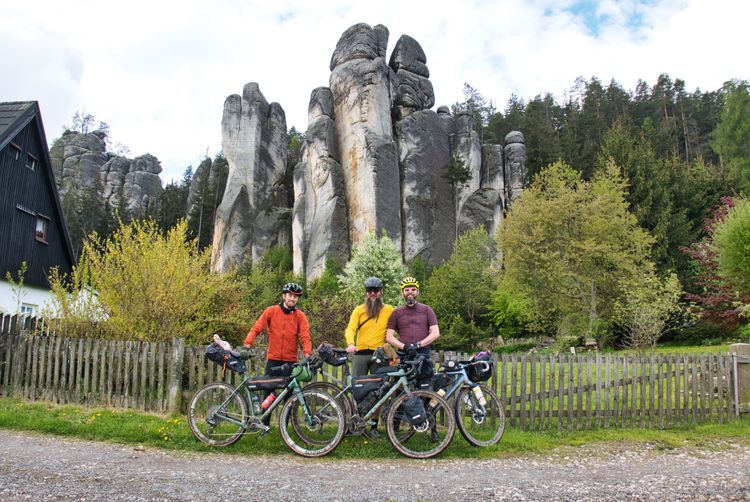 Finishing it off!
30th of May 2021
Finally!!! After so much time we spent to finish this route we finally made it back to the BBB Camp! And this day was a stunner too! Ondrej calls it the "Hell of the north". And yes it is tough to ride! But god: Those trails, the views, the people, the culture, crossing the borders so many times. It is beautiful! And for us in Europe it is right in front of our doorstep! No flight! No endless travel hurting our planet, just discovering our neighbouring countries and getting there by train or even riding there! I will ride it again for the race. And hell, Czech has proven again to be one of my favourite countries for riding a bike!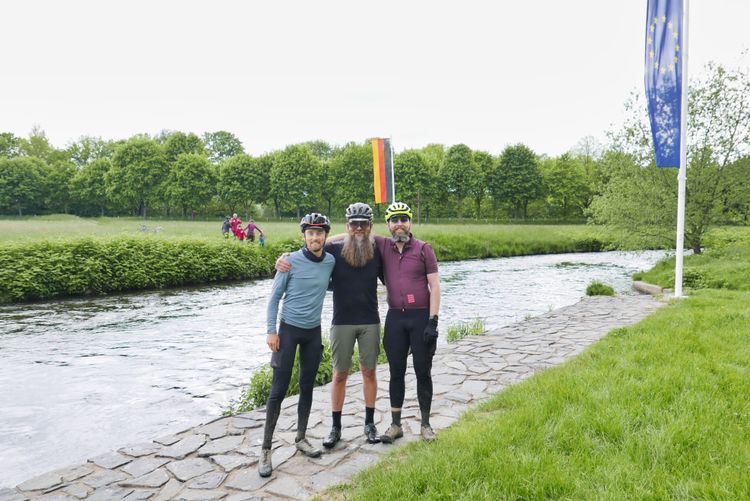 What can I say? It has always been a dream scouting a race route! So this has been my chance and we made it. It was hard, harder then you can imagine. And the people I shared the trails with have become eternal brothers! I think this is an amazing route and people will love to race it, but you can also tour it and have loads of fun!
Interested in the race? Take a look here!
Let us know. Will you be at the start line? Are you planning to ride this route on your own? Take the chance of an easy FKT? 😉 We're excited what people inspired by this route deliver!