"Just A Stones throw away"
The descent of the famous Bettelwurf Trail has rarely been attempted on a bike in the past and this is unlikely to change in the future. Why, you ask? Well this is not your average downhill Mountain Bike ride. No, it is anything but this. Constantly exposed with a mix of tricky and high technical rock passages as well as loose, steep fields of rocks, typical landscape for the Karwendel Mountain range.
The story is a beautiful homage to Martin's Grandpa who was a pretty impressive bike rider himself.
The ride wasn't celebrated by everyone
However the film got quite a lot of attention through the controversy it produced. Normally the vertriders don't name the trails they ride. This time they did.
This produced a large outcry from the National Park Karwendel and others. Mountain Biking is forbidden in Austria on all trails that are not explicitly marked as bike routes.
Opponents of the film argue that this is a bad example and puts legalization of mountain biking in Austria further out of reach. Some even argue mountainbikers like the vertriders are destroying trails and pose a risk as they might injure themselves and/or others that use the trail. The vertriders have a very different view on things.
And it is probably best to hear from them ourselves!
Axel Kreuter - not your average mountain biker
Thankfully on request Axel, one of the vertriders featured in the film, agreed on talking to us straight away. The following interview couldn't have been more exciting. We talked to Axel for close to 2 hours and we could have continued forever. The complexity of the conflict between bikers and hikers but also landowners and national park interests is way bigger than you would think it is. Even within the cycling scene we have different opinions on this topic. Some are a bit more aggressive, some even asking bikers to be more moderate. What's the verdict? Read it yourself.
Axel Kreuter. People in the Mountainbike scene will know you well. But for those who don't: Who is Axel?
Axel earns his rent as a physicist at a university in Innsbruck, and rides his bike to live. He absolutely loves steep technical trails where the whole body is maximally in tension and the mind is lost in focus.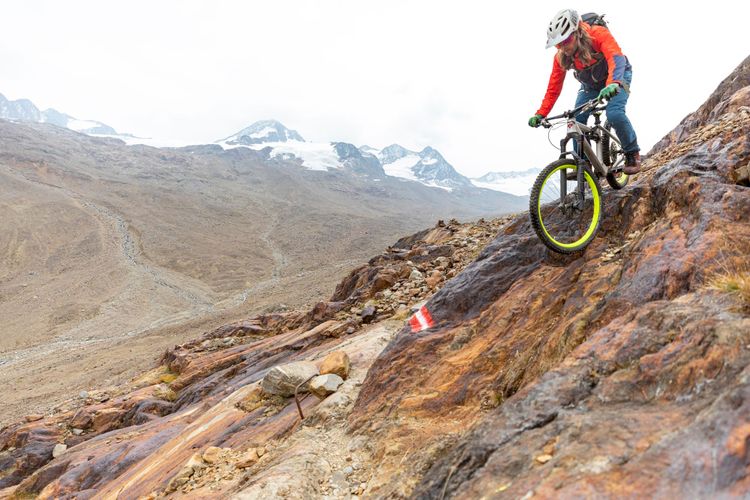 I read that you partially grew up in South Africa. A stunning country I recently had the chance to visit. Tell us about your time there and what brought you to Innsbruck?
I grew up in Pretoria, went to high school in Cape Town and started studying physics at the university there. That was in 1994 and a real magic time in SA, Nelson Mandela had just been released and the first free elections were held.
Also SA won the Rugby World Cup. I could not imagine a better place to live, but I moved to Germany for 2 years to finish my studies and then found a PhD position in Innsbruck. I never planned to stay long, but I started mountain biking and hang gliding and could never leave Innsbruck again.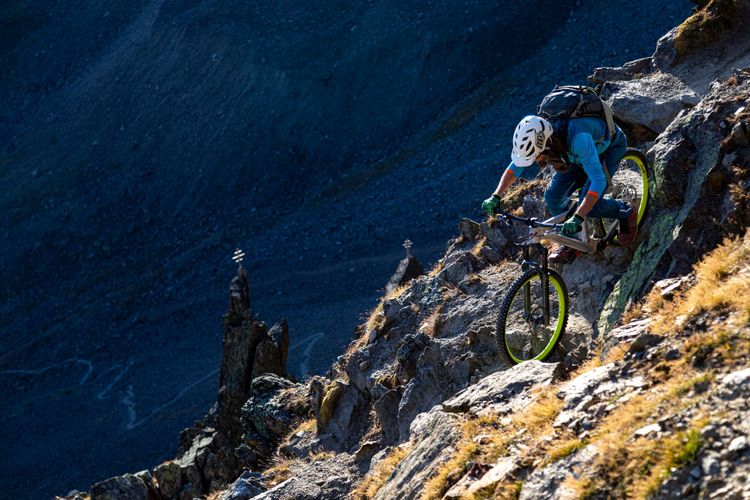 You are part of the vertriders Innsbruck. Who are those legendary riders and what is your mission?
The Vertriders were founded at the end of the 90s by a small group of highly committed riders back then. By now it's the third generation and the mission is still the same: riding steep technical alpine trails. In fact, just riding the trails on the mountains behind our doorstep.
For me vertriding is the best out of all bike worlds
What is vertriding? Isn't this the same as Downhill Mountainbiking?
It is different to DH, since it's definitely not about being fastest, but maybe similar to a race, you have to study different line options and find the right headspace. Sometimes it's more similar to trials biking, where the challenge also is to ride features without putting a foot down. And like in enduro you usually have to get up the mountain without a shuttle and ride your bike the whole day. So for me it's the best out of all bike worlds.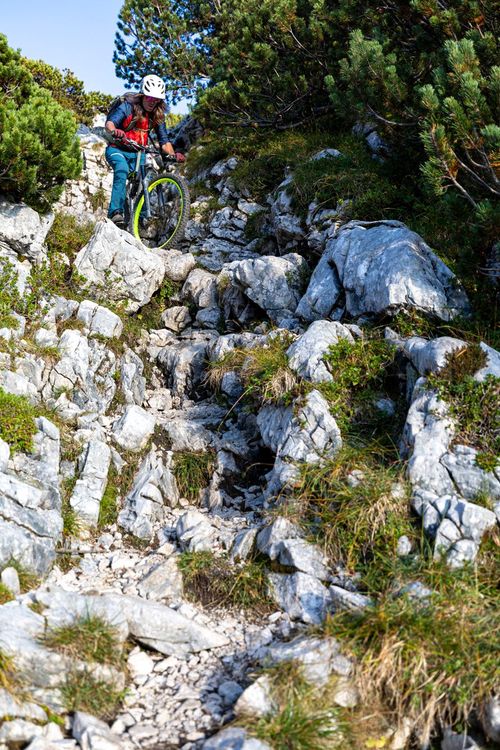 Vertriding sounds quite dangerous. How do you prepare for your projects or do you just "have a go"?
Actually I do not think vertriding is any more dangerous than any other gravity bike sport, maybe even less so, because you usually do not ride at high speed, and don't do big drops. The preparation is the experience over the years. Unlike in a bikepark you can not just "have a go" at features on alpine trails, you need to be pretty sure to try. Sometimes on real exposed sections above a cliff for example, it really can be dangerous, but you always have the option to walk your bike.
We have rules of "respect". Respect the trail, respect the hikers, respect your limits.
Especially as athletes we have a certain responsibility. Do you follow certain rules and do you restrict or adapt your communication to public channels?
We have rules of "respect", respect the trail, respect the hikers, respect your limits. We have a pretty restricted social media presence and are very careful on how we communicate our actions.
Oftentimes critics argue that mountain bikers destroy trails and endanger other parties on the trail. Not even speaking of the dilemma of trespassing private property and issues with insurance and liability. Is that true? Do we need to step back and protect nature and others?
Indeed there has always been a heated debate on these aspects. I do believe that we have to actively protect nature, and I also believe that generally the impact of mountain biking really is quite small and comparable to hiking. In the alps, all trails have been built by humans at some point in time, originally designed for walking, reaching a hut or summit, or as trade routes. Many trails are very old and a kind of cultural heritage. Now we use these trails to ride our bikes, I like that idea a lot. Proper environmental impact can be observed in the skiing resorts across the Alps. No amount of mountain bikers ever can even closely match this impact. Some heavily used trails may look quite bad, but I have seen enough trails being completely reconquered by nature after a year of biker absence. In fact trails need to be used regularly, by foot or bike otherwise they disappear back into the terrain, like in the maritime Alps on the French Italian border.
Regarding other parties on the trail, I believe that the standard amount of respect that enables the cooperation between people in normal life is sufficient for a peaceful coexistence on trails. It might be as simple as that.
I think it is our responsibility to know our own limits and behave accordingly
Following the controversy around the film you quoted Paul Preuß, an Austrian purist alpinist. "The limit of what you are allowed to do is your own abilities." Let's talk about our own responsibility as athletes. What's your opinion on this topic?
The quote is of course a little provocative. I thought about this quote, as a reaction we usually experience in encounters with other hikers on alpine trails. The harder and technical the trail, the less relevant seems any legal restriction to ride there and the more people are simply amazed that we are able to ride. Especially in high alpine terrain, I think it is our responsibility to know our own limits and behave accordingly, very similar to traditional alpinism.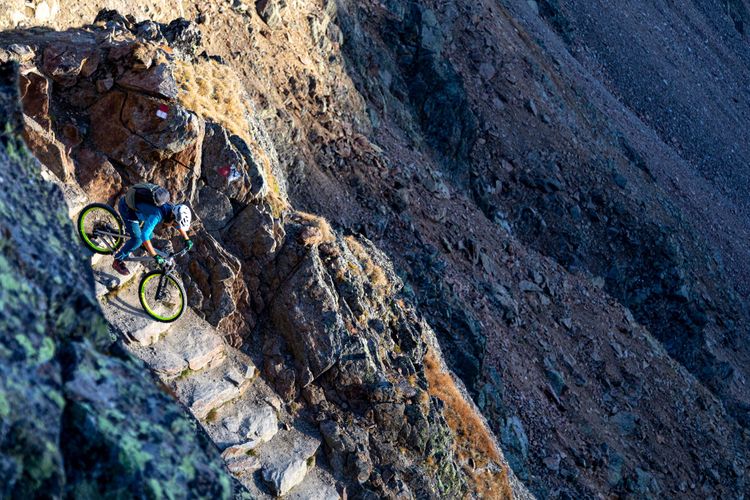 Is it reasonable to restrict access to the mountains for mountain bikers? If not, how can we act towards bringing mountainbikers and opposing parties closer to a compromise?
This is a very good question. In Switzerland for example, where generally there are no restrictions for bikers, we can see that a multi use of trails is feasible and that hikers and bikers can coexist. However mountain biking is steadily growing and some trails around cities like Innsbruck can become overcrowded, leading to conflict. I believe purpose built bike trails are likely to solve that problem. Once enough legal trails are available, most people will prefer these and opening all hiking trails would then be feasible without conflict.
I believe purpose built bike trails are likely to solve conflicts on trails.
What is your next project? What's next for the vertriders?
Nothing fixed yet. We have some film plans in mind, but mostly it's about riding our home trails as much as possible to be prepared for new challenges. Definitely looking forward to road tripping the Alps again and discovering new terrain.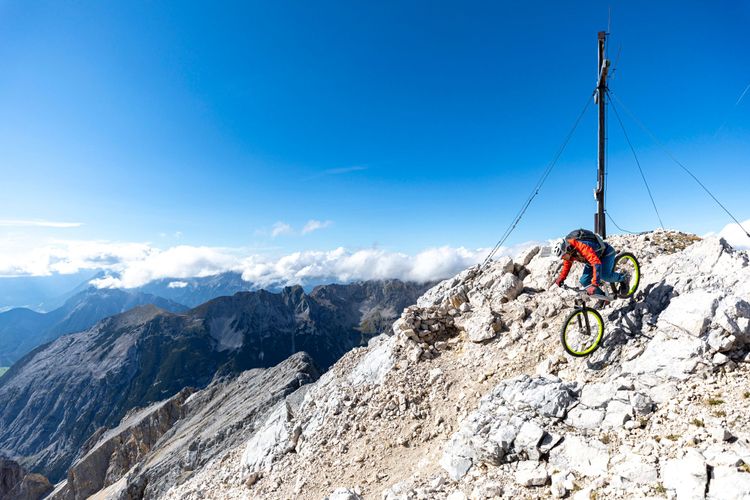 Vertriding sure is a very special form of cycling, and we love the approach the vertriders Innsbruck have. It is very hard to argue with their position as they respect nature and other parties on trails. It will be interesting to watch how tourism and national parks adapt to the ever increasing demand of people to get outside and into nature.
Did we miss important questions to Axel? Give us a message, and we will surely follow up. Are you intrigued by getting into vertriding? We are sure the vertriders will be happy to see their community grow!
Do you feel inspired to go for a ride yourself? Get started in planning your own routes or find the best routes on komoot. (Without getting in trouble with hikers. 😉)
Axel and the vertriders Innsbruck are supported by Vaude sustainable outdoor clothing and gear and Liteville bikes.
Pictures by Claude Hoffmann and Lugo Cairns