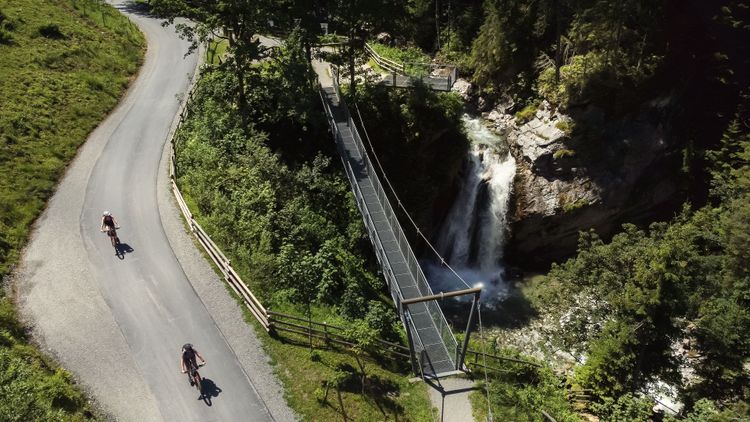 Rettenstein Gravel Loop
DayTrip
The Rettensteinrunde seems short and somewhat inconspicuous when you look at it on the map. However, it offers gravel bikers, e-bikers and mountain bikers who are looking for a technically easy route with great panoramas, everything your heart desires!
Route Description
Start from the parking lot in the Spertental valley
The Rettenstein loop starts behind Aschau in the Spertental valley. We reach this valley via Kirchberg in Tirol. So if you want to travel by train, you can take the train to Kirchberg in Tirol and then cycle along the Aschauer Ache river until you reach the start of our tour. By car you can drive to the end of the valley to the parking lot Ebenau and start directly at the start of the GPX track.
From there we follow the Untere Grund Ache river. This merges with the Obere Grund Ache river at our start and forms the Aschauer Ache river.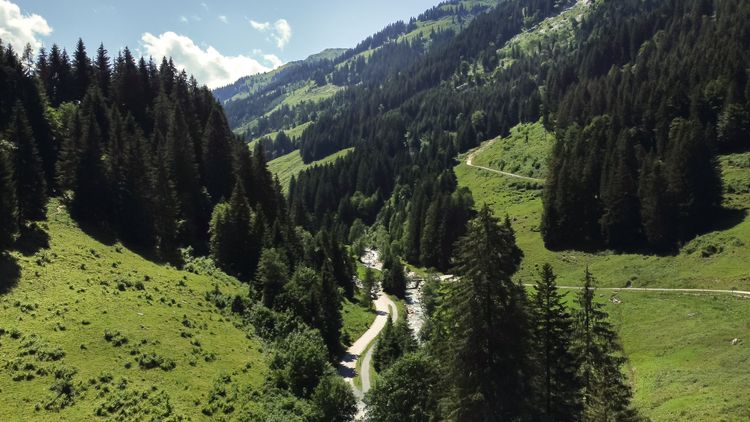 Short break with suspension bridge and waterfall
The climb is gentle, but soon becomes a bit more challenging. Now we come to a spectacular suspension bridge with waterfall below.
We now follow the winding road further up and soon, out of the forest, we come to a beautiful open alpine landscape. On the right we pass a small fishing hut and on the left we can already have a look at the Hintenbachalm. It offers itself later for a stop.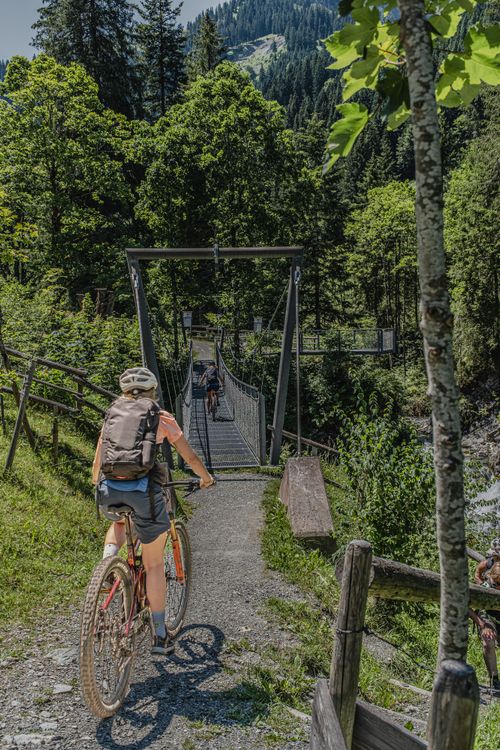 On gravel to the Rettensteinhütte
Soon after the Hintenbachalm, the asphalt ends. The road continues up to the Labalm, but we go straight down and arrive at the Rettensteinhütte on perfect gravel paths. This is a self-catering hut.
From the Rettensteinhütte we cross the Untere Grund stream and it gets a little steeper. The surface of the forest road is perfect gravel and we ascend well, despite the steeper slope. Now follow a few serpentines, which we master skillfully and soon we have an excellent panorama of the mountains all around us and the valley that lies below us.
We follow the high road and continue to enjoy the excellent view.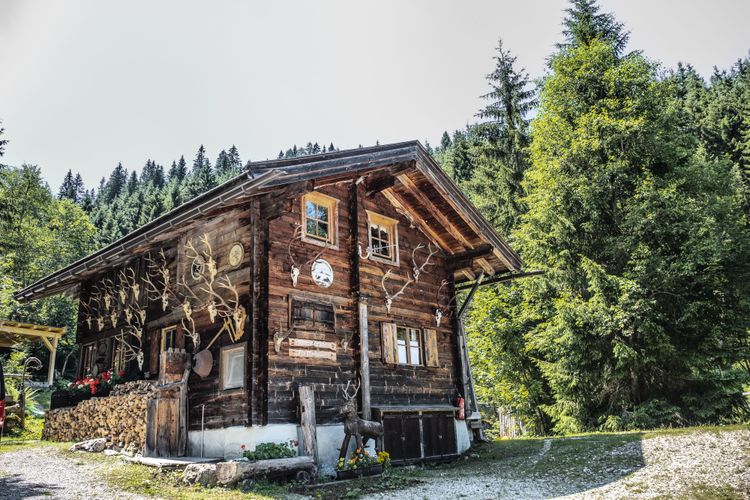 Cheese heaven at Hintenbachalm
Shortly after we have crossed the Schöntal stream, it goes downhill and we follow the forest road towards Sonnwendalm. A few switchbacks and we are already back down at the Hintenbachalm.
The show dairy offers you of course excellent cheese from the region, but we can also recommend the cake to you in good conscience. It was really delicious.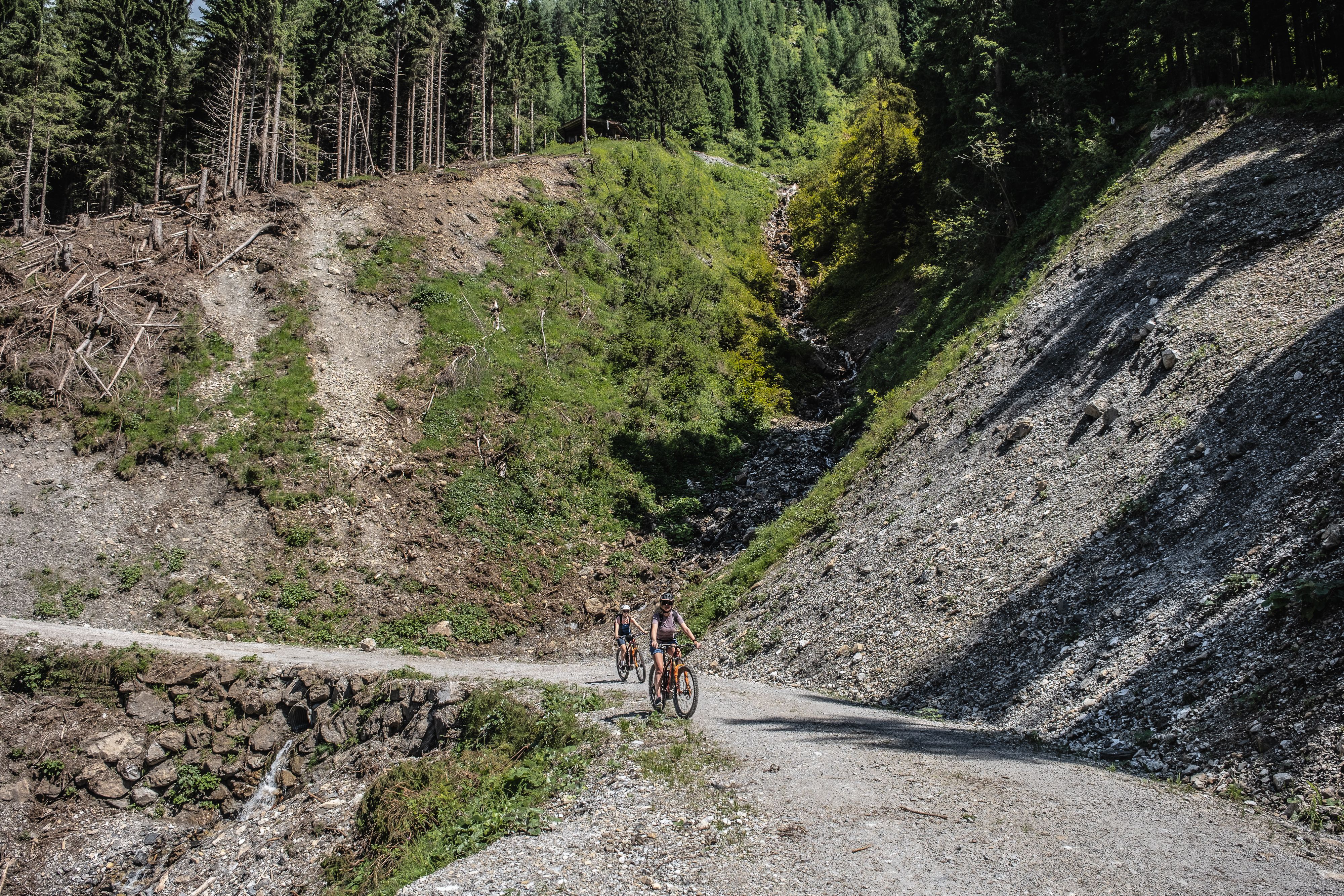 From here we ride back down towards Aschau to the parking lot where your car is parked, or follow the Aschauer Ache to Kirchberg in Tirol where we can travel on again by train in an environmentally friendly way.