text by Bruno Ferraro
illustrations by Chiara Terraneo
I've always preferred watching movies rather than reading books. It must be the fact that audiovisual products stimulate the viewer in various ways while books, to be fully enjoyed, need a clear mind that lets itself be carried away. But there's something that I just can't stand and it's watching a movie when it's a nice sunny day outside, especially if it's hot. Are you wondering where the problem lies and why I am making all these conjectures? I'll give you the answer right away: I fell on my bike breaking my collarbone and now I'm forced to stay at home for some time. In addition to this, the very day of my discharge from the hospital, a heatwave crossed Italy. The temperature is so hot that makes you want to take your bike and go to 1500 meters above sea level under the shade of a forest to cool your head down. So, well... no movie, I really don't want it.
It's the first of June and as I swipe the photos of a missed Tuscany Trail on my phone, outside people are enjoying the 28 degrees doing everything but standing still.
"Don't panic, find something to do!" common sense tells me. To turn the situation, which with the passing of the hours became more and more critical, it was a book. Indeed, a couple of books! A biographical novel about Alfonsina Strada, the first and only woman in history to have participated in a Grand Tour, the Giro d'Italia in 1924. And "This Road I Ride", a book in which Juliana Bühring talks about her bicycle trip around the world, a feat no woman before her had ever faced. Two incredible stories that have a lot in common despite the almost one hundred years that separate them. Two girls with a rebellious soul who lived their childhood marked by a great sense of oppression and who subsequently found freedom through the bicycle, carrying out unique feats that have sealed them as pioneers of equalisation between male and female sports.
Lives in the name of revenge against a society that puts people in a specific role, and where women are often disadvantaged or excluded. A clear gap as it was at the beginning of the 1900s that was even part of political propaganda and veiled as it is more than a hundred years later, where silly sexist jokes are still running on WhatsApp chats. Will the situation ever change?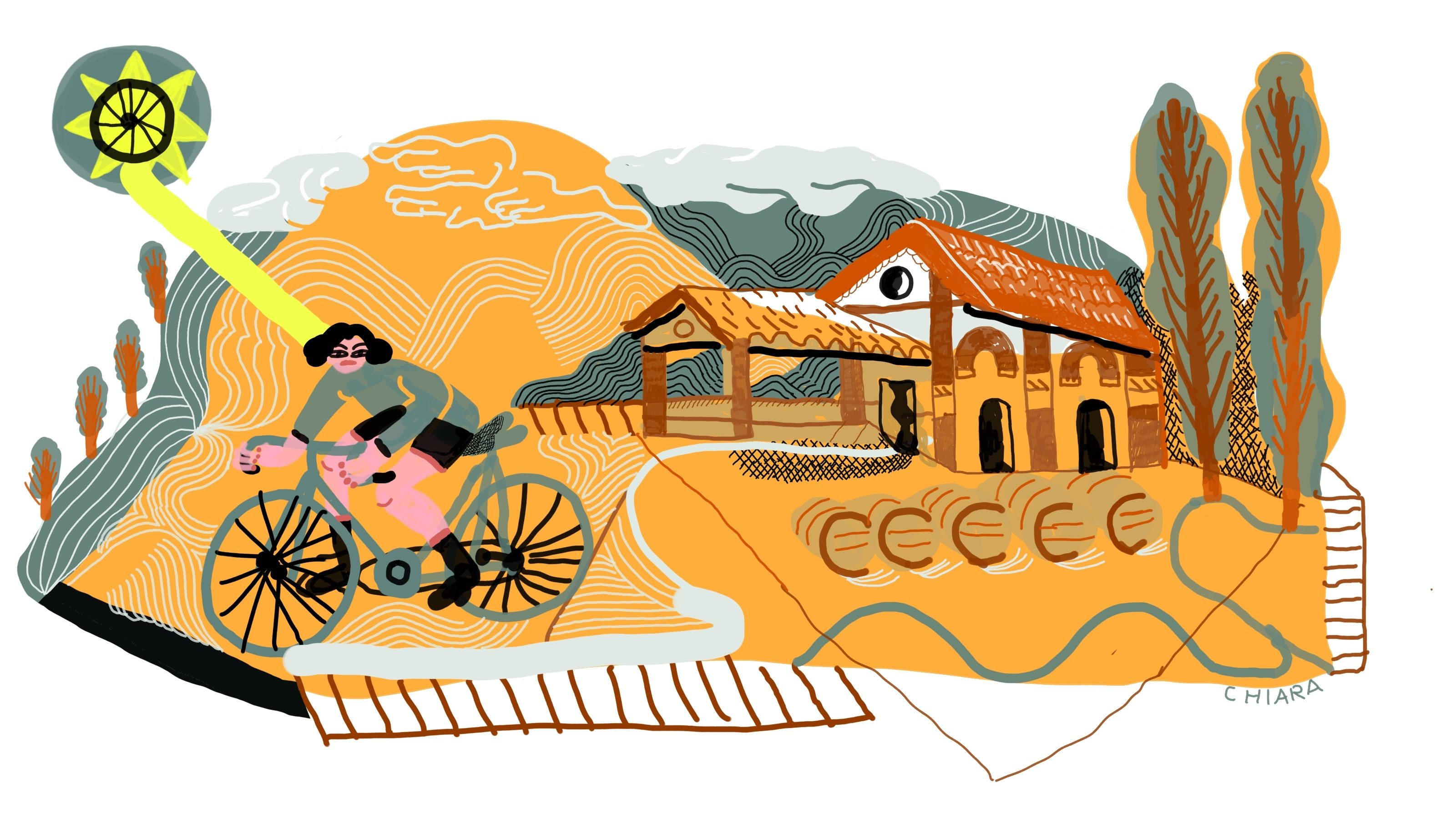 Looking at the books I decide to go in chronological order and start with the story about Alfonsina. It is enough for me to read the plot in the dust jacket to feel the emotion that rises from my chest. What an incredible life that of Alfonsina! She was born in 1891 from a poor family in the Bolognese countryside. She began to dream of escaping from misery when for the first time, she felt the sensation of the wind in her face while riding her father's old and rusty bicycle.
It was with great determination and fortitude that after hundreds of insults and defamations, with a second-hand bicycle paid in installments thanks to a job paid like slavery, Alfonsina Marini (Marini was the maiden name) earned the title of "Queen of the Crank". She competed against men often coming in front of many of them. She set the female speed record on the track in 1911 and earned two very respectable placing in the 1917 and 1918 Tours of Lombardy. But it was her participation in the 1924 Giro d'Italia that made her story even more unique. "The Giro d'Italia is a professional road cycling men's stage race ..." reads Wikipedia, updated to 2021. Yes, because since 1924 there has never been a woman in the list of participants. It should be borne in mind that in the early 1900s the Grand Tours in stages were nothing more like what today's off-road bikepacking races are: unsupported, with stages of 400 kilometers, starting at night and on unpaved roads often damaged by rain and floods.
After struggling against falls, punctures, atmospheric agents and a broken handlebar, Alfonsina Strada was the first and only woman to reach the end of the race and although out of the standings, in front of dozens of retirees.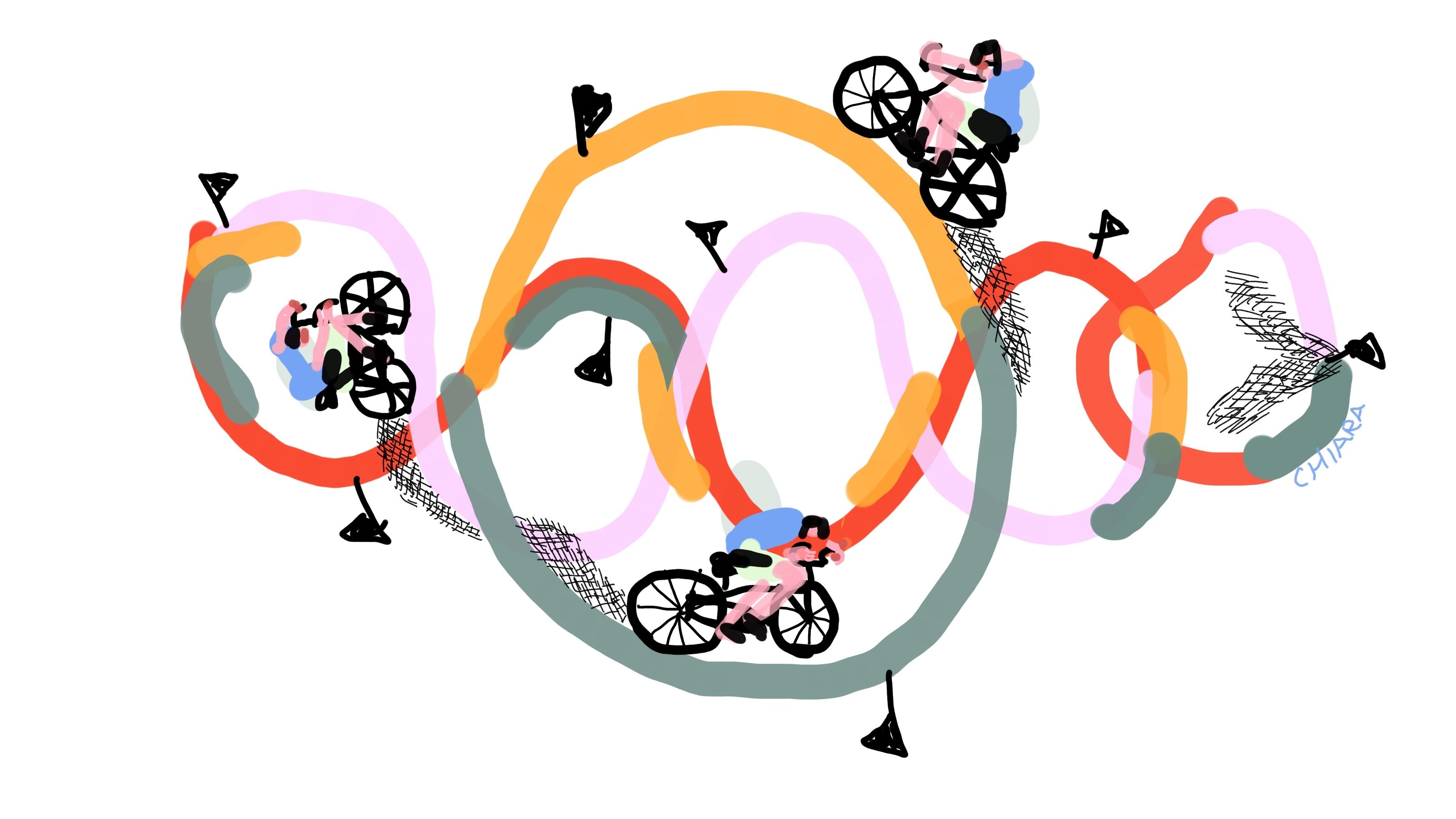 How many similarities with Juliana's story! I read them all in one go, becoming passionate about these two stories full of meaning that have positively marked the world of cycling.
I met Juliana Bühring in Kalambaka, Greece, after completing the sixth edition of the Transcontinental Race. I have a wonderful memory of that situation because she did all she could to make my brain think, exhausted by almost 4000 kilometers of madness on the pedals. "Sit down! Eat with us, this is the menu!" We spent dinner in company, with chatter and applause for the other riders who arrived.
The idea I made of her, after having crossed paths on other occasions, is that of an unshakable person with great charisma and determination. I clearly found these elements of her character by reading about her travel story but at the same time, between the lines, she tells herself about the more fragile side of her. After the difficulties experienced between childhood and adolescence, wandering from one place to another between Asia and Africa, a little over twenty years old Juliana decides to change her life and escape from what holds her in a trap. She finally spends a short stretch of normal life but due to the sense of emptiness that came after the loss of a great friend, in August 2011 she decides to embark on a journey around the world. She wanted to show that with willpower you can overcome all the limits that we set ourselves. She choose a vehicle that she had never used before, the bicycle, and from scratch she learned to use it like a real competitor, preparing herself in a few months to face the challenge. The story is a succession of particular situations in which only those who travel by bicycle can smile and find themselves in those moments that usually remain imprinted on an adventure.
These two stories, in addition to being unique in their kind, have given me many ideas and interpretations for the period I am facing.
Life is made up of challenges, an alternation of situations that are difficult to overcome and moments of serene tranquility. It makes up an unstoppable cycle where we can do nothing but equip ourselves with the necessary tools to be ready to face all the situations. And I believe that the bicycle for many of us is one of these very powerful tools.