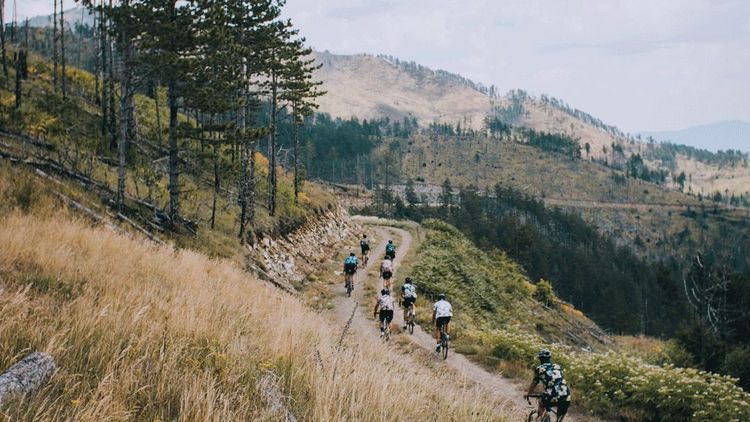 Serbia Upside Down Bikepacking Route
BikepackingTrip
Discovering Serbia's wild mountains on remote gravel roads.
Routenbeschreibung
If you want to read more about the Serbia Upside Down project, read our interview with the people behind the route here.
Day I: Valjevo - Tara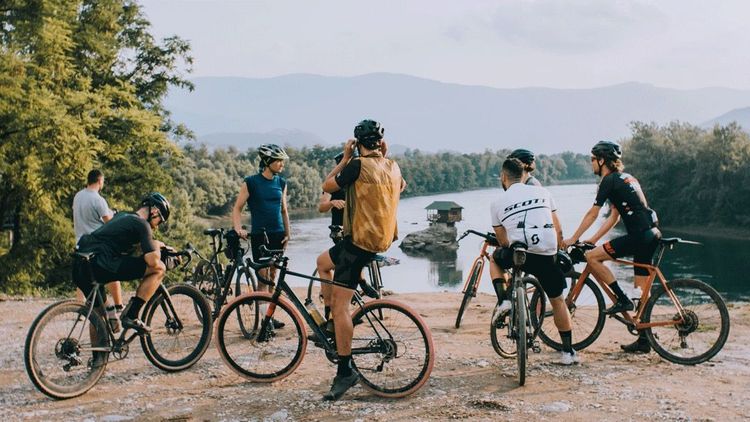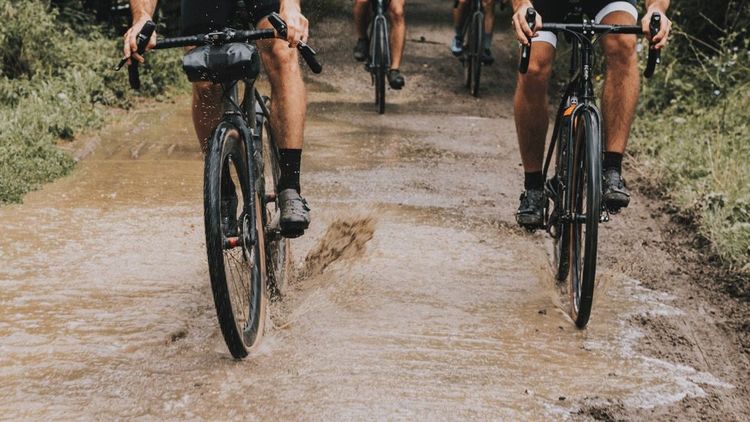 After few hours into Day 1, green nature turned into a darker green color and sky ranged between dark grey and intensely dark blue, covered with edgy clouds that are characterized in strong contrasts and sharp lines wherever you look. Riders reacted differently on 7% average and 15km long ascent. Probably 1.5 hours later, the Fat hill was conquered and we used the chance to stop by Kapija Podrinja / Podrinje gate viewpoint.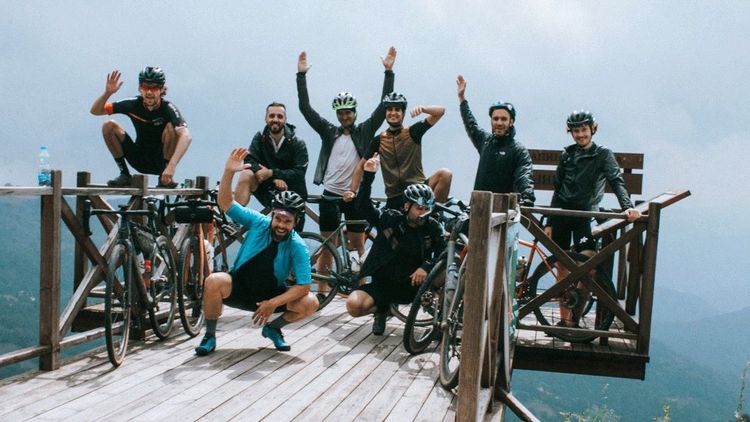 After a long and gravelly descent through curvy village roads, we made a first proper break at our friend's Vladimir house on Drina river. He welcomed us with a homemade rakia - Serbian moonshine, and a stone oven specialties such as the over baked bun filled with egg and cheese, locally known as komplet lepinja. His specialty was roasted lamb under the bell traditionally called jagnjetina ispod sača.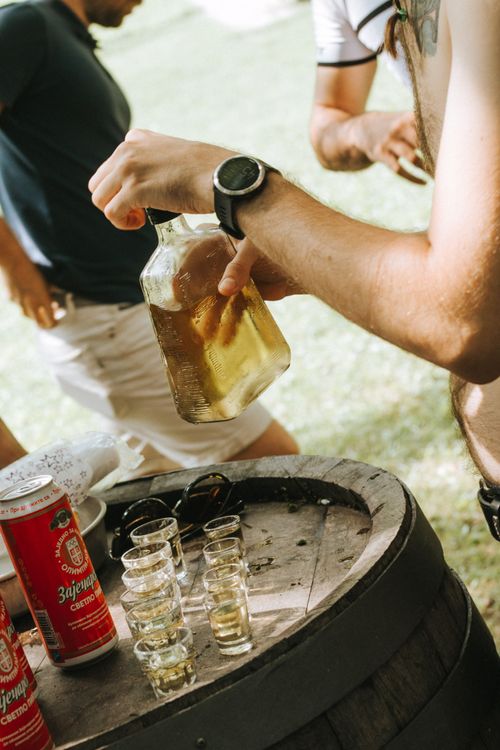 Around the 80th kilometer we diverged from the local road and started the gravel ascent towards one of Tara's peaks that lies at 1,055 meters. Absurdly steep and insanely long, if there was a way to give up, we would have. Hike a bike remained the only weapon of choice, as it allowed us to at least keep moving forward, giving us a hope that soon there would be an end. Probably 12km of climbing later we reached Vidikovac Osluša / Osluša viewpoint which felt like a symbol of victory.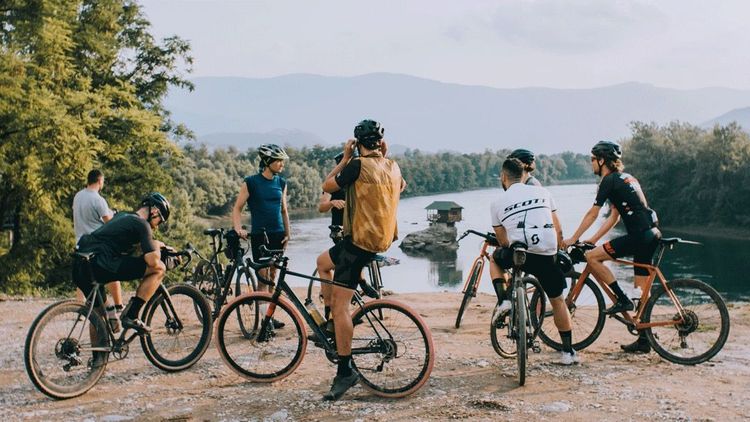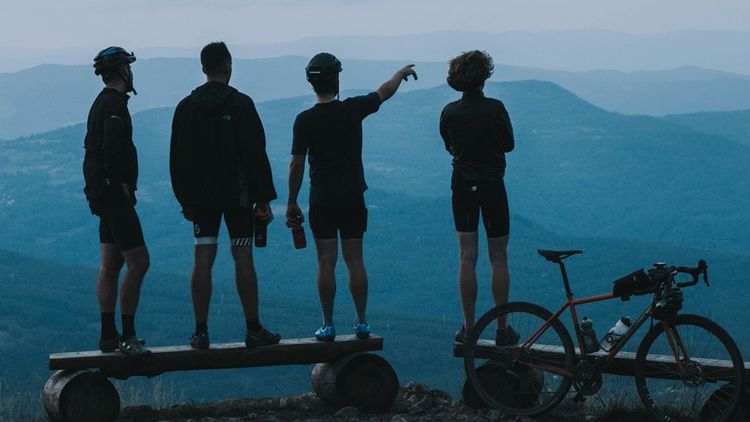 Day II: Tara - Zlatibor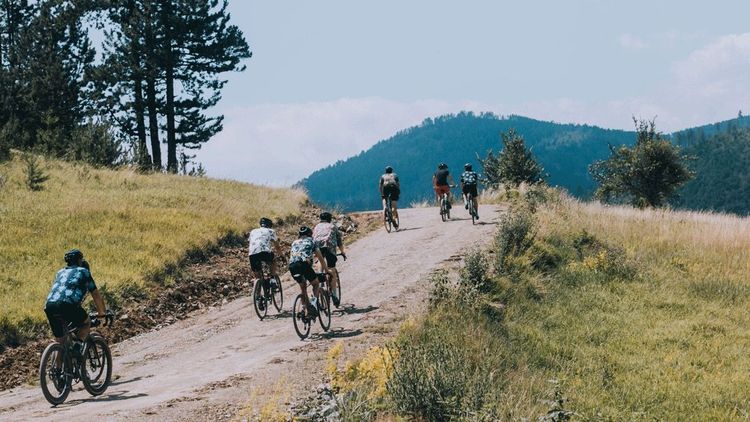 Sunny morning, several cups of coffee and we finally realized where we were and what was going on. We had a long and relaxing talk with the wonderful family who hosted us in the hut by the lake Zaovine. After guiding them through our Komoot route for day II, they brought a few books about Tara mountain and suggested we slightly change the route. We gladly followed their advice.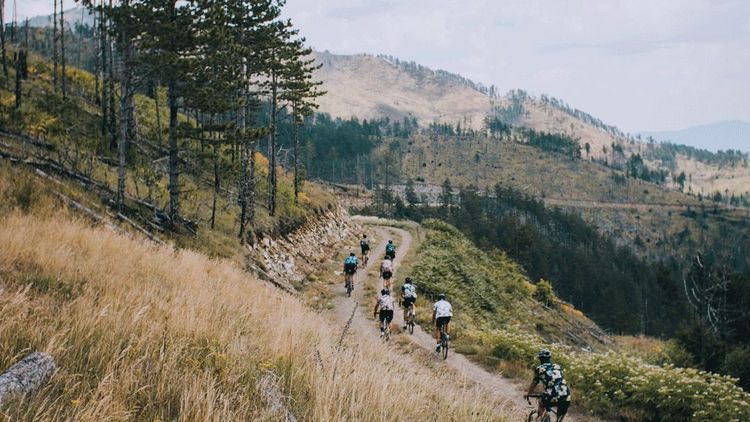 Our host's young sons, who were 12 and 15 years old, accompanied us for the first 20km and set another example that gravel and bikepacking adventures are for everybody, no matter the sex, bicycle, age and skills. Just a positive mental attitude!
From Zaovine lake we headed further, riding on the edges of Tara mountain where gravel paths started turning into proper mountain bike paths and started to challenge the maneuvering skills of all riders.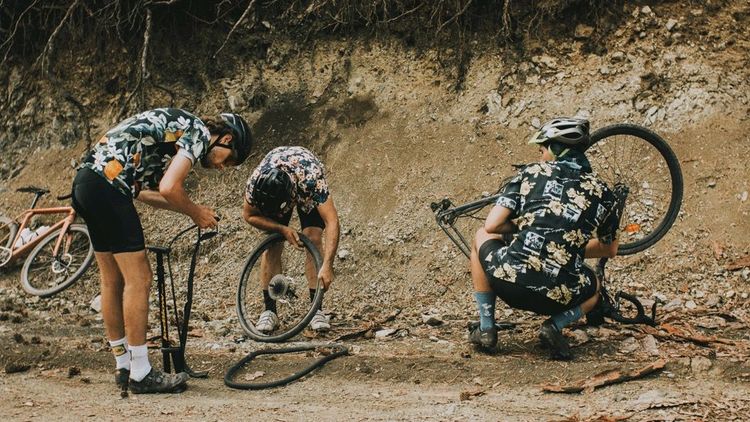 After an unremarkable lunch break powered by sandwiches from the nearby supermarket, we continued towards the very silent and in a way intimate part of the route. Namely, we haven't seen any person or anything human-built for almost five hours. It was just eight of us going up and down on paths ranging between gravel, dirt, and crushed red stone.
Everything felt so silent and so pure until we reached a point that was difficult to describe. This is something that everybody should have an opportunity to experience. An array of intensely yellow hills, one after another.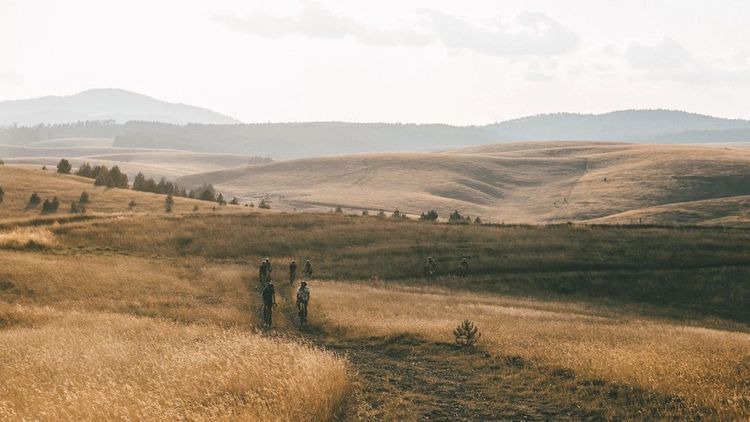 Wherever you turned, everything felt so golden. None of us have probably ever used this adjective before, but that felt like the only word that could properly depict the scenery. Climbing and descending those golden hills somehow felt like riding on an endlessly long carpet.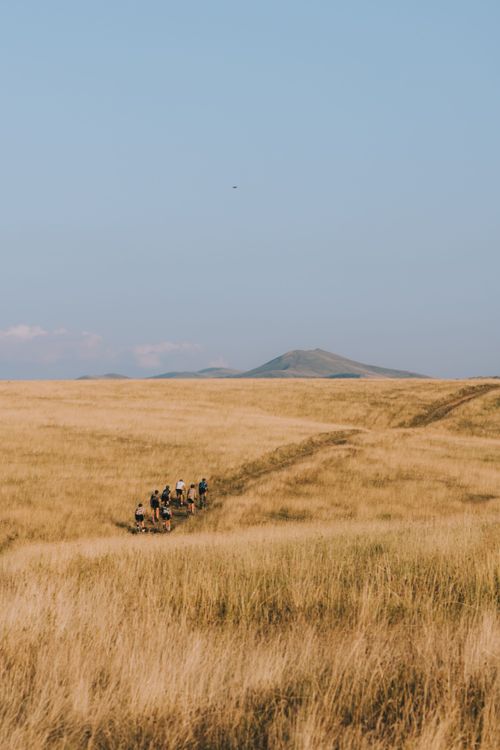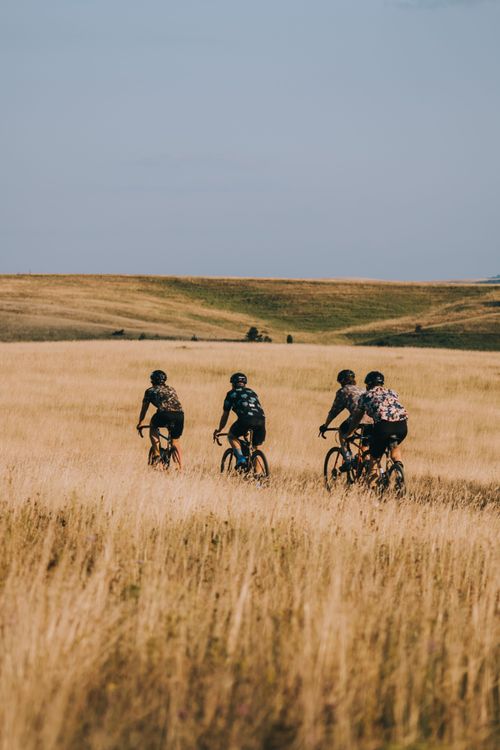 We were surrounded by immensely preserved nature characterized by long dark yellow grass, something you would see in pampas fields in Argentina. On that note, once you are there, after reflecting for a second you would not know if you are at Strade Bianche in Tuscany, Unbound Gravel Race in Kansas or more something like Migration Gravel Race in Kenya.
Twenty kilometers, two flat tires and a slight level of dehydration later, we reached our destination - Zlatibor mountain whose literal translation from Serbian would be Golden pine tree mountain.
Day III: Zlatibor - Uvac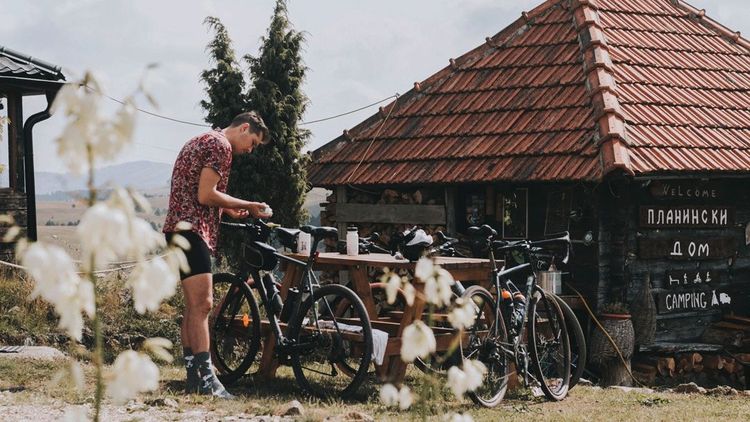 Mountain lodge Tornik hosted us nicely for the second year in a row. The evening before, we washed our cycling clothes, so we kind of looked forward to jumping in a fresh pair of bibs. Breakfast was an absolute carbohydrate bomb! It's actually Lael Wilcox's favorite Balkan dish called burek. It's a crispy greasy pie usually made with white cheese or minced meat.
Although the second day is considered to be the most beautiful to many, some riders satisfied their special gravel tastes on the third one. We began on tarmac, allowing our legs to spin and sore muscles to dilute all that lactate. Soon after we tried our chances in crossing a tiny nearby stream by bike. It was so much fun and almost nobody crashed, almost.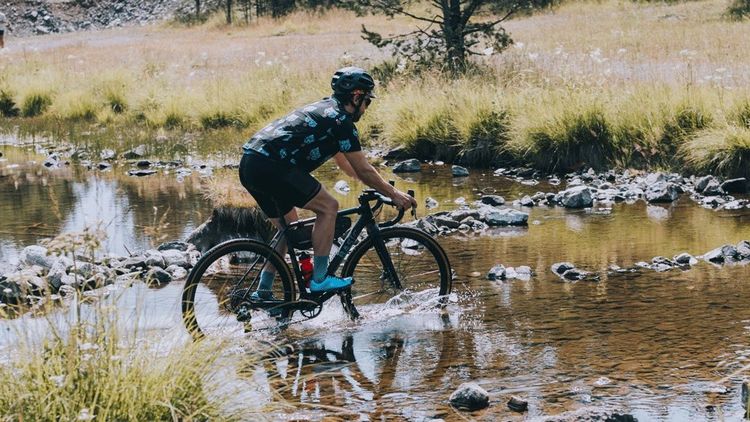 We made the first break at Zlatarsko jezero lake with a default espresso - coca cola combo, without knowing that we will make another break just 15 minutes later. We passed by a very steep and deserted beach that we couldn't refuse. Bibs down, freedom up, and we were swimming naked like there is no tomorrow.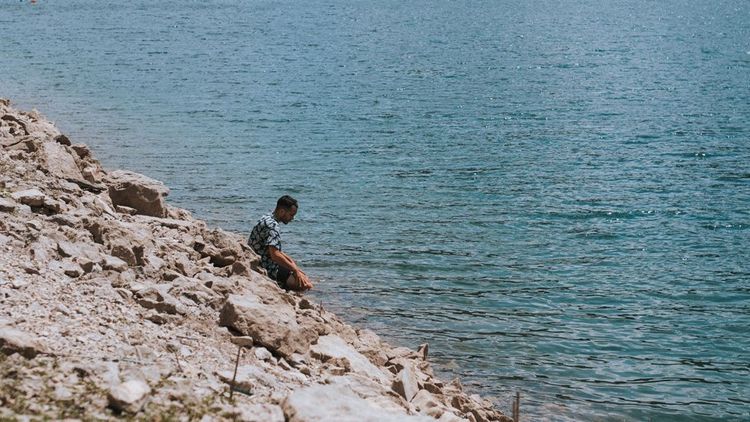 Ascent across dozens of serpentines led us to the top of the hill that awarded us with an amazing view and a beautiful downhill segment afterwards.
The segment was narrow, curvy and fast, but this time not in a dangerous way. It felt more like freedom. We took the right turn on a hard pack section and followed the path towards another large dam on this trip. Crossing the dam was magical. You are rolling into the valley seeing Uvac meanders on both sides. Uvac is an international trans-boundary river that rises under Golija mountain. It is known for being surrounded by canyon-like valleys where it flows through Western Serbia creating wonders of nature, after which it crosses to Bosnia and Herzegovina. Then we stopped for a moment to enjoy the surroundings and comment on the fact that Uvac is the home of the indigenous species named Griffon vulture which can now only be found in a few parts of the world.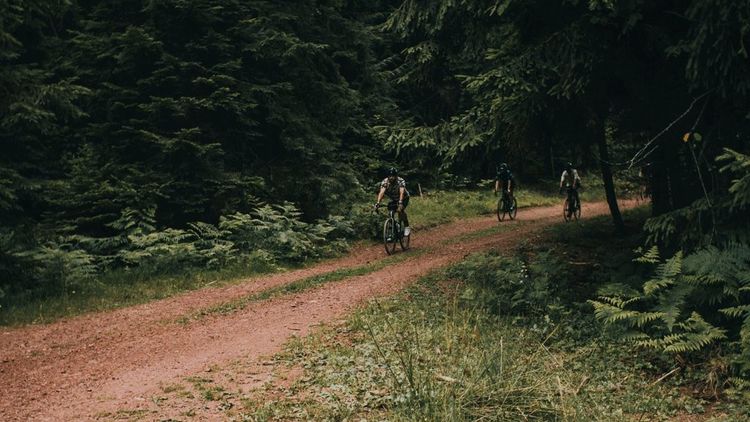 In front of us was just more elevation and a network of country roads which we managed to cover with a habitual amount of pain in our legs. We arrived right at the sunset into the rustic and authentic ambient of our accommodation where we shared stories by the welcome dinner.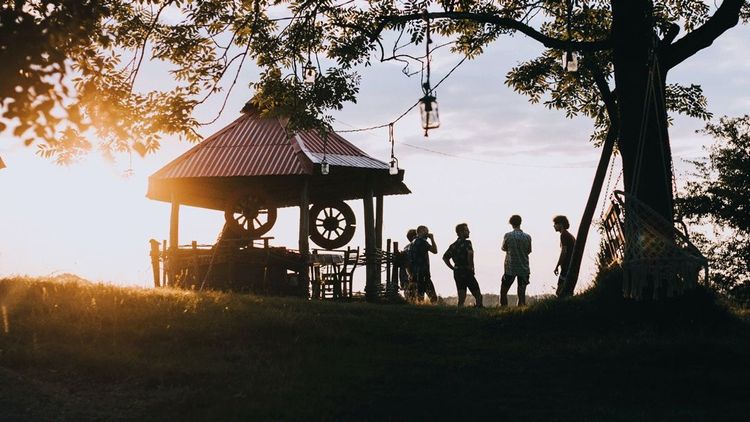 We sat in a typical Serbian dining room that featured a large red handmade carpet and traditional wooden tools for carpentry and tillage that hung on the walls. Dinner started with a warm soup followed by a homemade cheese pie and traditional Serbian stuffed cabbage rolls. This was our third day together and a cozy environment helped us to further get to know each other and bond.
Day IV: Uvac - Međurečje
We firstly rode back to Uvac dam and then diverged to gravelicious roads which took us to a splendid viewpoint. It was like an award for our efforts as Uvac river meanders would spread everywhere you look. They portrayed magnificent pictures with different shades of turquoise, green and blue.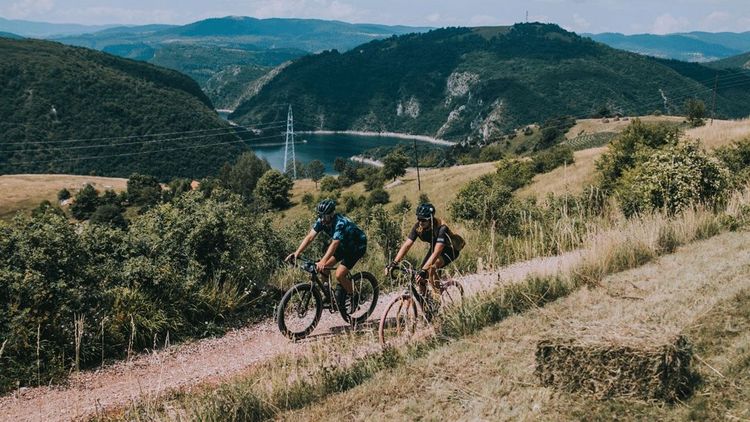 After just a few kilometers on red-alike gravel paths and trails, we reached proper dirt roads signalling us that we are on the way to Javor mountain. We were no longer riding near the river.
In front of us was one more ascent, up to the top of one of Javor mountain's peaks that lies at 1,215m, followed by 30 kms of descending to Ivanjica.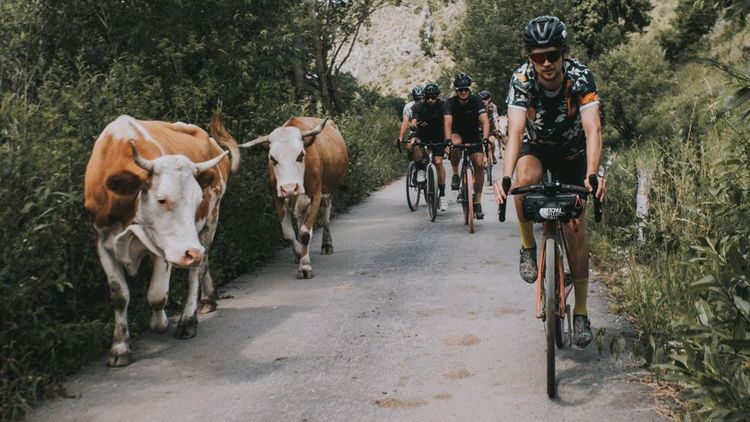 Descent was incredibly long, and with an average of -4%. Long enough for you to desire a cup of coffee and even start thinking when it's going to come to an end. At the end of the route, we were riding through the forest whose edges were surrounded by acres of raspberries. Serbia is one of the largest exporters of raspberries in the world. Who'd guess that.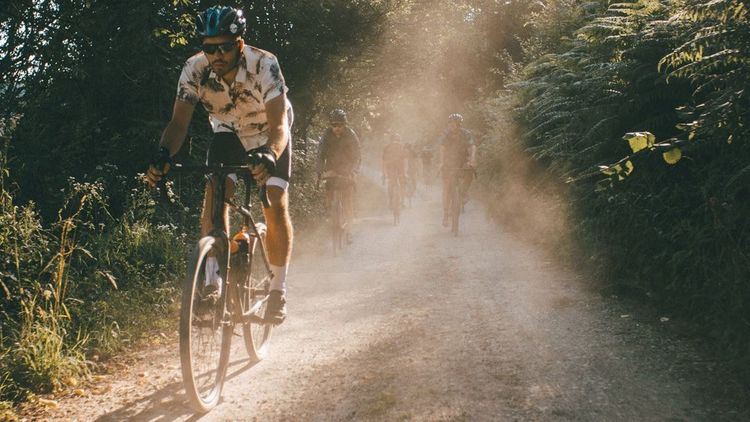 We reached our destination around nightfall. Namely, Pavle welcomed us to his cottage and where he prepared a delicious feast. Half of the crew was setting up tents in the backyard as we couldn't all fit inside. We were happy that we had a chance to wash our bikes, which meant less squeaking and disturbing noises on the last day to come. We felt like this fourth stage started taking its toll. Everybody was in bed at 10PM already. Not even a beer? No, just a can of coke and magnesium tablets. Not sure how many of us managed to fall asleep right away.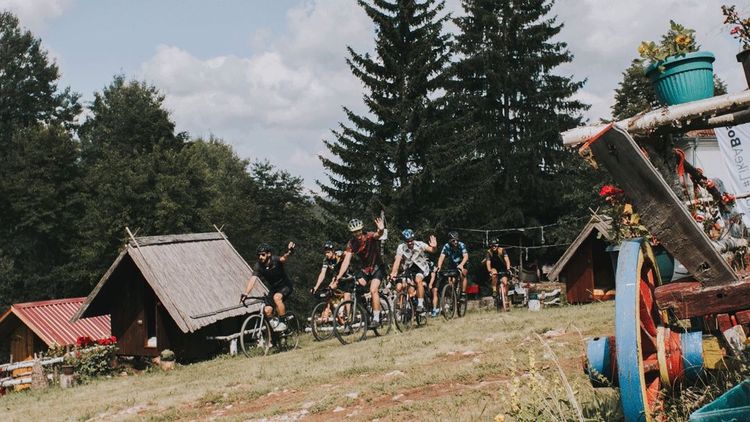 Waking up in the morning of the following day meant 3000 metres of elevation. It felt frightening at that point, kind of unimaginable. That day and night was not over with us that quickly though. Loud thunderstorms and torrential rain made sure that everybody gets a reality check at 3AM. Folks in tents without earplugs probably had one of the most exhausting nights ever. Pavle woke up and ran out to bring all clothes and shoes inside. Nobody was ready for wet feet in the morning.
Day V: Međurečje - Kopaonik
Morning was euphoric. How couldn't it be, it was the last day of the tour. We truly wanted to start earlier this time as there was a long day ahead, but so many things came in our way. Flo was drying out the tent whereas David and Felix were bleeding a broken rear brake. Pedja was pumping up his tubeless tire which rapidly lost air over the course of a few days. Loud baaaam noise shocked everybody. The tire exploded, jumped out of the rim and sprayed tubeless milk all over. Eardrums peeped for the next 5 minutes but nobody was hurt. That was a hell of a morning, for sure not the idyllic one that we were hoping for. Tension was all over. Fortunately a hearty breakfast and a double digit number of cups of coffee gave us the energy to finally get ready.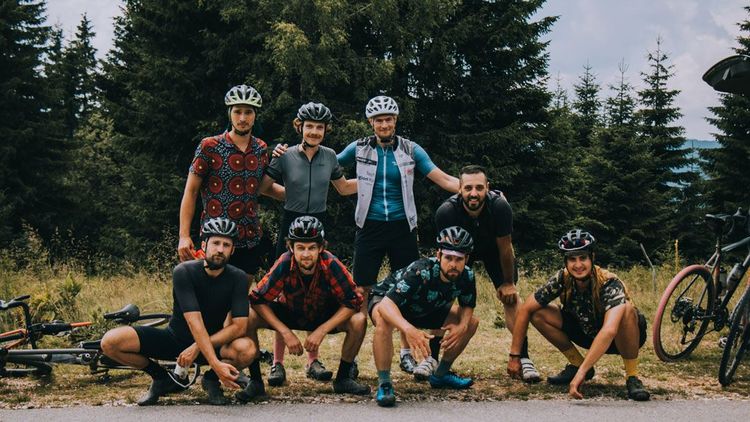 A bit later than anticipated, we were on the way to Golija mountain. The road was covered in fresh tarmac, to our disappointment or perhaps excitement. Nemanja was writing his short daily reports on Twitter where he received a lot of encouraging comments but also local tips related to regions that we were riding through. An ex-pro MTB rider Vladimir who just happened to be there, joined us on one part of the route. As the rider who knows every single trail and dirt road around Golija mountain, he gave us a few tips and suggested we change the route.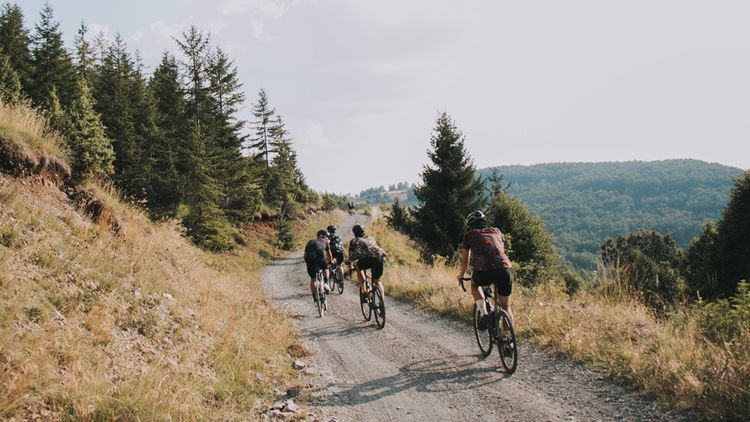 We together reached the top of Golija mountain and the highest point of the entire tour that lays at 1,748 metres (5,735 ft). Serbia is not renowned for intensely high alpine-like mountain peaks, but a climb from Pavle's cottage at 450 meters of altitude to 1,748m in one go was quite something. Vladimir continued his tour and we took a short break just to stabilize the heart beat and take a deep breath of fresh mountain air.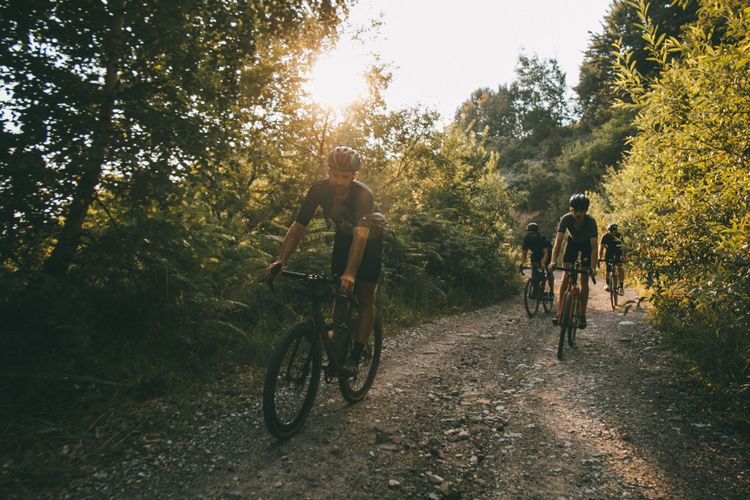 Everyone was ready for the 1 hour long descent to the city of Raška. It felt like meditation, you almost didn't need to pedal. After you have reached a corner, you would just need to lean a bike in a desired direction and a road would help you deal with it. No breaking and no pedaling needed. Now imagine doing that for one hour.
Since the last day was all about climbing, the end of one descent meant the start of another ascent. This time, it was the hardest one on the whole tour - ascent to Kopaonik mountain. Kopaonik is one of the largest ski resorts in the Balkans, with the highest point at 2,017 meters. Due to its climate, rich forests, variety of herbs and historical heritage that goes back to the paleolithic and the neolithic period, it was proclaimed a national park in 1981.
We started cycling up to the mountain by taking an uncharted road known only to mountain bike folks. At some points it would get so steep and rocky that a hike bike would remain the only option. Germans didn't refrain from commenting: "We should have brought our hardtails." We enjoyed those moments though. They allowed us to admire breathtaking views and hear the sound of silence since there was nothing and nobody several kilometers away.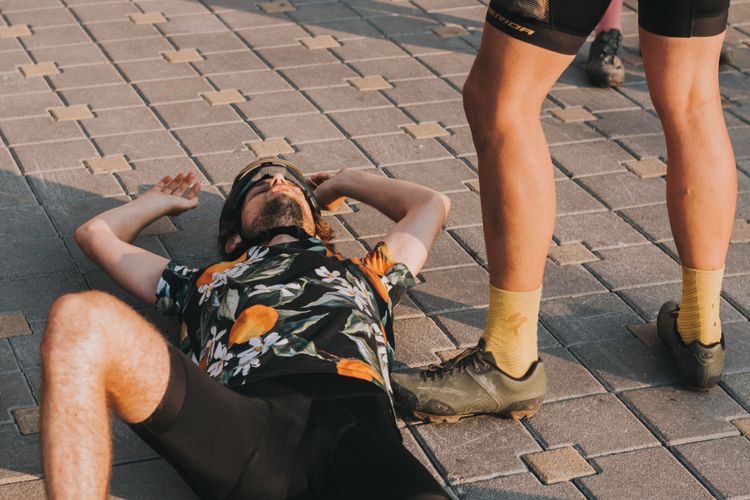 Last few kilometers that signaled the end of our entire Serbia Upside Down journey were very sentimental. We were impressed and emotional, but still pumped with adrenaline and happiness. During a delicious dinner and countless rounds of Serbian moonshiner šljivovica till late in the night, we analysed each route we've been through, counting kilometres and making plans for next year.