We call them adventures because there's always a good percentage of uncertainty, isn't it?
If you chatted with me about bikepacking races you would probably know that I'm really bad at planning, not only the route itself but also all the details that make the journey easier, in case of…well in case something happens.
Sometimes I've been so bad at planning that I didn't plan anything at all, and that was when I cycled to North Cape. Another time, I found myself on a gravel road in Montenegro in the middle of the night, during Transcontinental Race No.6. It honestly can be fun, It's like watching a movie without knowing anything about it, feeling excited and astonished at the same time by the vastness of the unknown.
Last time I went to a race I tried something different, I wanted to be a good boy and do all the homework like some of my friends do. I meticulously prepared my plan for this year's Badlands since I got my subscription to the race. I was a veteran so I knew a lot of the track and since I have a good photographic memory I also remembered all the things I needed along the 750km route: shops, bars, fountains, gas stations, useful villages, showers, hotels with 24 hours reception.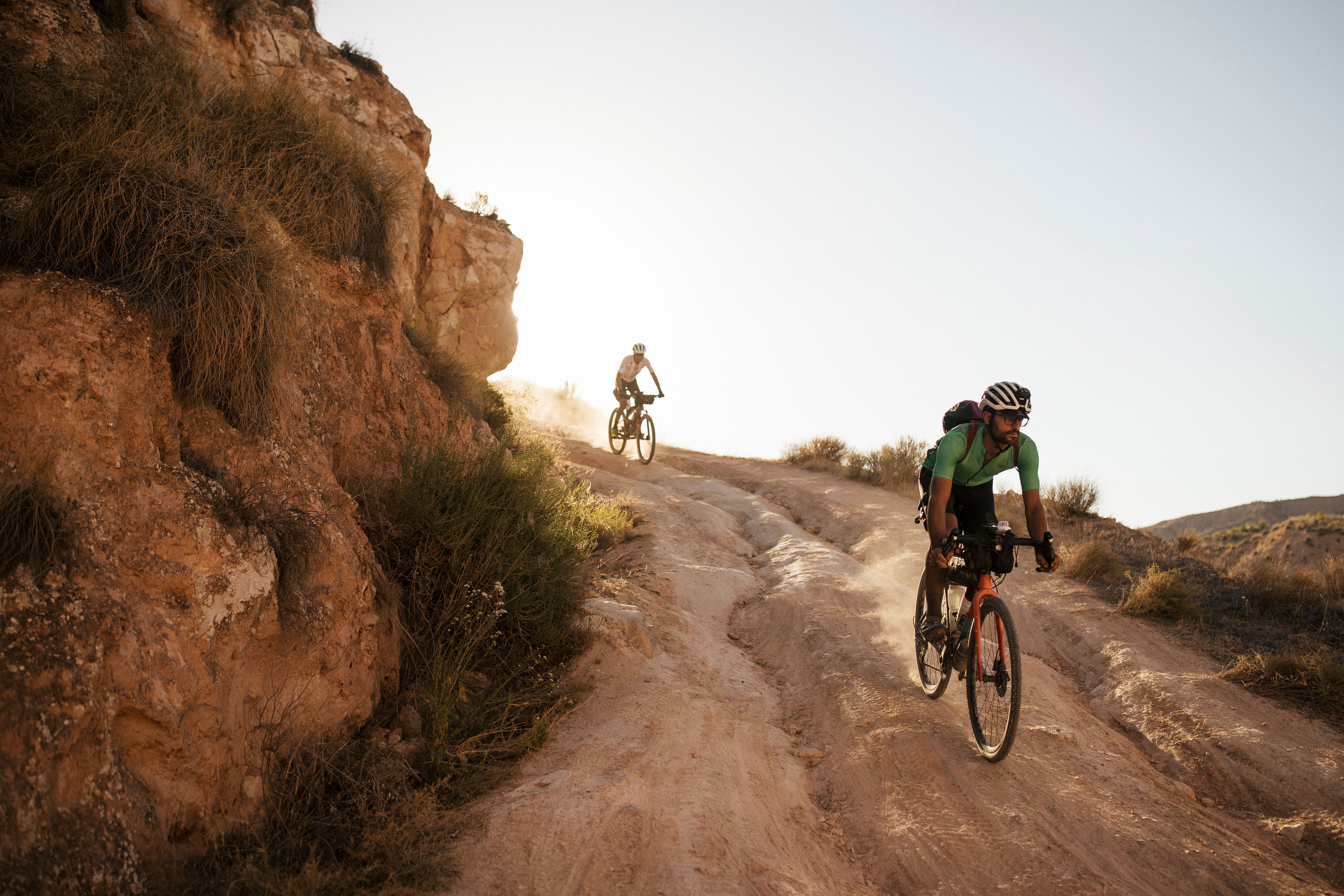 In case you don't know what Badlands is, well I can define it as one of the craziest off-road bikepacking races in Europe. It's a 750 kilometres route in Andalusia, the southern region of Spain. It starts in Granada and crosses three desertic areas and a few mountainous regions, so remote that you barely find resupply points.
I can't lie, this year I had high expectations for this race, even if the rooster was showing more than 5 top athletes which are close to professional level. My goal was to complete the route in 62.5 hours, finishing at dinner time, right before riding an extra night. My target would have allowed me to reach the top 10, finishing right behind those extraordinary cyclists.
Spoiler alert: this didn't happen!
At the pre-race I was feeling very good and relaxed. After a solid (and happy) start I rode the first 140 kilometres and reached Gorafe village, anticipating my timetable by 45 minutes. This gave me great motivation but right before my scheduled stop for food, I started feeling sick, very sick! I felt totally wasted and I was unable to pedal with any constancy. I had nausea and shudders, headache and a sense of dizziness. I couldn't really swallow even a single sip of water without feeling my ears plugged. Cramps were taking almost every muscle of my body, from hands to feet, forcing me to stop and try to think how to escape from that nightmare. I stopped at the bar with many other riders and tried to recover by drinking and eating a bit. I spoke with Raphael who wasn't feeling good either.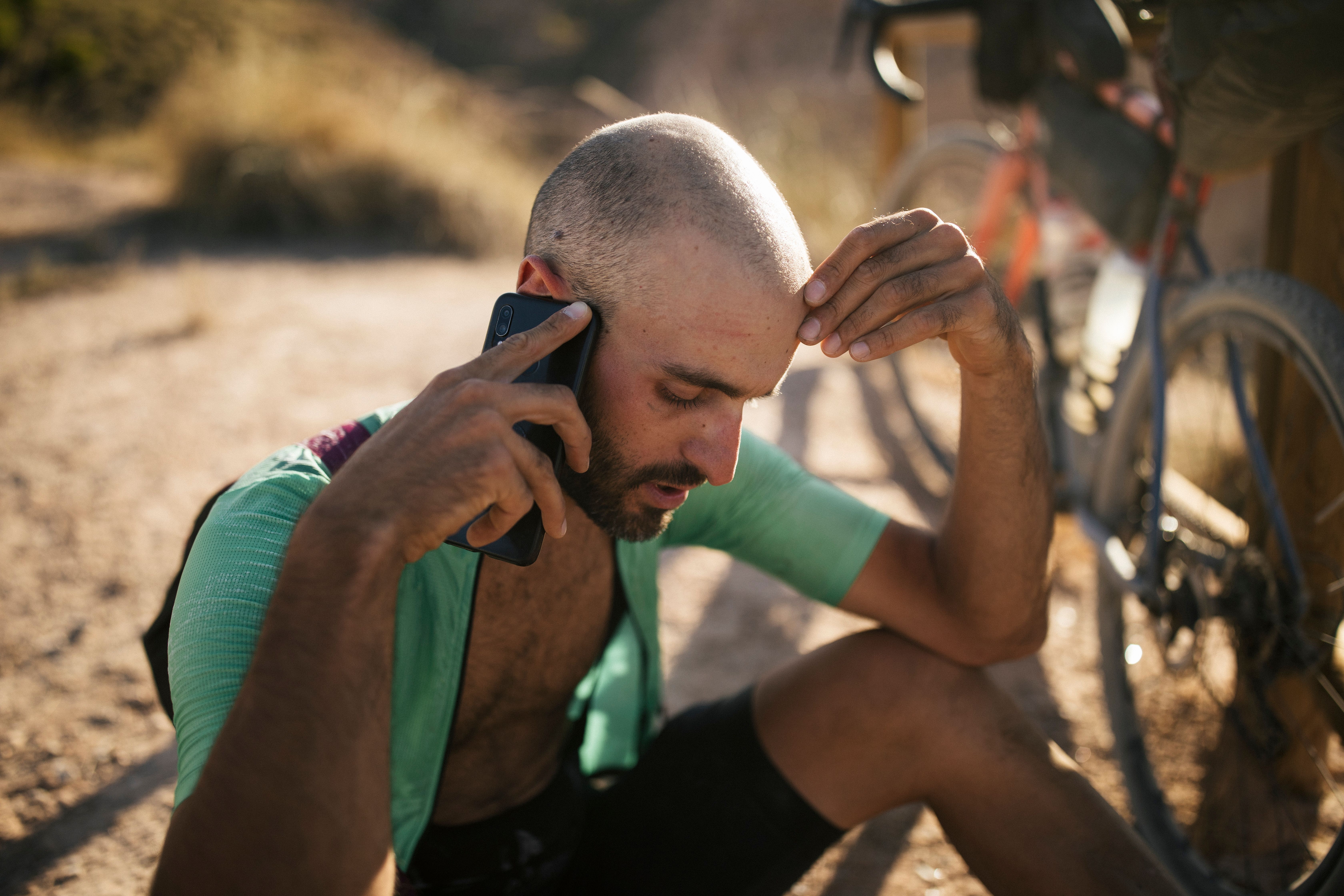 I was mentally disappointed because I was unable to keep the nice performance I had until that moment. When I tried to restart I found that my rear tyre was flat (If something goes wrong be sure that a chain reaction is probably about to come!). I changed the tube while chatting with my friend Paolo and then went on to the desertic section of Gorafe. I had my first breakdown meeting the media team. David, Azahara, Nicola and Federico were there at the most spectacular panoramic of the canyon. I felt really ashamed to show my weakness in front of all my friends but still, I am really grateful that I could share that bad moment with some people I love.
I tried to go on and see if the situation would have started to get better but I ended up having more cramps after a few minutes. I remember that I hiked with both my legs half paralyzed feeling like a zombie trying to reach the next village.
Finally in Villanueva de las Torres I decided to stop. I didn't feel like going on and I didn't want to continue pedaling. I needed a room but the only place available in the area was a hotel 9 kilometres out of the track on an uphill. I was feeling so bad that I begged for a lift and two guys kindly took me there with their minivan.
It was 9 p.m. when time started to fly until the next day. I left the hotel around 10:30 in the morning and got back on the track continuing from the 168th kilometre.
I was feeling a bit better but unfortunately that didn't last long. I stopped again after 50k. There was a ridiculous hike a bike right before and that made me feel terribly sick again, so I stopped at a restaurant and ordered water and lemonade while eating some of the spare food I had. I was so close to scratch that if I had seen a bus with the destination "Granada", I would have taken it instantly stopping the race definitely. But right next door to the restaurant there was a hotel, to me that looked like a sign of destiny. I took a room and decided to rest again, giving it one more chance…I didn't want to miss the best part of the route after all the hassle! In the meanwhile a lot of people texted me, cheering a lot and giving me amazing vibes. I set my alarm at 5 in order to leave at 6 in the morning and decided to give myself really small goals to keep me motivated and continue the route little by little. It was really dark in Fontanar when I entered the desert for its last section. Finally my body was starting to feel better and the "small goal" I had ended up being a 250km stretch with 5k elevation gain!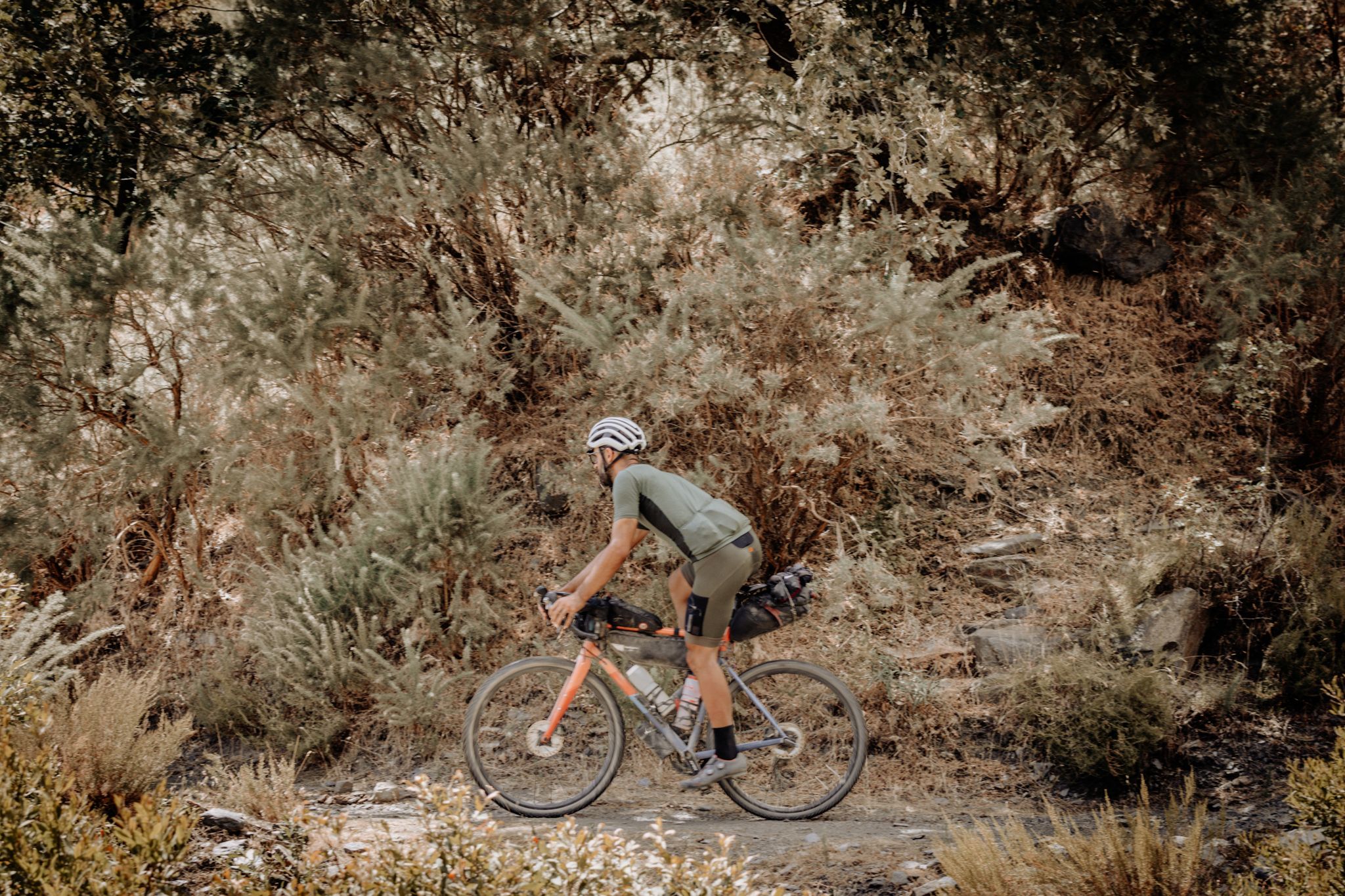 In the meantime I crossed dozens of riders and some friends as well, this made me feel even better and even if I was pushing hard I was enjoying the day like it was a Sunday ride!
I flew over Tabernas desert and reached Nijar where I had a nap before doing the section which preceded the seaside. Timing couldn't be better because I reached the seaside right for breakfast and tackled Cabo de Gata before midday. I saw the flamingos at the salinas (which I missed last year because I crossed it at night) and swam in the sea. I ate a bocadillo on the beach and had a shower with my bibs on. I was so happy that even the infamous hike on the sands of Almería wasn't that bad!
In the center town I stopped for food and waited a bit before doing the next climb. I've never enjoyed a bikepacking race that much, probably because this time I wasn't being pushed by other top riders so I could relax that tiny bit that made the experience extreme but very enjoyable. I climbed the super rocky hill of Sierra de Gadór, crossed a few villages and again the following gravel climb of the spectacular Lagunilla. I reached Berja, a bigger village, and had dinner. Then I decided to bivvy but the place was so busy that I thought about laying down on a bench. And that's it, 5 hours flew by!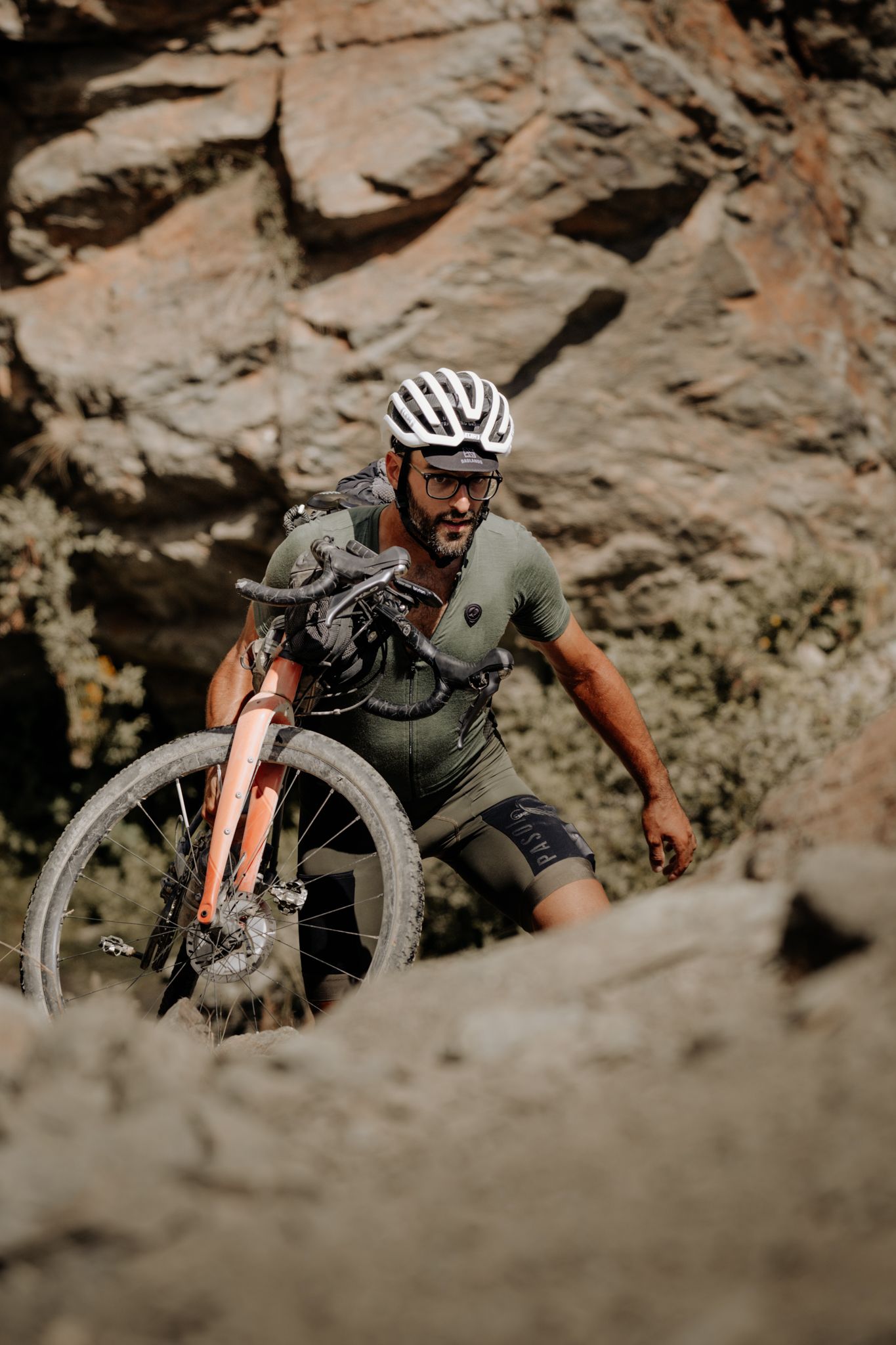 I started the last section with the very first lights, still pushing but already feeling the happiness of having the finisher medal in my pocket. I crossed Chris, a British guy, and had a nice chat with him, ate a bocadillo on a stunning panorama and picked up dozens of figs directly from the trees before refreshing on the amazing fountains of Treveléz. Last push was easier than expected, again, probably because last year I crossed it in the middle of the night. One last climb, where the media team spotted me, one last descent (on smooth tarmac) before enjoying the company of my friends, a cold beer and two courses of delicious food.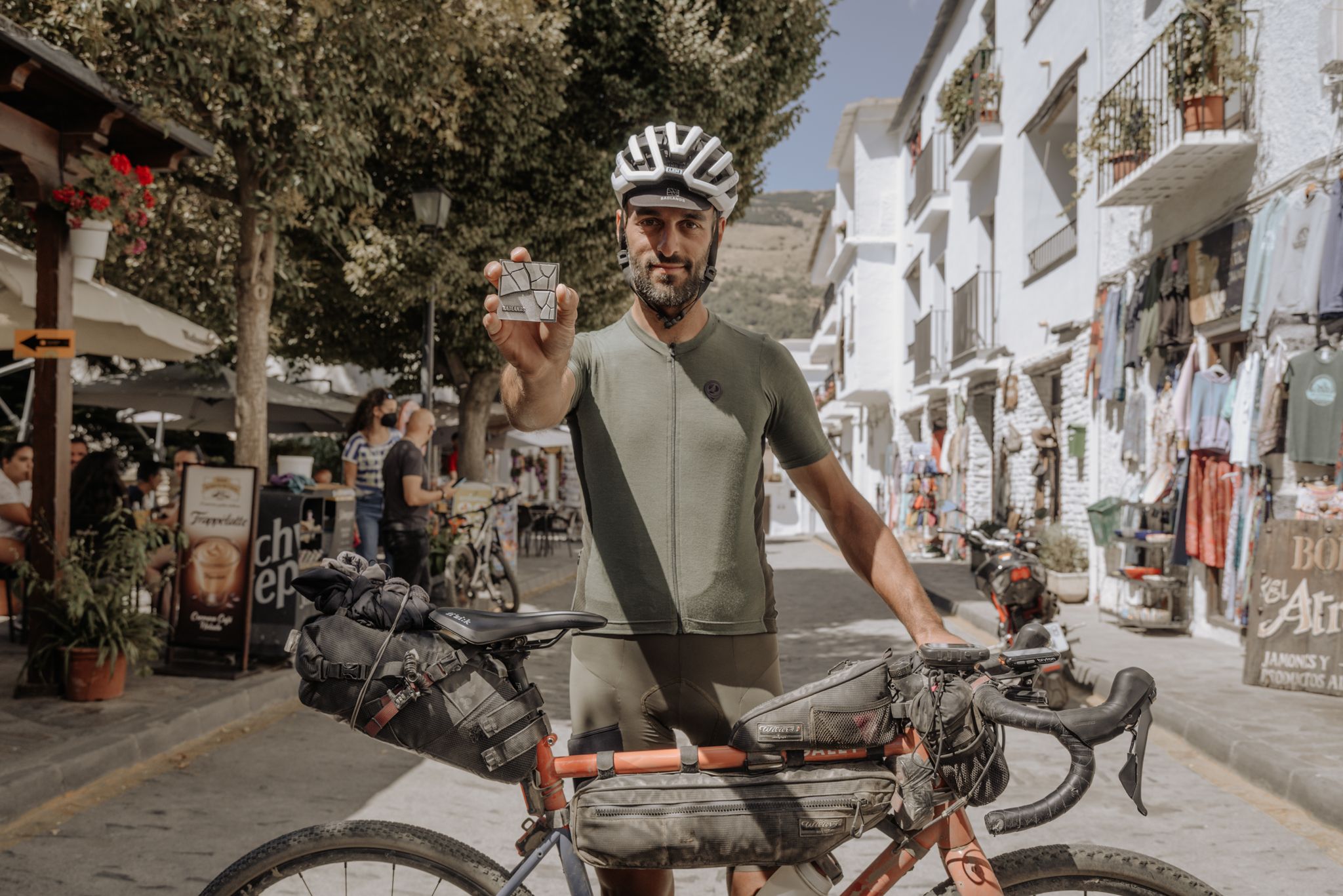 I must say that this race turned out to be much different than expected, but I accept it and admit that as soon as I finished the route, I already felt big nostalgia. The only thing I know is that next year I will be there again for sure!
photo by Badlands.cc