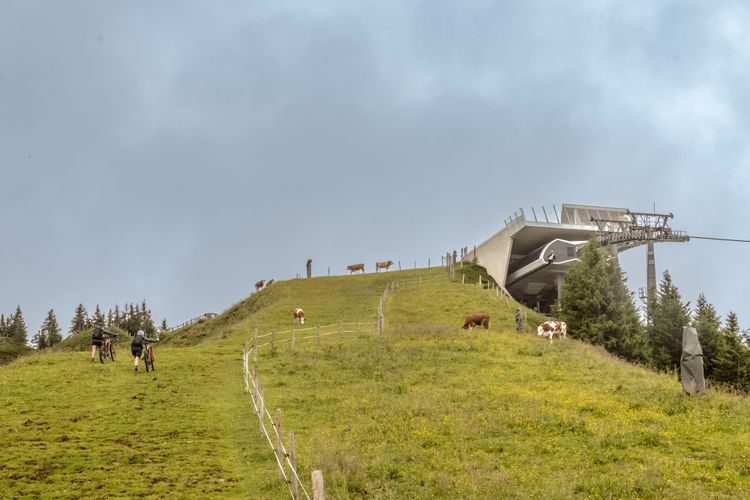 From Westendorf to the Choralpe
DayTrip
The Choralpe is a popular destination not only in winter. No wonder with the wonderful panorama. By bike, the climb is steep, but by no means for nothing.
Route Description
Which bike and how do I get there?
Due to the steep climbs, the tour is particularly suitable for e-bikers and fit mountain bikers. Also a gravel biker who brings the right gears and enormous strength in his thighs with him, will get his rewards here.
The tour starts in Westendorf. Those who want to arrive in an environmentally friendly way by train, have an excellent connection with the train station Westendorf in Tyrol. Car drivers will find good parking facilities at the Alpenrosenbahn I gondula station.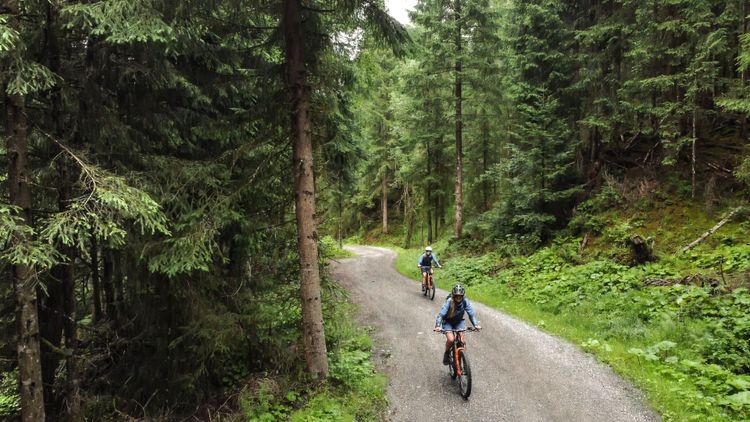 Up to the Choralpe
From Westendorf via the Alpenrosenbahn I valley station, we first ride uphill with a gentle incline "around our destination". We would recommend this direction of the tour, because otherwise you have a very steep hike-a-bike stretch on the last piece up to the Choralpe, and the climb is generally quite steep permanently.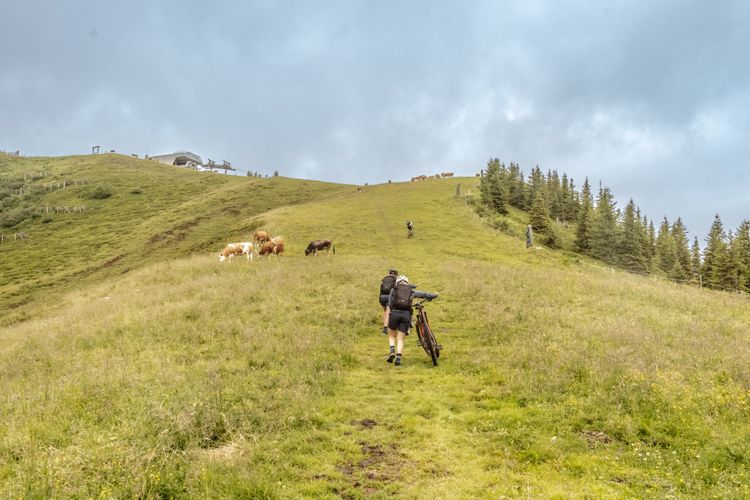 Far above the course of the Windauer Ache we ride further and further up, through a beautiful landscape of forests, meadows and farms, such as the Schrandlhof. We can also admire a small waterfall at the Hutzgraben on our way up.
Now it is getting steeper: With many hairpin bends, the road winds uphill and makes us sweat.
We are rewarded with excellent panoramas.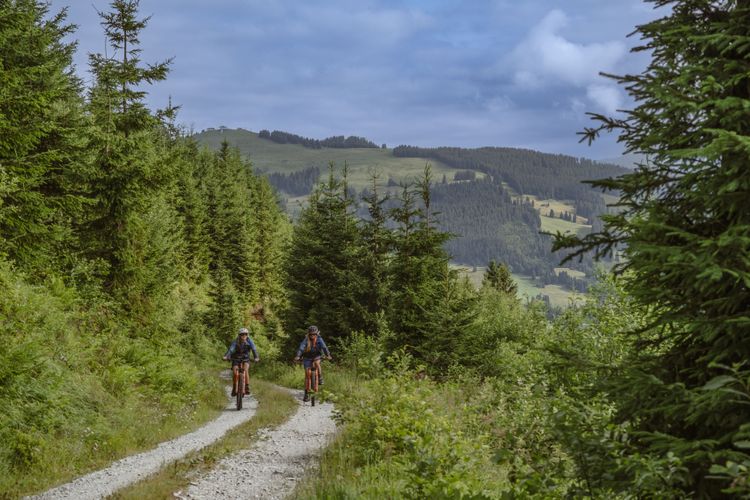 A break at the Talkaser or Choralpe Alpine Hut
Below the Fleiding, we climb steeply for a long constant time, in a straight line, before reaching a flat straight and finding the Talkaser Alm as our first stop at the top station of the Alpenrosenbahn II. A cake and café on the sun terrace sounds tempting after all.
Our actual goal, the Choralpe, is still a little further. It is quite steep for another short stretch, then we are at the top. The Choralpe offers you an ingenious panorama with an all-round view.
There is also the possibility to stop here. The swings from discarded gondola seats are a special highlight and make even the most serious biker once again be a child for a few minutes.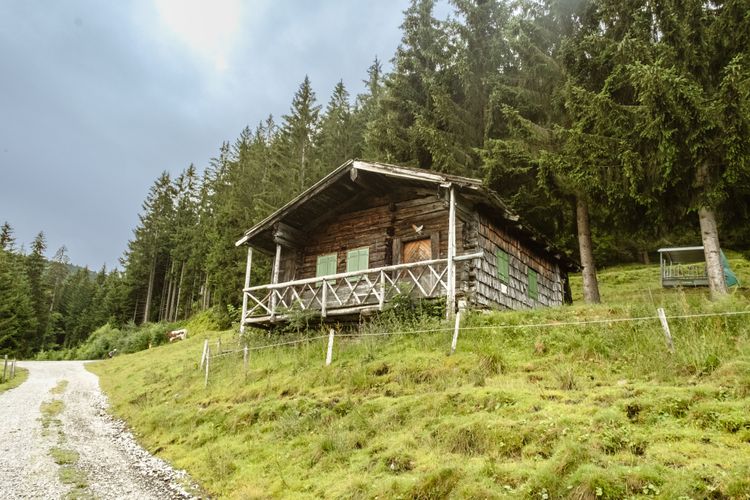 A short Hike-A-Bike and down to Brixen im Thale
Now follows a short hike-a-bike section. Literally over the grazing land we push our bikes downhill. It is best to keep to the left of the pasture fence and follow it to the right. Soon we arrive again on a forest road.
Soon we are in the dense forest and a few switchbacks bring a big smile to our faces. Faster than we would like, we come back down to Brixen im Thale where we follow a small road, with little traffic, along the train tracks and thus come back to Westendorf.
In Westendorf we find some possibilities to finish our tour with a refreshment.