We are all talking about "gravel". Gravelbikes, riding "gravel, "gravelling", "gravelleurs", the "gravel community" and much more. "Gravel" is trending.
And while we are all riding Gravel on Gravelbikes the only thing our bikes have in common are the Dropbars (or not even that?!?). Some people might use their gravel bikes to ride a mix of tarmac and light off-road routes that you might describe as "all-road", some define gravel by riding classic fast rolling forrest roads, some want to ride as less tarmac as possible, and some even say a good gravel ride has to contain some proper hike-a-bike. Our friends at komoot actually implemented "Gravel" as an own activity type for route planning.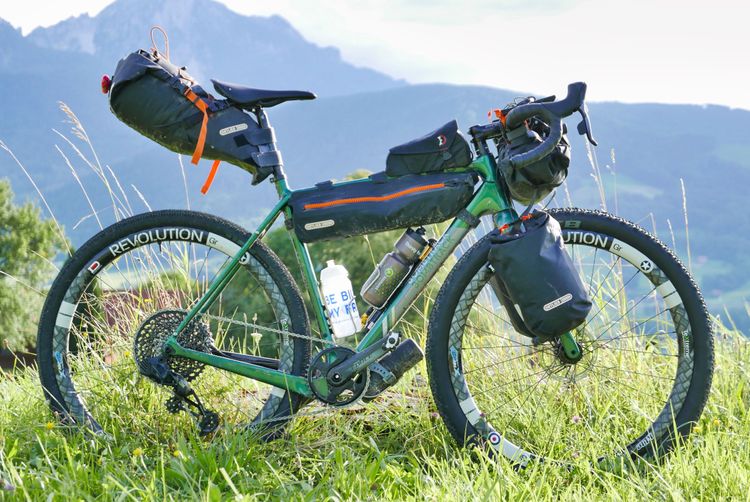 To settle the question "What is gravel biking?" once and for all (or maybe to just spark even more conversation on this) let's look at different aspects to get an answer what is gravel biking really all about and where does gravel end.
What is the definition of gravel?
Typical landscape for gravel cycling
Where does gravel biking come from?

The prototypes of the gravel bike - cyclocross bikes
Characteristics of a gravel bikes

Can I use my gravelbike only on gravel?
How many mm on my tires are enough for graveling?
Do I need a gravel specific groupset?
1x or 2x drivetrain?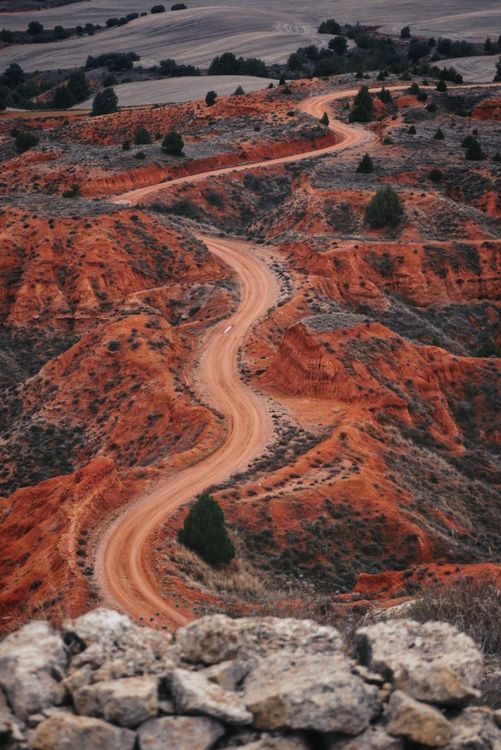 What is the definition of gravel
Raphael Albrecht from the Orbit360 Gravel Series and founder of the Orbit360 Festival seriously can't hear one question anymore:
"Is this still gravel?"
Well, as we all don't seem to have the same answer to this question, let's look at the definition for the word "gravel":
gravel
/ˈɡrav(ə)l/
Gravel originally meant the occurrence of several small crushed stones in one area.
A loose aggregation of small water-worn or pounded stones.
Hmm… A bit more detailed please?
"Gravel is small, loose, rock particles. It is any loose rock that is larger than 2 mm (0.079 in) in its smallest dimension (about 1/12 of an inch) and no more than 64 mm (2.5 in). Small gravel is composed of granules (>2 to 4 mm/0.079 to 0.16 in). Large gravel is called pebbles (>4 to 64 mm/0.16 to 2.5 in)." [Gravel Definition by Wikipedia 2022]
Well ok, if we just look at the definition of the word "gravel" we can see that it only describes the texture of the ground we ride our bikes on. But what does that mean? Where can we ride gravel? What landscape can we find it in?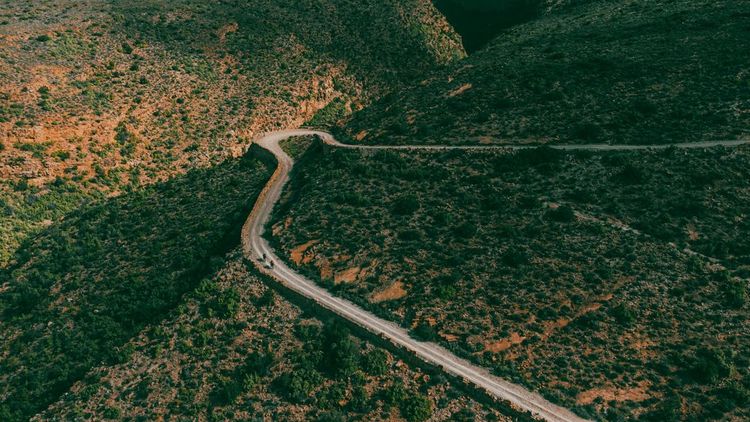 Typical landscape for gravel cycling
Well "gravel" is also known as crushed stone. It is made up of unconsolidated rock fragments. The most common types of rock used in gravel are sandstone, limestone and basalt. But did we invent all of this naming and rock shape just to create the next trending topic in cycling? Far off.
Gravel is used as a foundation for new roads but also for mixing it with asphalt. It can also be used for creating other construction materials, but now we're going too far. Wait a minute let's get back to asphalt: So gravel is the foundation for asphalt and a part of the tarmac we ride our road bikes on? What a funny coincidence.
Where can I find natural gravel routes?
Does this mean we only ride on industrially produced rocks and we're not so free and in nature after all? Of course not. The "gravel" that we love and crave so much can also be formed naturally and is then called bank gravel.
Most of the time this will then be mixed with sand or clay. So no worries: You can still ride your gravel bike and feel the freedom of escaping the city on your all natural gravel roads. 😉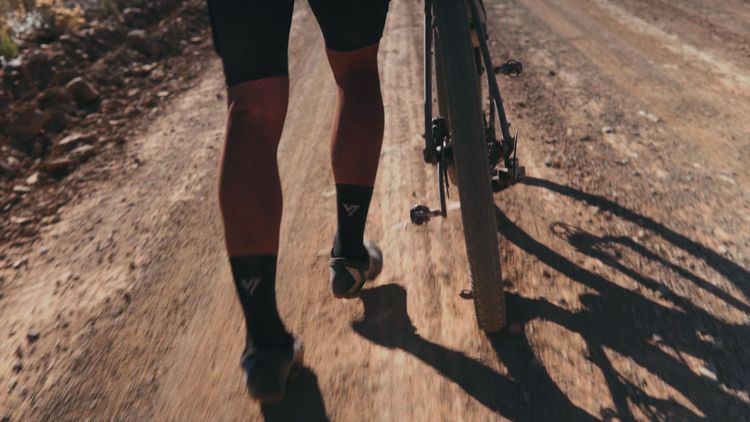 Where can I find the best gravel?
Ok so now you buy your fancy gravelbike just to travel around the globe to find the goods? Of course not. Luckily gravel can be found literally anywhere in the world.
Gravel is a product of natural erosion. That means big rocks get broken down into smaller pieces with constant exposure to the elements. However, of course this happens with greater intensity close to rivers, streams and oceans.
Of course there are some areas that will appear to be paradise to us. Usually we get drawn to mountainous landscapes and deep Forests for our outdoor adventures and as you guessed it's exactly this where gravel bikers feel at home most. You can find some of our best gravel routes right here.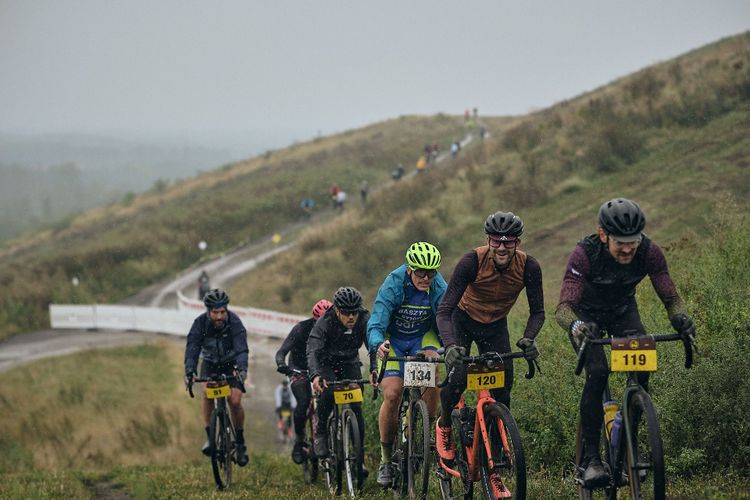 ##Where does gravel biking come from?
That is very difficult to say. In fact you might argue that the Roughstuff Fellowship have been doing gravel (and even bikepacking) since 1955. Pushing it even further Semperit released a 2" wide tire that we would definitely consider a gravel tire in 1930. Gravelbiking has not been led by technical innovation like Mountainbiking, where you can clearly define a period at which those came to light. It is a combination of a lot of different aspects of cycling that eventually was labelled under its own name. Still you might argue that the gravel hype originally comes from the USA. Arguably the first and pioneering event for gravel cyclists was the Unbound Gravel (Formerly known as Dirty Kanza). This event started in 2006 with only 34 participants. Now you have to enter a lottery to be one of the lucky 4000 starters each spring. The founders had the intention to ride a bike marathon for the first time on gravel roads in the Flint Hills in Kansas. Thus, the first and probably toughest Gravel-Grinder races were created.
Because, as you can imagine, the grinders were rather, let's say, unpleasant to master with a road bike and the probability was great to make closer acquaintance with the previously described gravel (underground).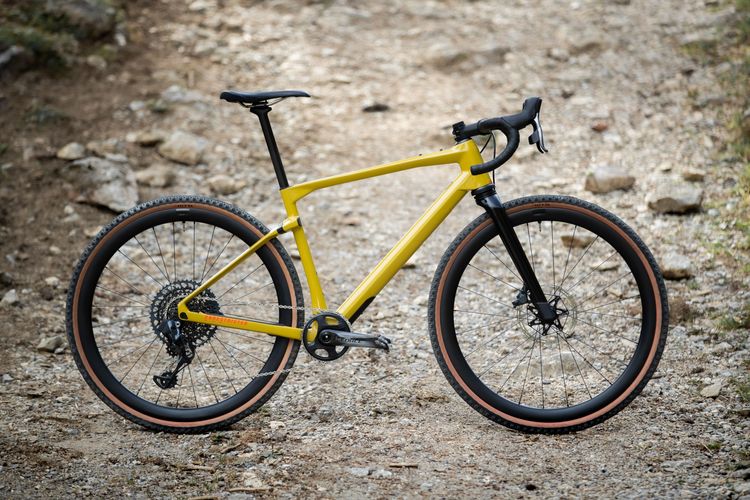 The prototypes of the gravel bike - cyclocross bikes
As Gravel Bikes didn't exist in the early days of gravel and it seemed like madness to ride a roadbike on one of the gravel grinders, riders used whatever bike they had and modified them to their needs. Most riders used modified cyclocross bikes.
Cyclocross bikes are in no way the same as gravelbikes, even though at first sight they look quite similar. The bikes were originally built for fast and technical circuits. Not at all for long gravel distances.The geometry of cyclocross bikes doesn't exactly fit for long and bumpy rides and the gearing wasn't sufficient for long and steep climbs. Nevertheless, they were the best alternative among the bikes of the time, even if the bike often had to be carried uphill. The "Gravel Bike Evolution" thus began later on, on the basis of the cyclocross bikes.
The first "Gravelbike" on the market was the Salsa Cycles Warbird in 2012. It took the cycling industry a few more years to realize the potential of Salsa's masterpiece.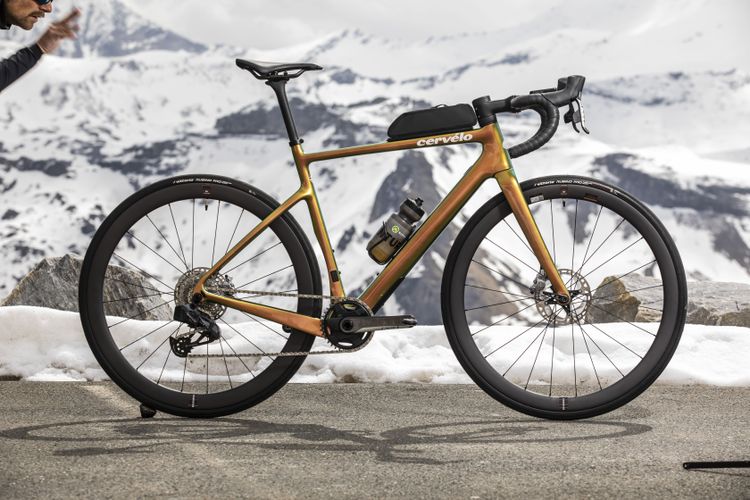 What is the difference between Gravel and Cyclocross bikes?
It is often claimed that Gravel bikes are a trend created by the bike industry. However there are significant differences that make gravel bikes a very different breed. First off gravel (until now) hasn't been governed by the UCI which layed strong restrictions on how the specs of a cyclocross bike have to look like.
Therefore cyclocross bikes can only fit a maximum of 33mm tire width, while gravel bikes can be found even with plus size mountainbike tire widths. The second big difference is the purpose of use. CX bikes are built for short and very intense efforts around 1 hour. Their geometry is therefore very aggressive and stiff, which will surely leave your body in pain after long gravel rides. The groupsets on CX bikes used to be plain road groupsets with the same gear ratio as road bikes. On long and steep off-road climbs these will not be sufficient. There are way more small details like flared handlebars, mounts for bags and accessories, etc. that make gravelbikes more than just a hype of the bike industry. That being said, of course you can STILL use whatever bike you have to ride gravel and yes, there are more than enough gravel bikes on the market that wouldn't have made it off the drawing boards if it wasn't for a huge hype on the market.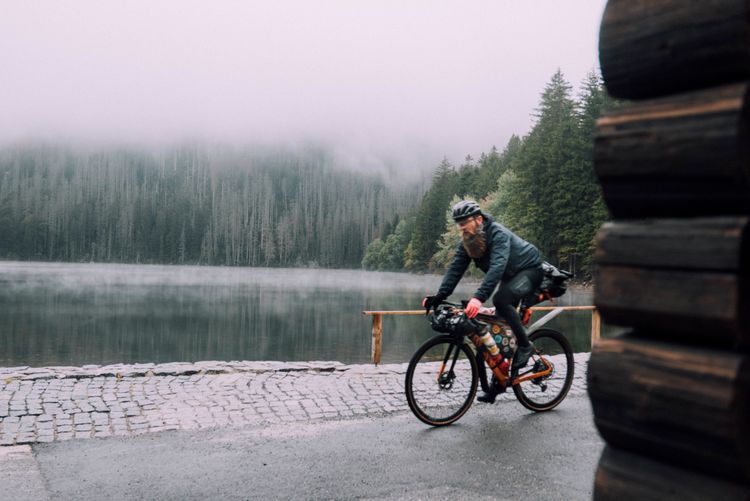 Difference in construction
To bring it to the point, here are some key differences (out of many) between a gravel bike and a cyclocross bike:
raised handlebars to create a more upright position on the bike (more towards the geometry of XC Mountainbikes)
More tire clearance for wider tires and more comfort (and sometimes using the old 650b standard for more tirevolume)
increased wheelbase for stability
If we look at the newly released Cervélo R5-CX that currently leads Marianne Vos and Vout Van Aert to back to back victories during their cyclocross Season and compare it to the brands Gravelbike the Aspero we can definitely see those differences. With the R5-CX being way more aggressive in position, offering less tire clearance and narrower handlebars, as well as road specific groupsets. (At least for now. We will see if this changes when they release the R5-CX for public sale in 2022.)
You can see similar patterns with Bombtrack's Tension Cyclocross bikes when comparing them to a Hook or a similar Gravelbike.
Some Gravelbikes go their very own ways and clearly are very different to cyclocross bikes. E.g. check out the BMC Urs LT which has full suspension.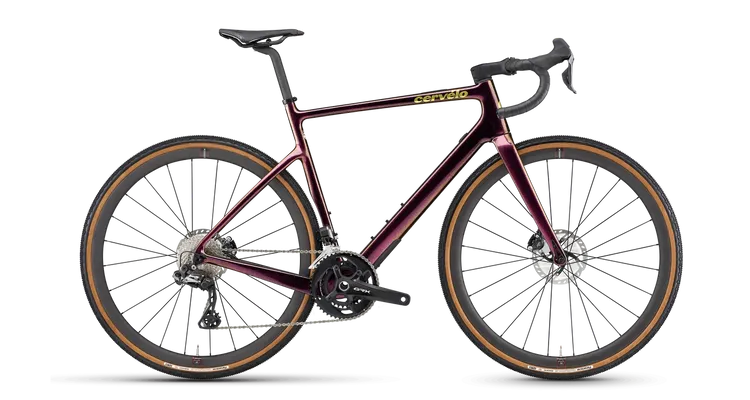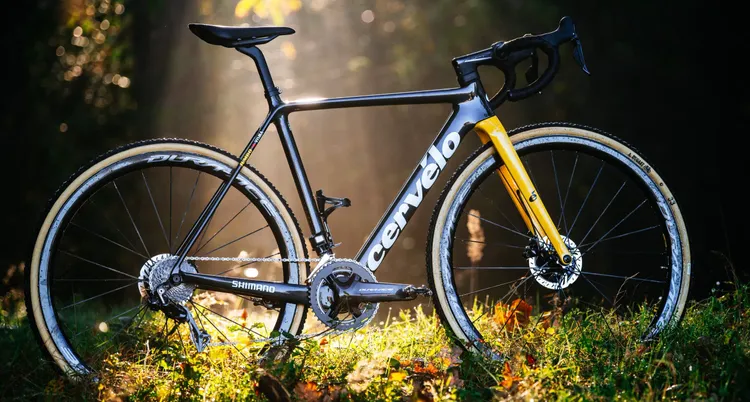 Can I use my gravelbike only on gravel?
So if we look at a dictionary and consult wikipedia for the term gravel we can get the impression that if the bikeindustry names them gravel bikes they are made just for that. But seriously: How often have you seen Mountainbikers ride on tarmac? How many times have you just continued on a gravel path with your Roadbike? Exactly, it's only the tool. What you use it for is your own cup of tea. Just make sure you don't bring "a knife to a gunfight". 😉
What tire size should I use for gravelling?
Gravelbikes come in all kinds of varieties. You can choose between 650b, 700c or 29" MTB tires. All of them work, it is more the question what do you prefer and what fits your use case? Smaller riders might prefer to ride smaller frame sizes and therefore will be much happier with 650b tires. The actual outer diameter of the tires will be just a bit smaller than 700c, but with a lot more tire volume which ads more comfort as well. The bike industry nearly forgot about 650b which exists since long times only to bring it up as the new trend in gravel bikes. And they are well worth considering for a lot of gravel cyclists. Others want to have fast rolling and light tires and might only consider 700c (which is the typical size for road and cyclocross bikes as well). And some, well they want to have a monster gravel bike using 29" wheels. A larger outer diameter and large tire volume make for a comfortable ride and roll over a lot of obstacles. And then we need to consider tire width. While you could fit 28c roadbike tires on your gravel bike if you want to use it on the road, you can use Mountainbike tires over 2" as well if your frame has the clearance to allow this. So first of you should check which size of tires your frame was designed for and what is the limit you can fit. This topic can be a few articles on their own but in the end we can bring it down to this: There is no rule and this is a good thing. While under 35c tire width you will have a bumpy ride off-road, you decide what you feel is comfortable and the right tire for your needs! Not everyone needs 2" tires on their gravel bike and also not every thing comes down to weight. It is about having fun but also being comfortable with your ride. If you don't know how to start on this topic, consult your local bike shop! If your throw keywords like 650b or 50c at them and they have some answer for you, your in good hands. 😉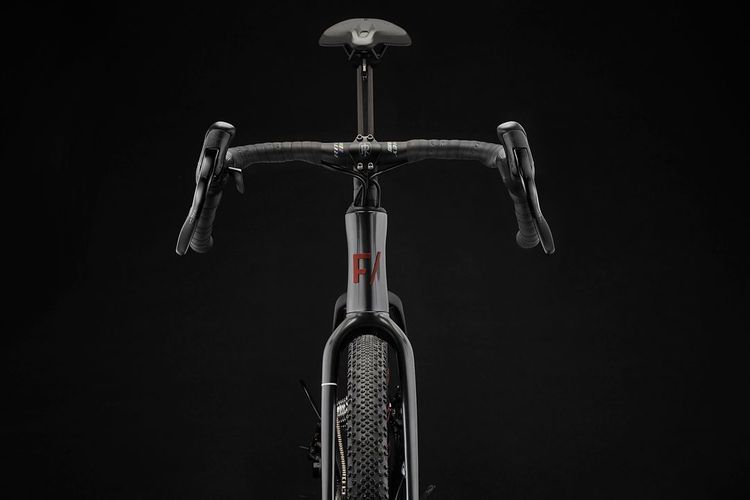 Do I need a gravel specific groupset?
Some gravelbikes come with road specific group sets, while others have shifters specific for gravel. Some even combine Road and MTB components. (Looking at you SRAM AXS 🤤) In the end you choose the tool you like and your ride will become your own personal adventure no matter if on smooth tarmac, textbook gravel, or cruel hike-a-bike.
You shouldn't decide on a groupset based on the fact if it is labeled "gravel", but rather on what you want to do with it. Do you intend to ride your bike on roads and just occasionally escape on some gravel? You might be happier with a road specific groupset. (Let's say a SRAM Rival or a Shimano 105) If you really want to go on long gravel rides with steep off-road climbs you might consider a more specific setup with more gear ratio and maybe even a clutch to prevent your chain from falling off on rough descents. That could be a SRAM XPLR, Shimano GRX or a Campagnolo Ekar, to name a few. If you really want to take your bike off the grid carry a lot of weight e.g. on a bikepacking trip or you don't even stop from occasionally entering mountainbike territory you don't necessarily need to exchange your dropbars for flatbars. Some groupsets like SRAM AXS offer compatibility between Road and Mountainbike Groupsets. However be careful here as you still need some knowledge and research to find the parts that work together and that are compatible with your bike.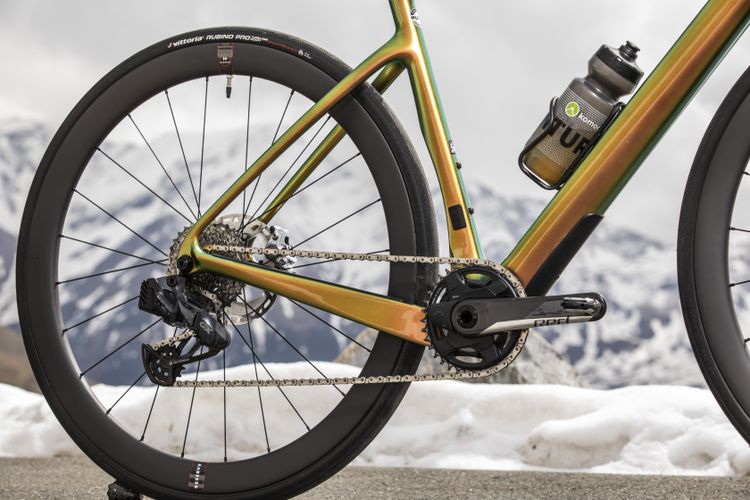 1x or 2x drivetrain?
Mountainbikers can rarely be seen with more than one chainring anymore since years. Instead they have up to 13 gears in the back and large cassettes paired with a smaller chainring in the front to achieve large gear ratios. However for gravel- and roadcyclists this is still quite new. 10 years ago we still had 3 chainrings on roadbikes now most of the time we have 2. Should you change to only have one chainring? And again it depends on what you want to do and what you prefer. More gears mean more even spread gear ratio, so you don't feel like you are "missing a gear" meaning one is too low but the next one is too big. Also keep in mind that with 2x setups you can still achieve amazingly large gear ratios enabling you to still be able to pedal at high speeds downhill, while having a small enough gear to pedal up comfortably even on steep gradients. You can achieve similar gear ratios with modern 1x drivetrains and not having a front derailleur means less things that can fail and (potentially) a cheaper setup. To be honest? Try both. Go to your local bike shop and ride different groupsets. Then decide what you like most! If you live in a flat country you will not need a mountain bike cassette with 53t in the back. So don't be fooled by marketing, just try different setups and find the right one for you.
Gravel is a young and still very much developing species of bikes. I would argue people are drawn to gravel as they want to belong to an open and experimenting community rather than having this specific kind of bike.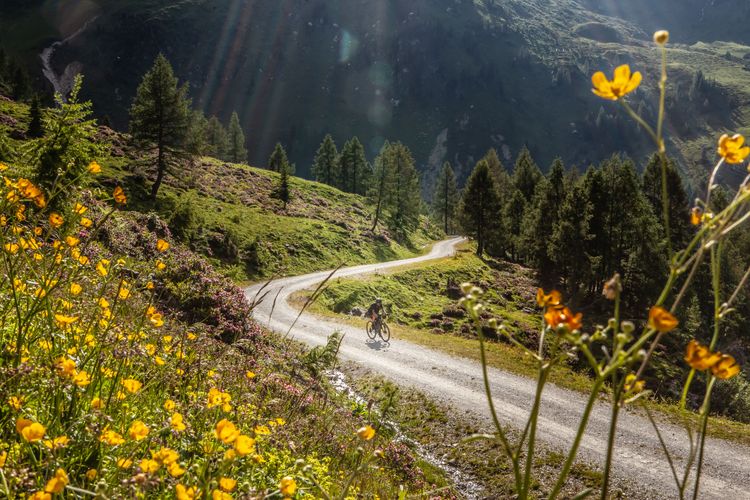 If you enjoy your bike and you have fun riding it you're doing everything right. It's neither the bike nor the kind of terrain, it's about getting out and actually riding. There is nothing better than this quote to end this discussion once and for all:
"Gravel isn't about the surface, it's about the attitude."
…or spark the conversation even more. Are we wrong? Let us know what we missed. We managed to inspire you to go for a ride and you are looking for the perfect route? This way to learn how to plan your Route on komoot.