In the world we know the internet is all around us. Day and night we get drawn to our screens by push notifications and the urge to be up-to-date with what's going on around the globe. Our workplace is useless without a computer connected to the internet and without them our jobs would probably not even exist.
We are blessed to get all the information we want with the press of a button. Those small devices in our pockets make us vastly smarter individuals and connect us globally. Want to know how your friends across the ocean are doing? Watch their instagram stories or simply type a message. Transmitted instantly over thousands of kilometres.
This is a privilege and life without the comfort of digitalism seems impossible. At the same time our generation carries a huge burden and diseases like burnout arise.
Never did a generation have to process such a crazy amount of information and learn to cope with emerging technologies so fast.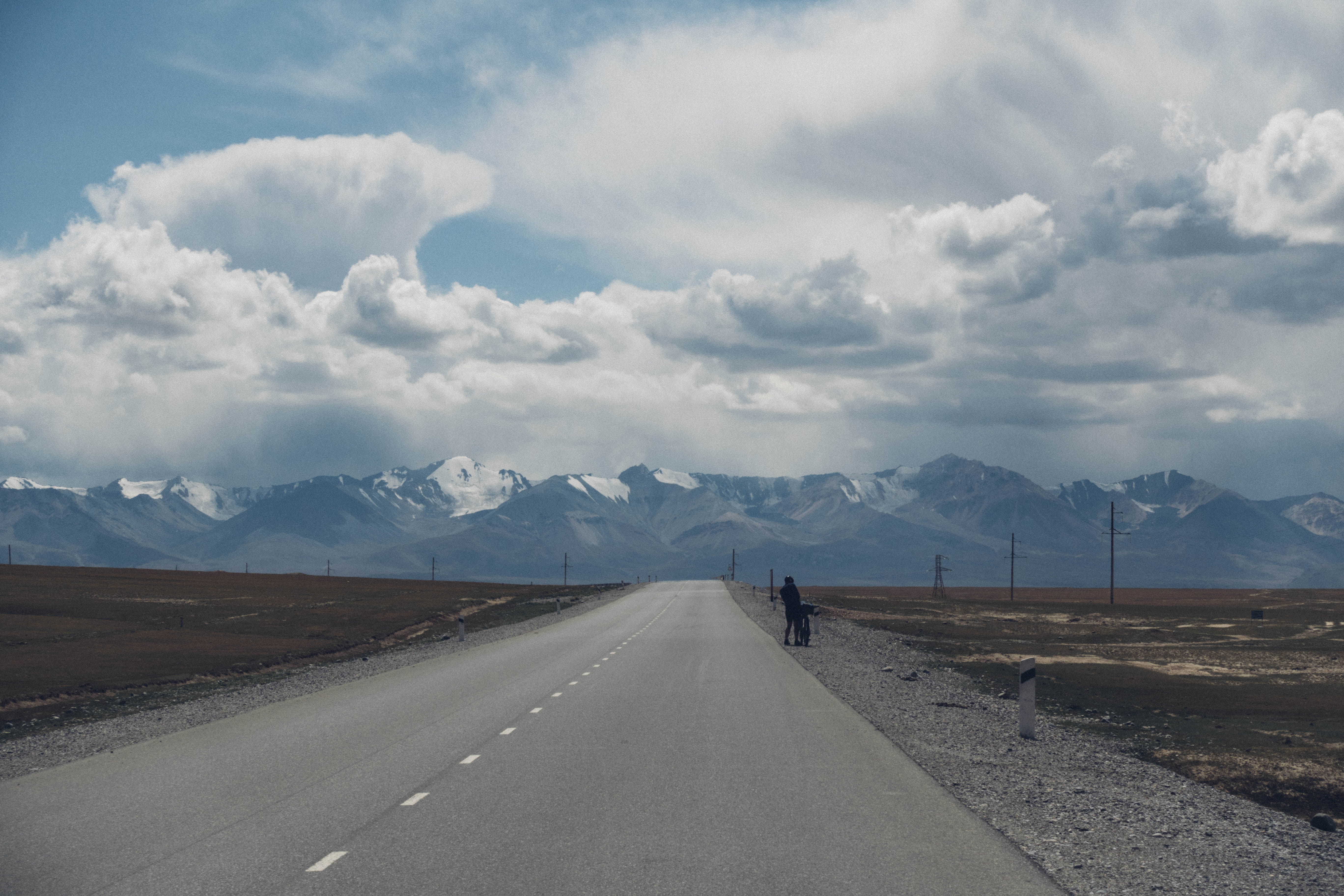 The seemingly endless straight road along the chinese border. No civilisation for over 300km.
On the other hand there is a trend in young generations seeking adventures and escaping the digital life they are living. Hiking, climbing mountains, mountainbiking, skimountaneering and others are rising activities among young people as they are drawn to nature again. Whether they report it on instagram or other media or not, they are taking a break from their daily lives. We are leaving the comfort of our homes, even if just for a few hours to freshen up our minds, to physically exhaust our bodies and experience #outsideisfree.
But our phones still keep us connected to the world and most of the time the digitalised civilisation we're escaping from is only a few kilometres away. Our escape will in most cases end the day we started it.
What if there was a place on earth that seems to have been forgotten by digitalisation? With landscapes so rough and untouched, sometimes it takes days to get to the next city. The roads are gravel at best, sometimes forgotten paths destroyed by landslides. A country described as the Switzerland of central Asia with 93% of it's land covered by mountains and only 8% inhabited area. A country where the majority of people are nomads who live from farming.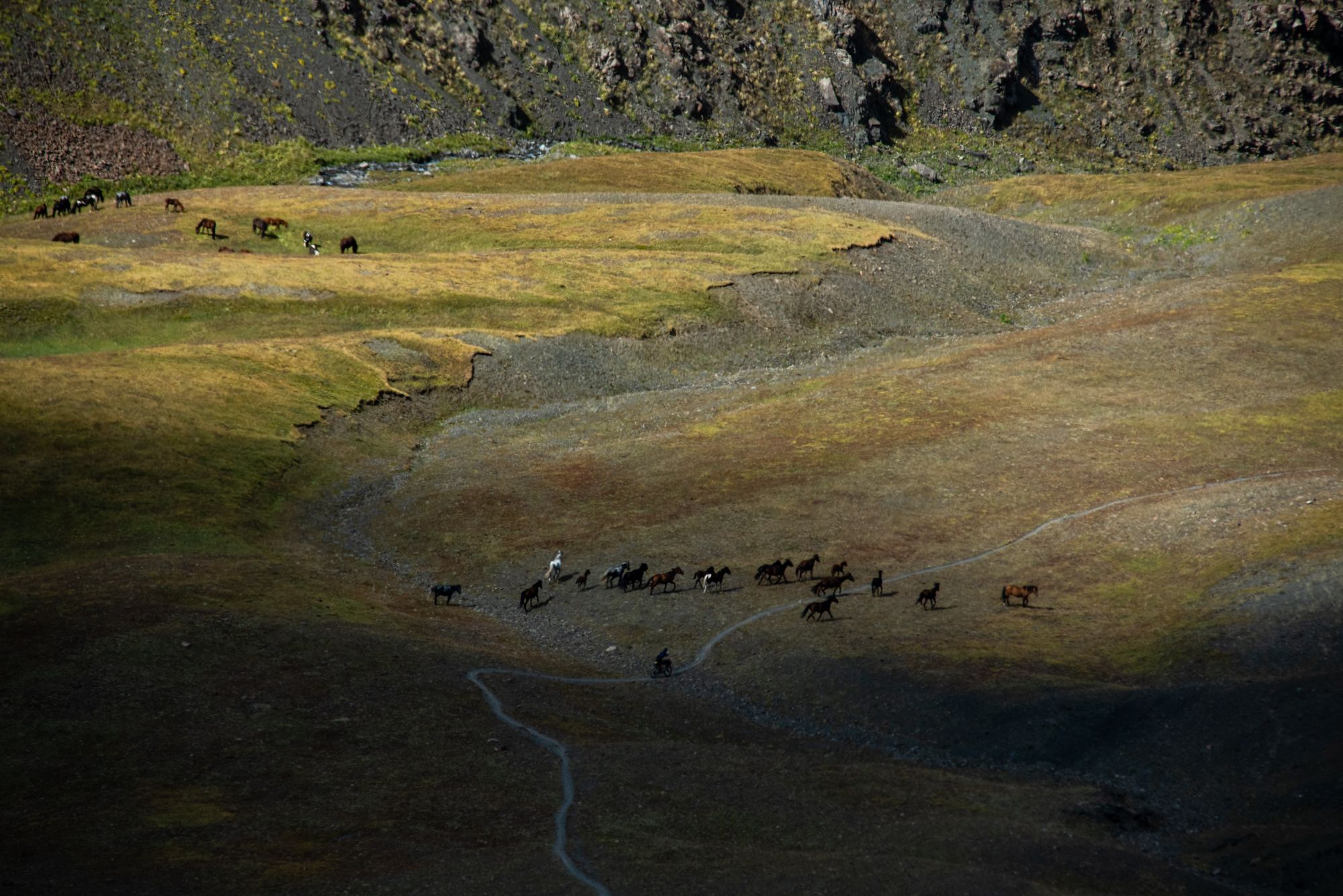 Does this look like a surreal scene from a phantasy movie? Every day scenery in Kyrgyzstan. Photo by Danil Usmanov
This country is called Kyrgyzstan and it may be one of the last places on earth where you can regard your phone as useless in most areas of the country. Infrastructure like we know it is rarely in place and sometimes you won't meet a soul in days. It is a magical playground with mountains reaching over 7000m and mountain passes with way over 4000m elevation.
Imagine a bike race through this scenery, covering 1705km and approximately 26000m of climbing. Well, it's not a race like we know it. It's not like the Tour de France with hundreds of cars following you and glamorous hotels in the evenings.
In this race there are only a few rules: you have to follow the given route and register at the race checkpoints, the clock never stops, you shall not receive ANY 3rd party support, all forward movement must be human powered, riders are obliged in the spirit of self reliance and equal opportunity.
It is one of the hardest unsupported bike races on the planet and it's one of the hardest challenges a rider can face. Those rules imply that you have to carry camping gear, shelter, food and water, as well as everything you need to survive in this environment.
You could say this is the setup for the adventure of a lifetime. Everyone even showing up to the start-line deserves huge respect. Swapping the comfort of our digital and domesticated lives for an escape into the wild for up to 14 days.
Only around 50% of the riders made it to the finish this year, but I am very sure that if you ask them about their experience they will tell you their adventures and stories with gleaming eyes.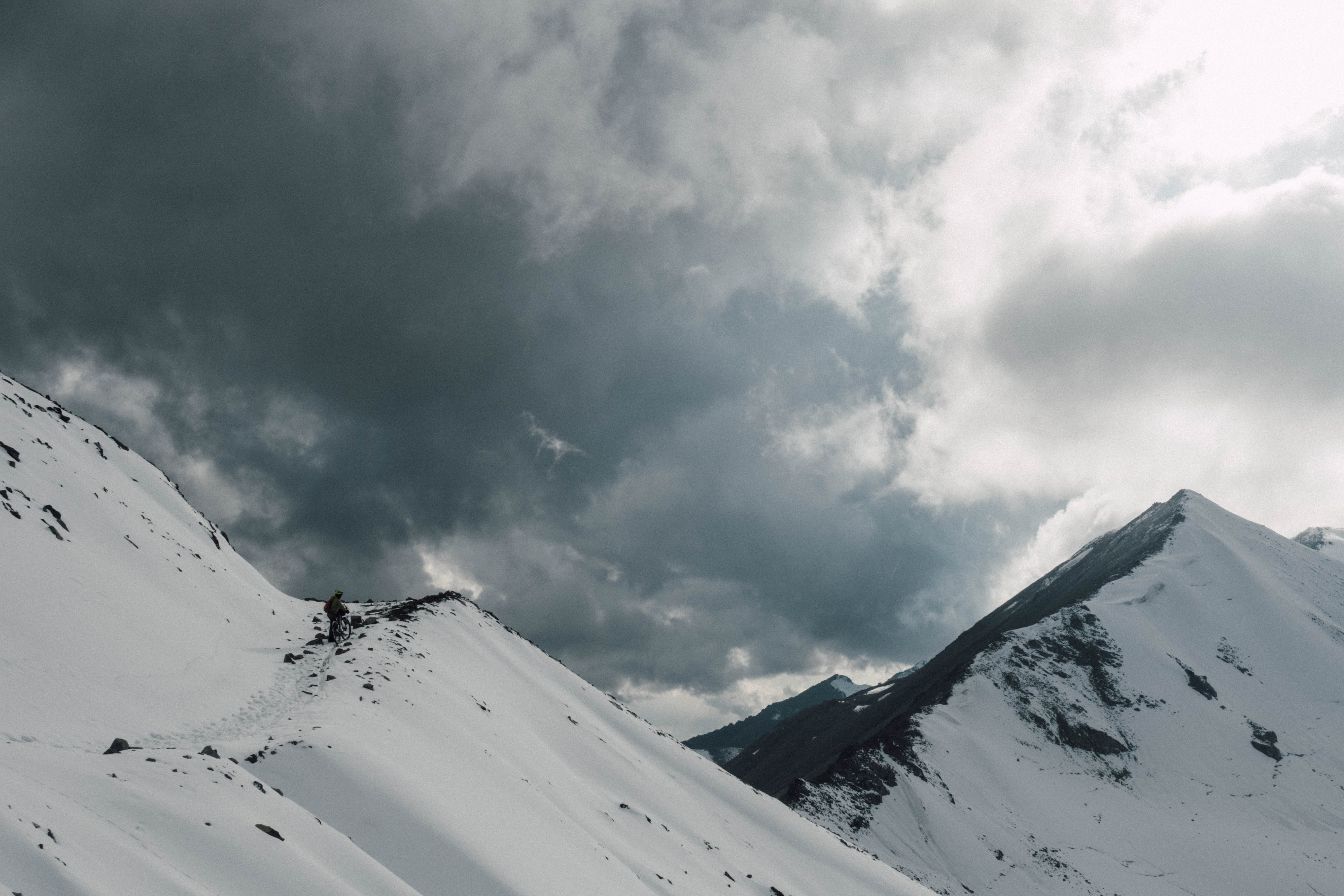 Passing the highest pass, Tong Pass, in the race after a gruelling snow storm
Stories about encounters with the mainly nomadic locals, being invited to their Yurt and enjoying food and chai with the whole family, while most of the time, communication is limited to gestures and hand signs due to the language barrier. Sometimes you even might find a cozy night of sleep in their Yurt. Encounters with the wildlife, like wild horses galloping alongside you, cows trying to steal your precious food supplies, or even strange mice that have legs like kangaroos and other funny animals. Memories of being in awe by the sheer beauty of the landscape and the incredible mountains of Kyrgyzstan. Sometimes you have a funny story to tell after waking up and discovering your camp spot isn't where you imagined it to be as you set it up in the dark. (Indeed fellow rider Stu set up tents between to river streams on a river bank.) It may also be a story of the struggle with failing materials as participants fix their bikes and other belongings in unthinkable and creative ways. One rider reported of pedalling for 80 kilometres on one crank before getting a replacement in the next village.
Nearly every rider can exchange stories about struggling with food poisoning. The cracking jokes between riders, no matter if they scratched or finished the race, were about the ongoing challenge of finding a suitable place for following their call of nature.
Nearly everyone has a story where they argue about the weather caprioles, being stuck in snow storms, or struggling to dry their belongings. Arguing about the hard hike-a-bike sections on the track, or the hardest, seemingly unmanageable climbs.
The most beautiful stories are those of camaraderie and shared memories. Those about falling into a meditative state while you're out in the wild, sometimes alone for days. That feeling of happiness suddenly discovering the simplicity of life on the trail.
In fact the thought of going back to your every day life after the race can be daunting. Life can't be less complex than while bikepacking. All you care about is riding your bike, staying on track (and on the bike), having food and something to drink and get some good recovery and sleep. The thought of dealing with emails, phone calls, meetings and more back at home seems like horror from this perspective.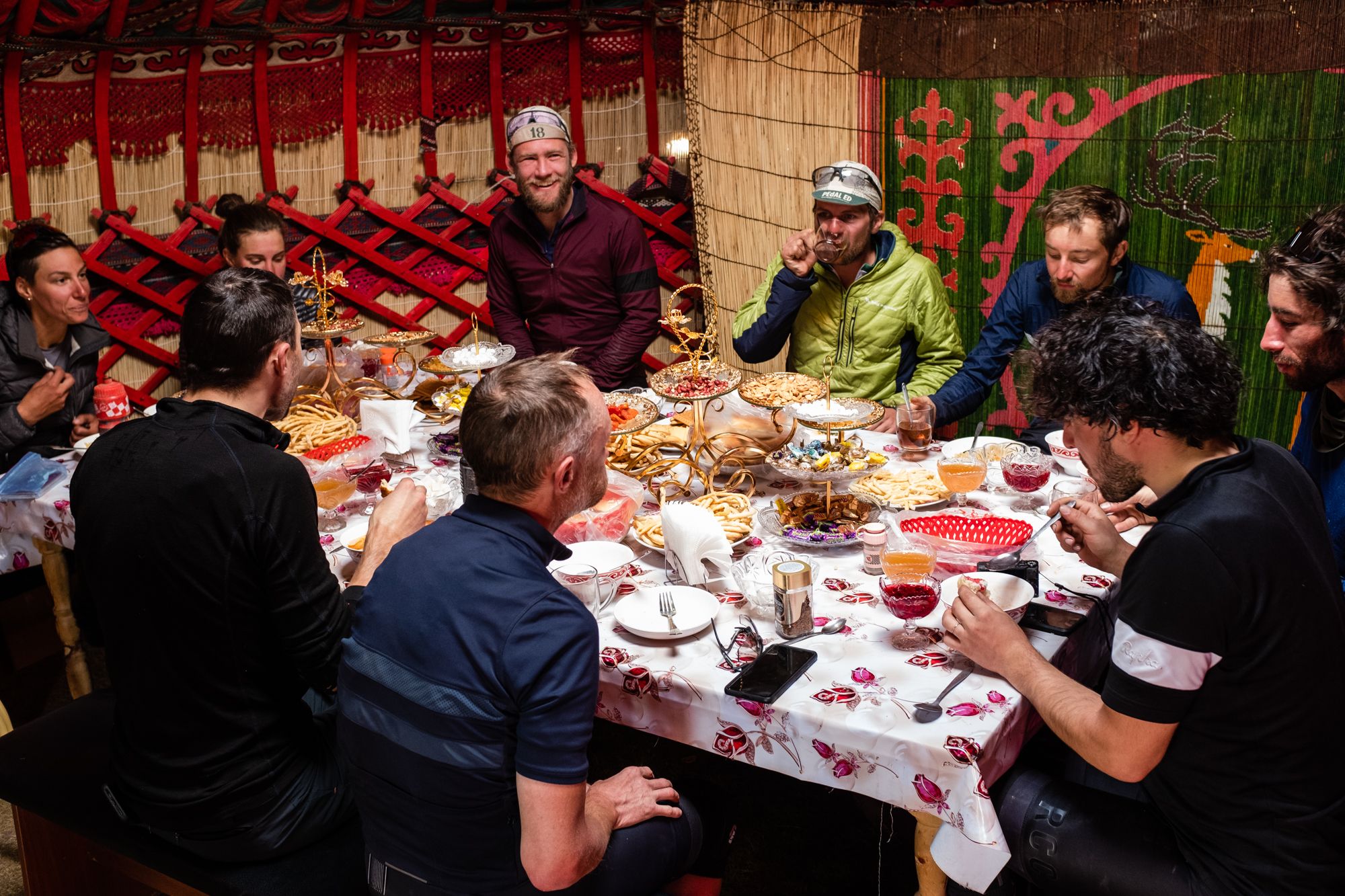 Danil Usmanov captured us at a Checkpoint in a Yurt. This place felt like paradise.
You might say: "Those stories the riders have to tell are terrifying and not fun at all!"
Well, hear me out. There is something called "Type 2 Fun". Typically you would describe it like this:
"Type 2 fun"
An activity that is fun only after you have stopped doing it.
-Urban Dictionary
I want you to take a minute and think back. What are the memories you cherish the most? What are the brightest moments? Which are those legendary tales you still laugh about with your friends?
If you are honest the most memorable stories always include struggle, problems and hopefully a happy end.
They say success never comes easy. The same applies for happiness. You don't have to go and ride one of the hardest bike races in the world to have the adventure of a lifetime. You can start right from your door step. Just go outside and stay for the weekend. Discover the amazing nature around you, spend a night under the stars. You don't have to go by bike. You can walk, ski, or do whatever suits you.
Just leave your phone in the pocket and turn it to flight mode and you might end up with the trip of your lifetime.
I want to end this article with a quote from a legend of ultra cycling.
"Nothing worth doing is ever easy"
- Mike Hall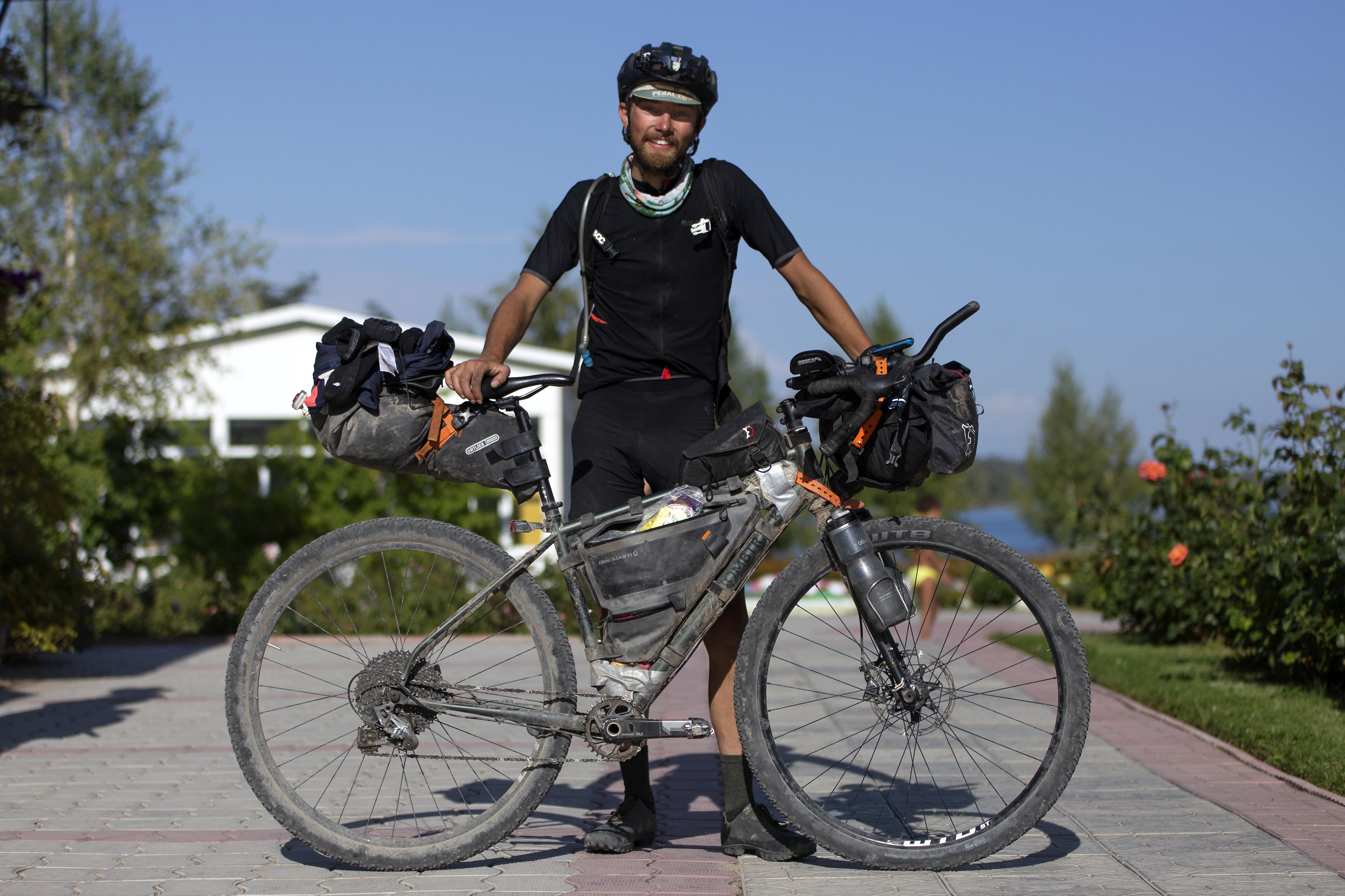 finisher photo by Rugile Kaladyte
Max Riese finished the PEdAL ED Silkroad Mountain Race in 20th place after 11 days, 7 hours and 44 minutes. He's already preparing for the next race in Morocco. Yes, he would do it again. Anytime.