Please keep in mind that I am sponsored by Quoc as an athlete and while I am proud to work with them and I truly believe that they make some of the best shoes on the market, I guess it is only fair for you to know that. However, this post is not paid in any way and it is solely my own opinion on the shoes reflected here.
While you probably already know a lot about the new shoes, I had the honor to ride them for nearly a year already. In fact I am riding Quoc shoes and especially the GT models since version one. And as I am a geek I collected all iterations.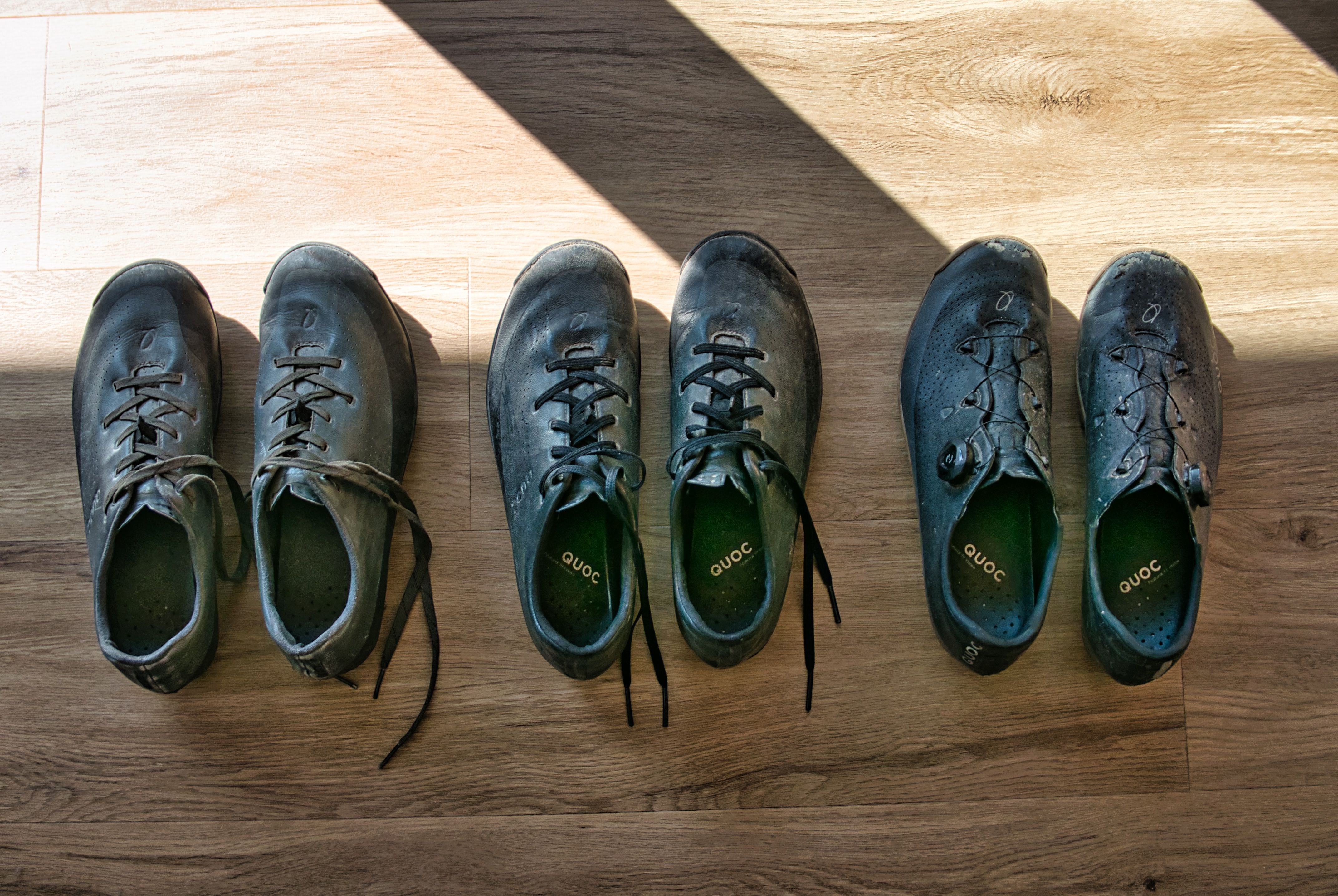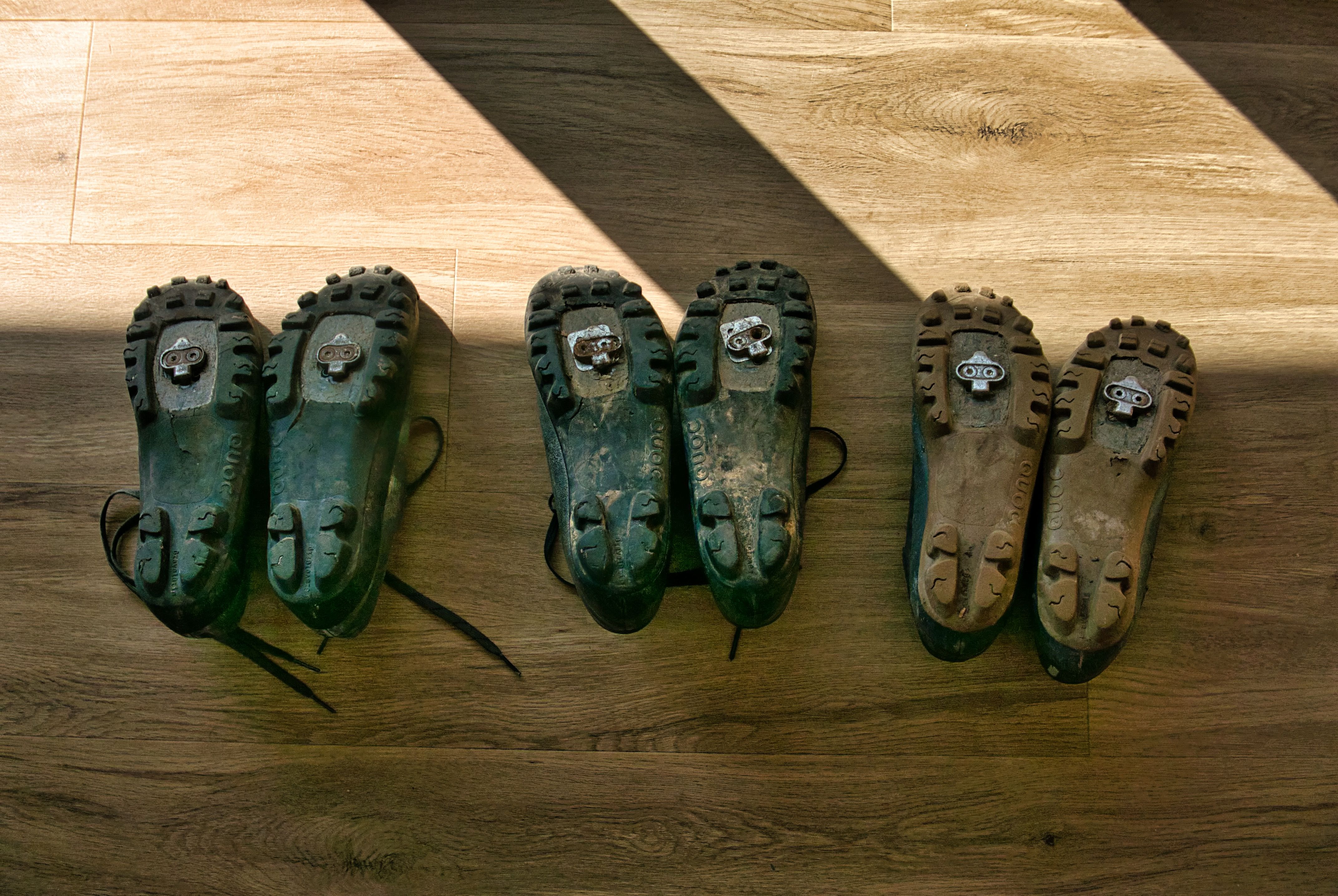 So what's new about the shoes?
Most noticeably the sole is just a bit stiffer. Not uncomfortably stiff for your hike-a-bike sections but just a bit to give you a bit more response. The upper material has changed as well, now claimed to be more water resistant. While I couldn't really feel any difference in the resistance I will talk about the fabric later. The last big change? Captain Obvious: The BOA lacing system.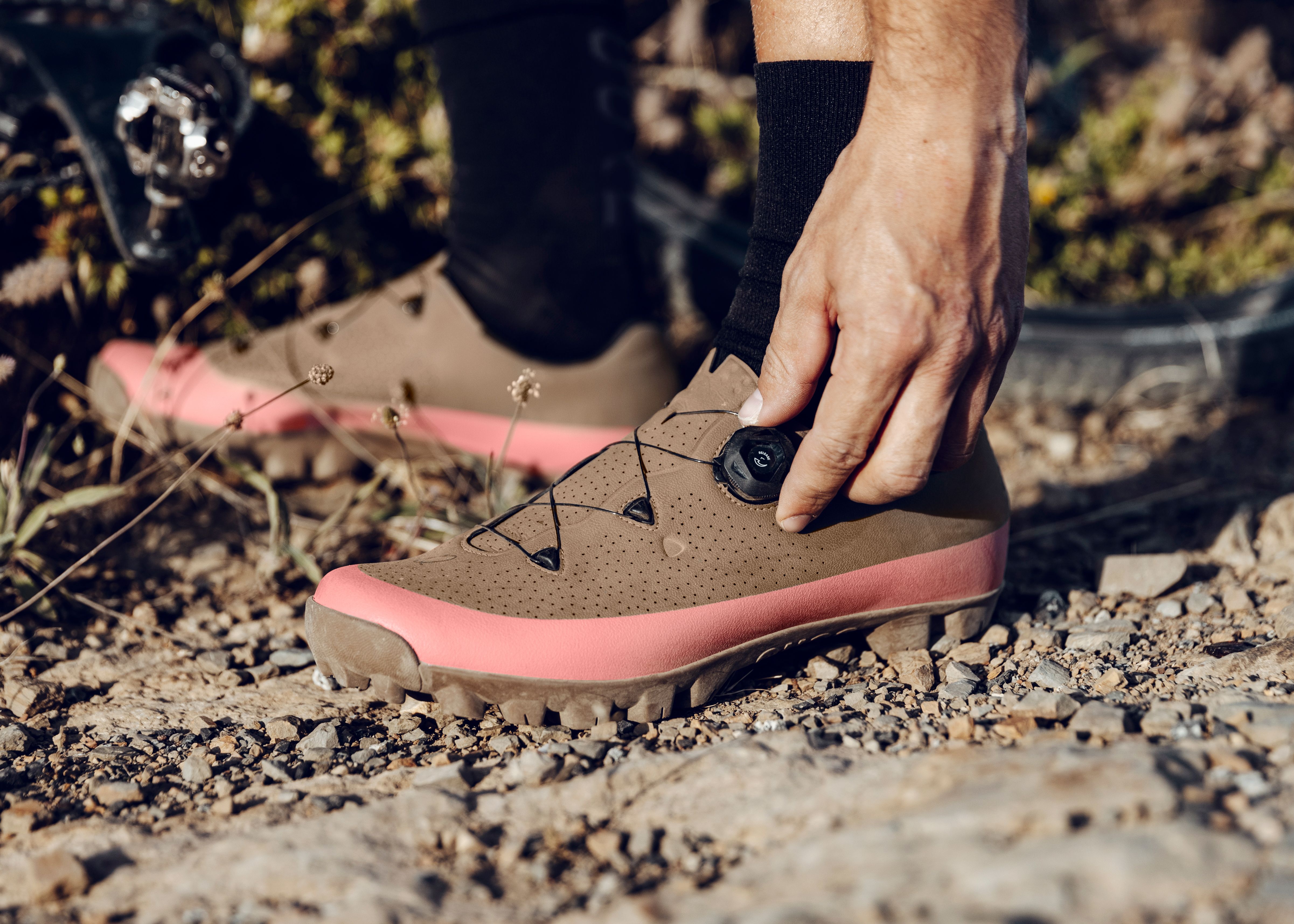 Is BOA better than laces?
If you been a Quoc customer you surely at the time chose the shoes for their classy looks, the comfort and probably the classic laces. Quoc has made a name for creating high class shoes that don't look as "futuristic" or flashy as a lot of it's competitors in high class cycling shoes. And well for me: Trying the first version of the Gran Tourers I knew I found the perfect shoe for my foot and for the style of off-road adventures I am doing. I finished the 2019 Silkroad Mountainrace in them and comfort or even the notorious "Hot Foot" was not any of my problems. Laces are comfortable, highly adaptable and… well… simple! If you break a lace it will be a piece of cake to find a fitting (or working) one and relace the shoe literally anywhere in the world. The downside? Well, lacing obviously takes more time and with numb hands after days of racing or just because it is cold or wet can become quite a task.
BOAs on the other hand are the electronic shifting of cycling shoes. Tech you can't necessarily fix on the road, but tech that has proven itself over many years and something that is very quick and seemingly effortless. And to be fair: spare parts are light and easily replaceable for the most common failures.
Now lace aficionados don't have to fear: Of course you can still buy your GT gravel shoes with the laces you have grown such a fan of. The BOA version is only adding to the portfolio.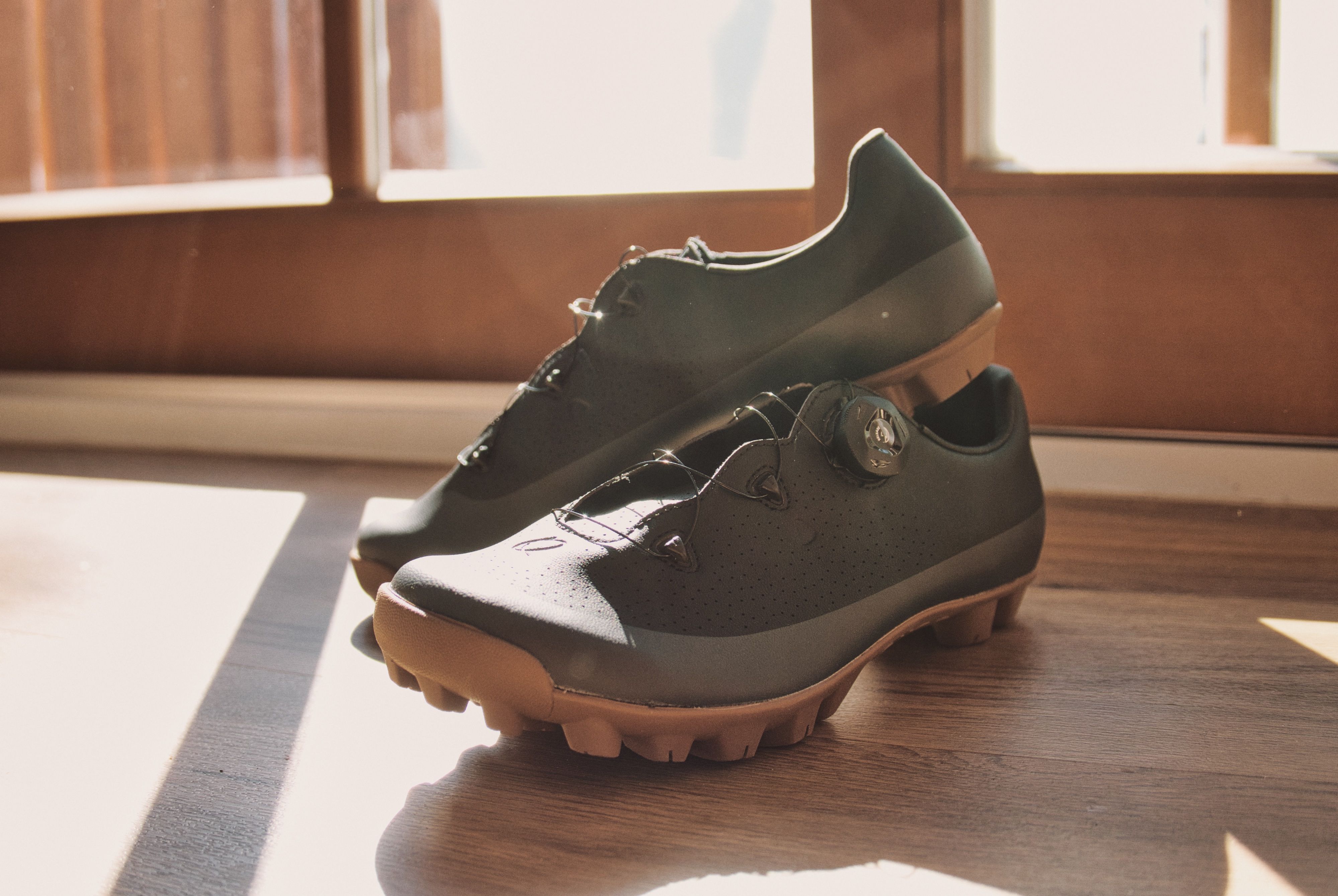 A stiffer sole? For what?
Now you might ask if this is a comfortable shoe with the GravelGripTM outsole making it especially walkable, why make it stiffer? Doesn't this make it uncomfortable when walking or on long days in the saddle on rough roads? Well while Quoc doesn't specifically mention this in their press release I believe that it's partly due to the fact that the outer soles of the first two versions of the shoe tended to get ripped off a bit during crazy long hike-a-bikes. I was never unable to continue to use my shoes, however I gave the feedback that this is an issue. In the second edition this got better and the updated cameo GTs are still in tact with way less damage. However, I feel a less stiff sole might make it difficult for the rubber compound to adapt to each possible impact the shoe takes from all the rocks you stumble over. With the new shoe the sole came out nearly unharmed after my last season. To be clear: I did 5 ultra races including the Silkroad Mountainrace last season. So the shoes holding up this well was a crazy impressive improvement. I felt the shoes were also drying very quick and gave decent protection from the cold as well.
I felt very comfortable in the shoes, I felt quick and confident. It felt like the shoe was built for my style of riding. And well, what can I say: I came out in 9th position during the SRMR.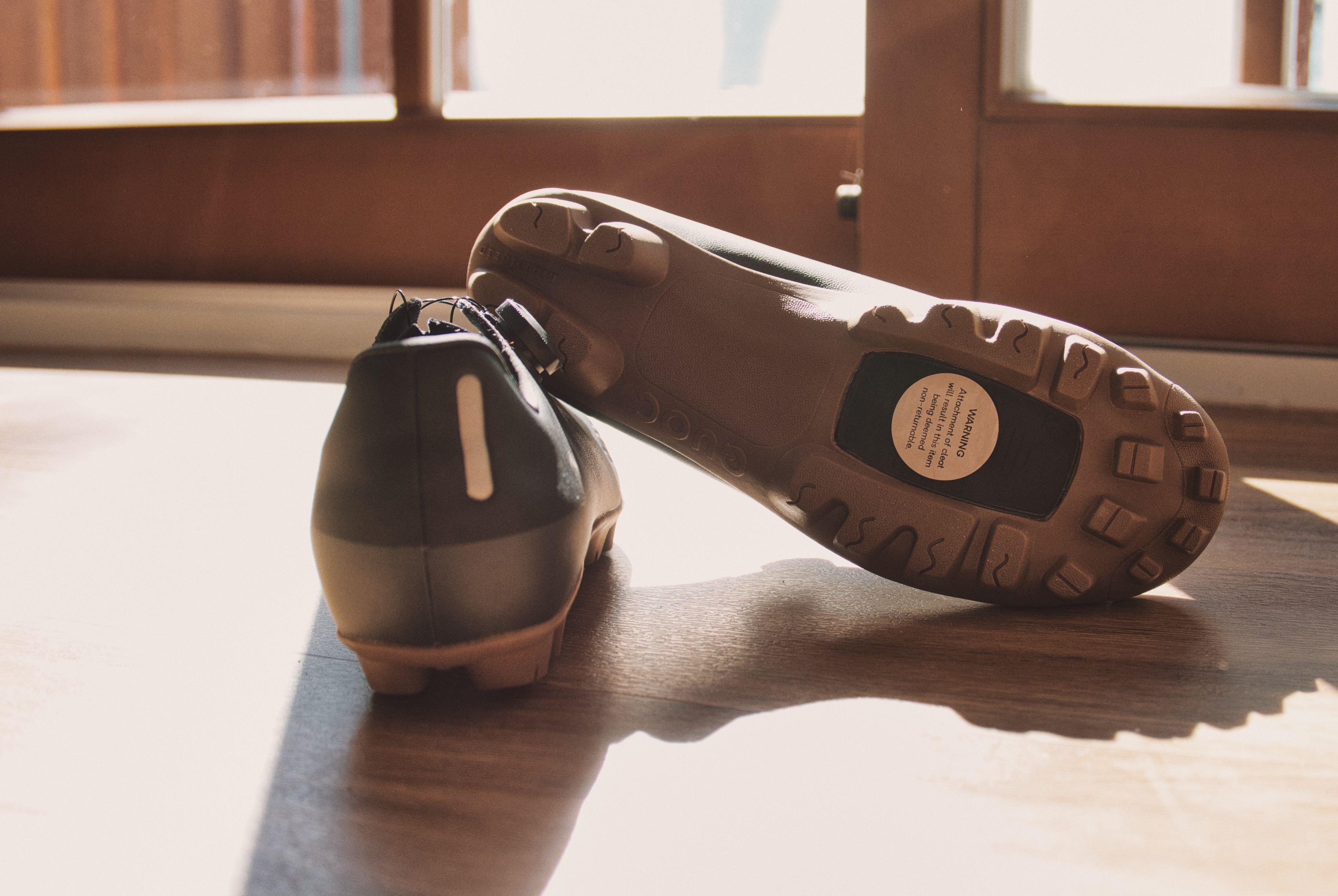 The new upper material
So if at all the only issue with the old material was that it was deforming itself a bit over time. That was no issue for me other than a visual distraction. But I mean: Which shoe doesn't lose its shape a bit after countless river crossings, rain, snow, mud… well, all of it. The new material seems to keep its shape a bit better! On the other hand it wears off a bit which I didn't manage with the old material. However, again I couldn't find any technical impact of the material wearing off. Just some marks on the show, but no water ingress and no further damage to the texture of the material, just the upper coating. I am very happy especially as I feel it is very easy to keep those shoes clean and to be honest I am very lazy. I always ride around in dirty shoes!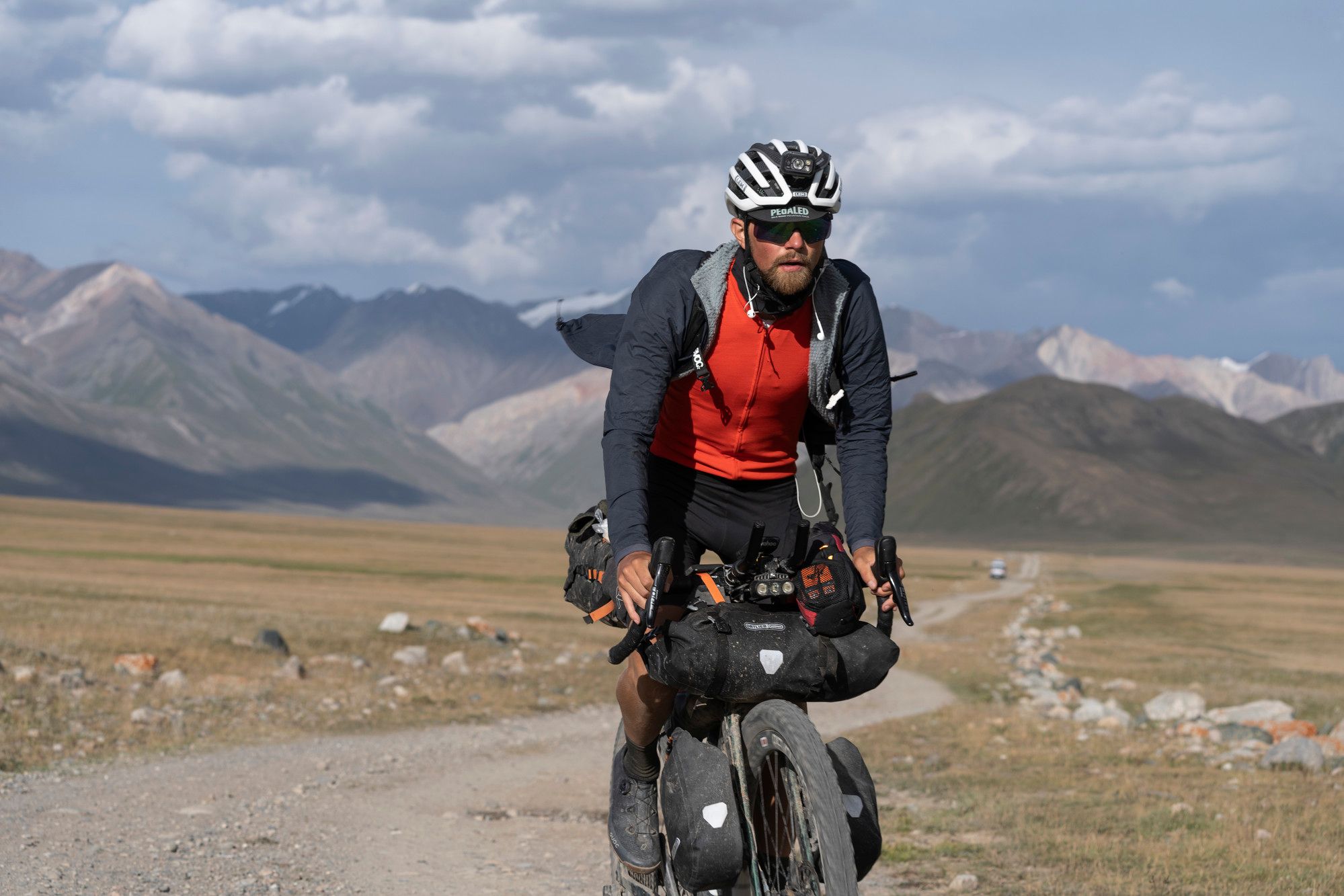 The heel of the shoe
There was one tiny bit of feedback I gave that was important to me: The heel of the shoe! I felt that I could use a bit more support in the shoe especially on hike-a-bikes. I am very pleased to report that they added exactly that to the final version. Just a bit more foam around the achilles makes all the difference.
Small details that make the difference
There are some small details around the shoe that I like a lot. The design is very elegant and subtle. Some people even ask me if those are "more urban" shoes. I just can't imagine myself in shoes with flashy colors and giant branding on them. The flashy shoes have one advantage though: visibility. And while, yes you can't beat the visibility of questionable color combinations and large branding on shoes, the GT shoes and Quoc shoes in general make great use of subtle applications of 3M reflective material. The reflective logo and stripes really make a difference at night and I don't want to miss it!
The one-way air holes are not too much. Just enough to gibe your feet some air. Sometimes I feel shoes are only designed for 30° C Summer days while we ride in mixed weather most of the time. The GT shoes make a very good compromise for me and I rarely feel too hot or too cold in them.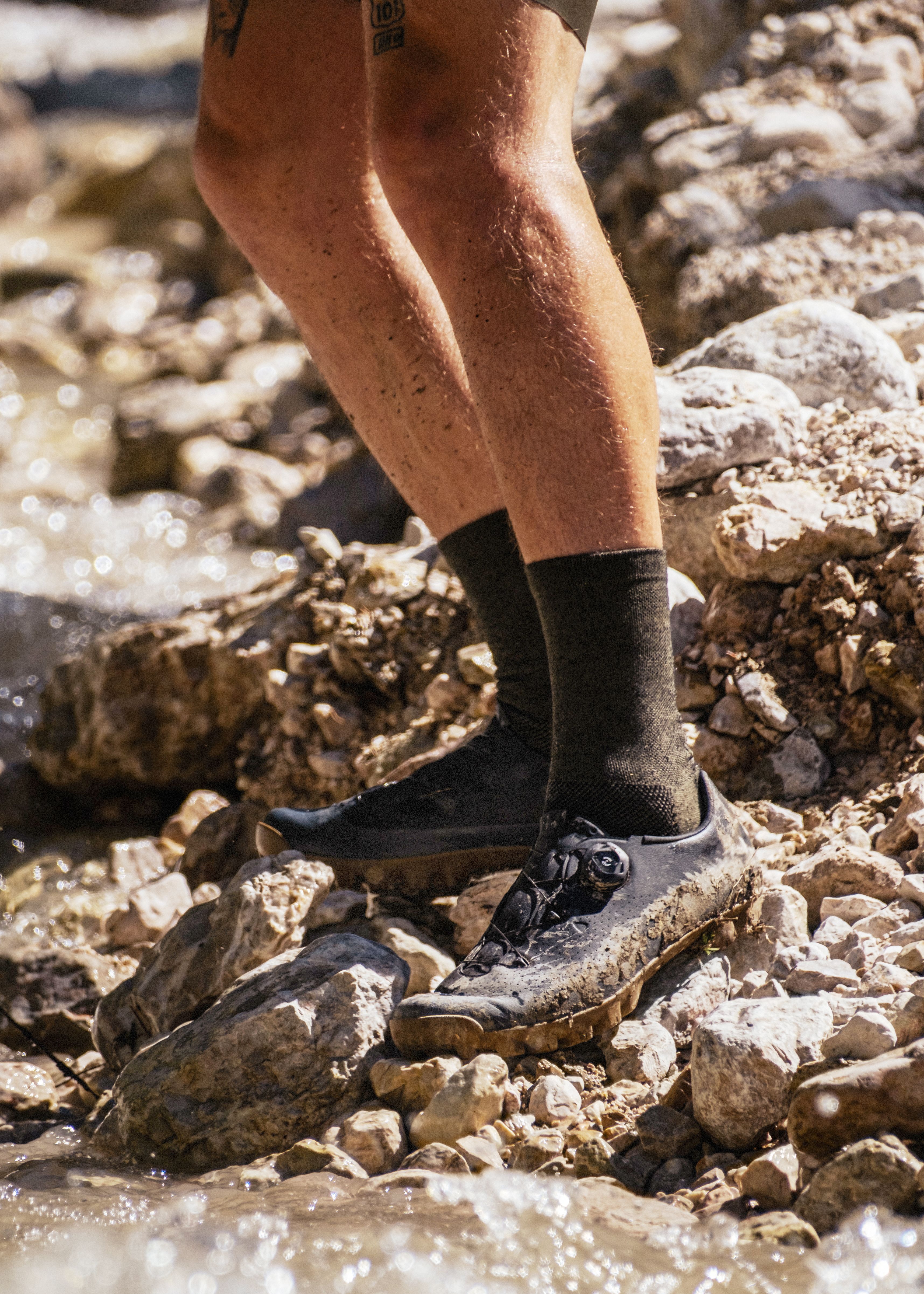 What's the verdict?
Well, as I said at the beginning of my article: I am biased. Still I am proud and very happy with the material I get to ride and as you can tell from the things I write, those shoes have literally gone through hell with me.
I appreciate working with a small brand that respects and honors my feedback, that has been there with me from the beginning and that clearly has evolved in so many ways. These shoes are the progress of years of work and I couldn't be more happy about the outcome. They are light, comfortable, sturdy, weather resistant and so much more. I can't wait for what's still to come.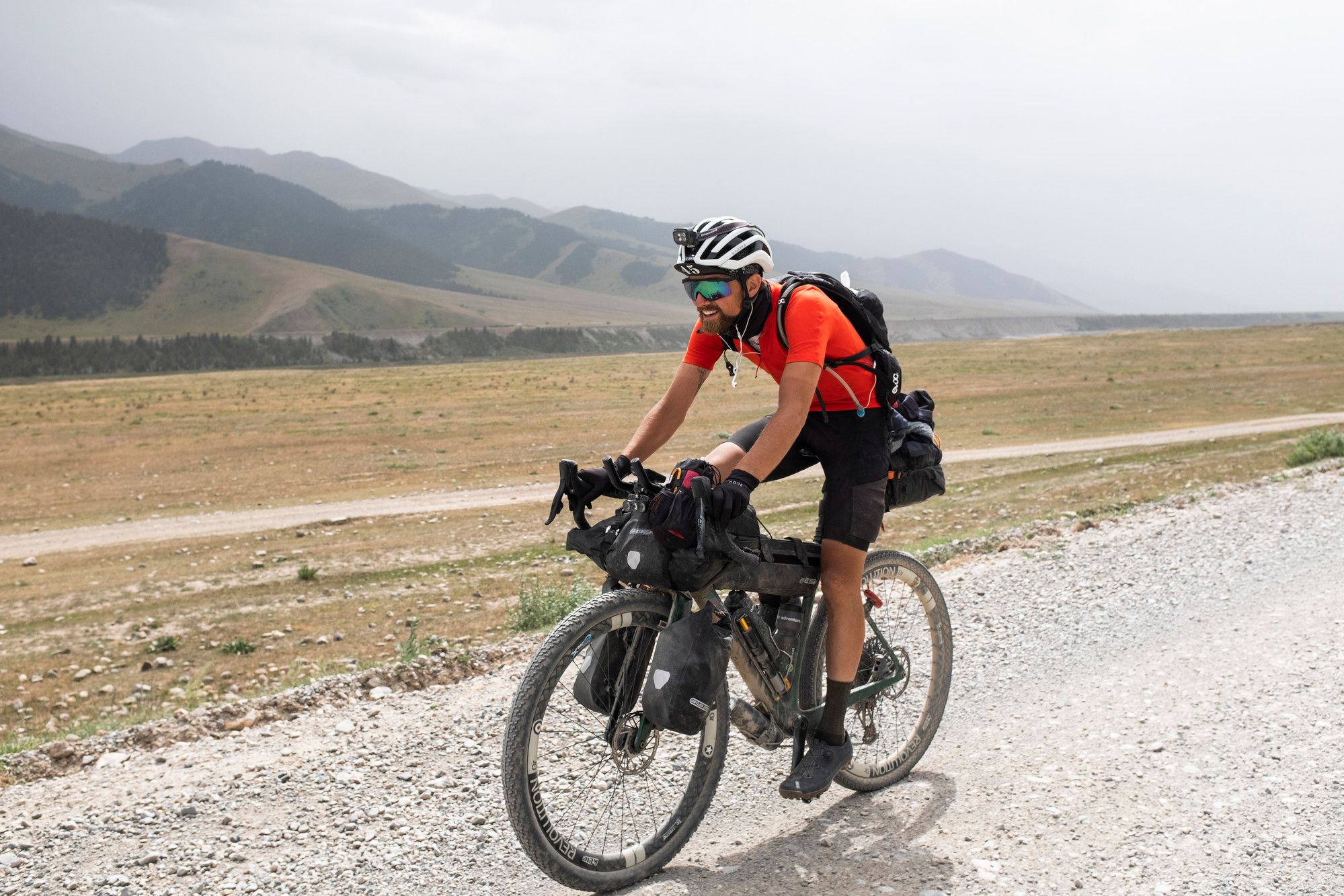 For me personally it is also hard to find a shoe that is wide enough at the front where I tend to have issues with cramped feet. All of this makes the best possible shoe for my style of riding. At 255€ the shoes don't come cheap but in a price range that is competitive in its premium segment. The new and improved laced version of the shoe is still available at 235€. Gran Tourer II is available now for pre-order on quoc.cc in Classic Black, Black
Gum, Pink, as well a brand new Sand colourway (delivery starting April 29th
2022).